A Grand Tour of Neil's Hamptons Home Office
Including what he cannot live without
April 4, 2023 2:05 am
I've carved out a happy place of my own at home: my office. Down a hallway, behind a hidden door and up a spiral staircase (not a joke, for once), is my own personal fortress of solitude (I mean this one, not this one). It's got a wicked view, cozy dormers and a number of intimate little nooks and crannies. Dim Edison lighting. A comfy sofa by a window pilfered from a Snicket set. Best of all, it's jam-spankin' packed with my favorite things: Magic. Puzzles. Books. Ephemera. Keepsakes. Curios. Statues.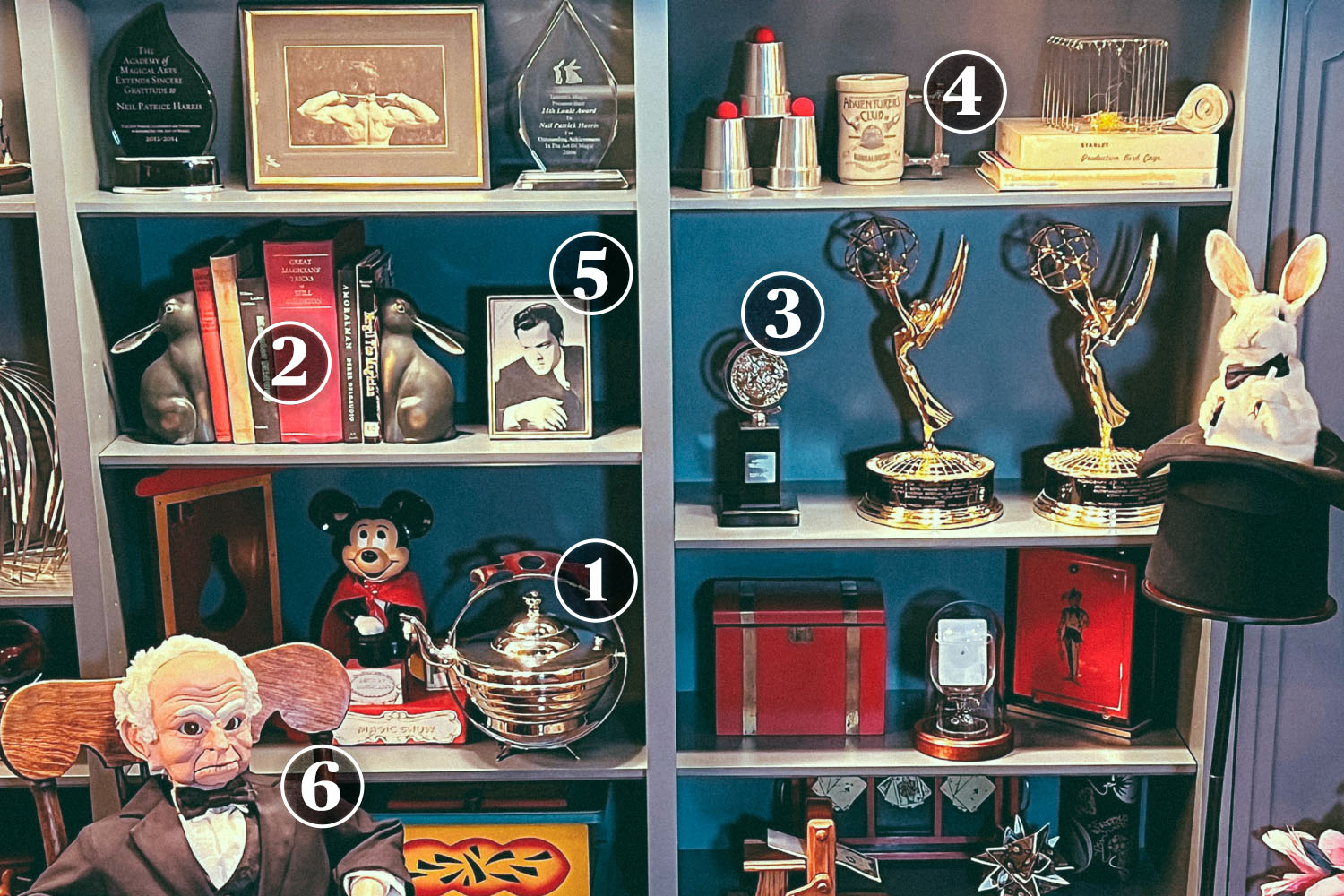 Every piece has been carefully considered and collected, and comes with its own unique and highly personal origin story. It's not the things that make the space a happy place; it's the memories attached to them. And so, seeing as you're a subscriber, and therefore a close-friend-adjacent, I'm pleased to share a few of them right here in this very article. The numbers in the above photo serve as a legend of sorts, with detail shots and curator's notes below.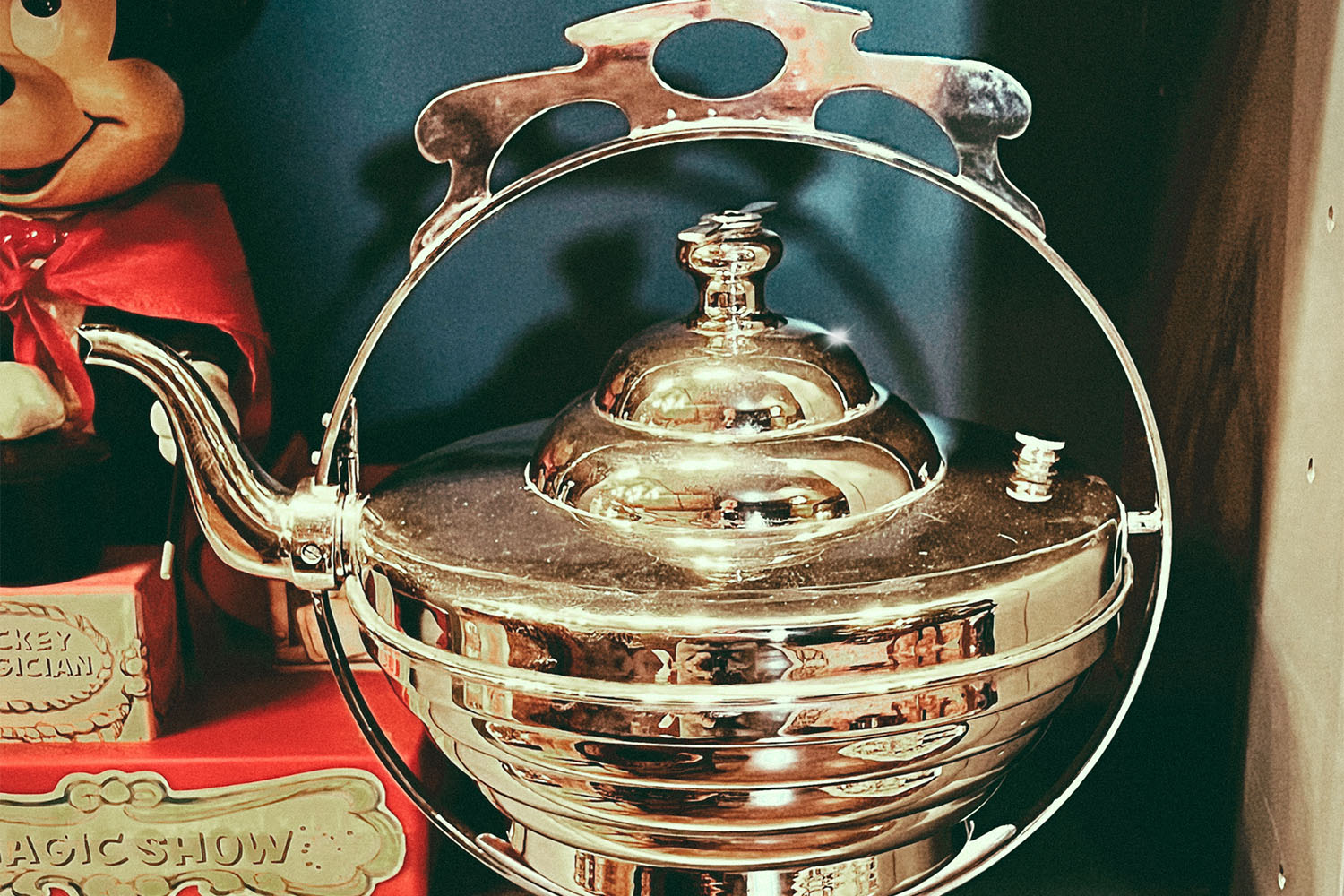 This teapot (1) is remarkable. It's a magic trick, created by the absolutely brilliant, literally legendary historian and designer John Gaughan. He's one of the great greats, revered by any magus smart enough to know of him, and he made this by hand, yo. It's an "appearing teapot," and through remarkable means, shrinks and compresses into a thin, pancake-sized shape that can stow in the bottom of a box or the tippy top of a top hat. In less than a second, it reshapes and can be removed as an actual, metal teapot, which can pour actual, piping hot tea. It's brilliant, rare, and I'm deeply grateful to own it. Outbid a dude at an auction for it some years ago; super glad I won.
Between the bunnies sits a sextet of books (2), all of them wonderful. Most are older, a few are fiction. From left to right: Showmen and Suckers by Maurice Gorham; Medicine Show by Malcolm Webber; Monster Midway by William Lindsay Gresham; Great Magicians' Tricks by Will Goldston; Amoralman, by Derek Delgaudio; and Norgil the Magician by Maxwell Grant.
Of the lot, only Amoralman is still available, and I can't recommend it, or the delightful Mr. Delgaudio, enough. He has elevated the art of contemporary magic to, well, actual art. Watch his documentary In and Of Itself (a show I helped produce) and be forever changed. He's truly that good. Above the books, an award given to me by the Academy of Magical Arts, an organization I presided over for three of the best years of my life. If you haven't been to Los Angeles' Magic Castle, by all means go. Tell 'em I sent ya. Next to the award, a period photo of an escape artist. Who's, um, ripped and sexy, am I right?
I won a Tony Award (3), for playing Hedwig. Hashtag humblebrag.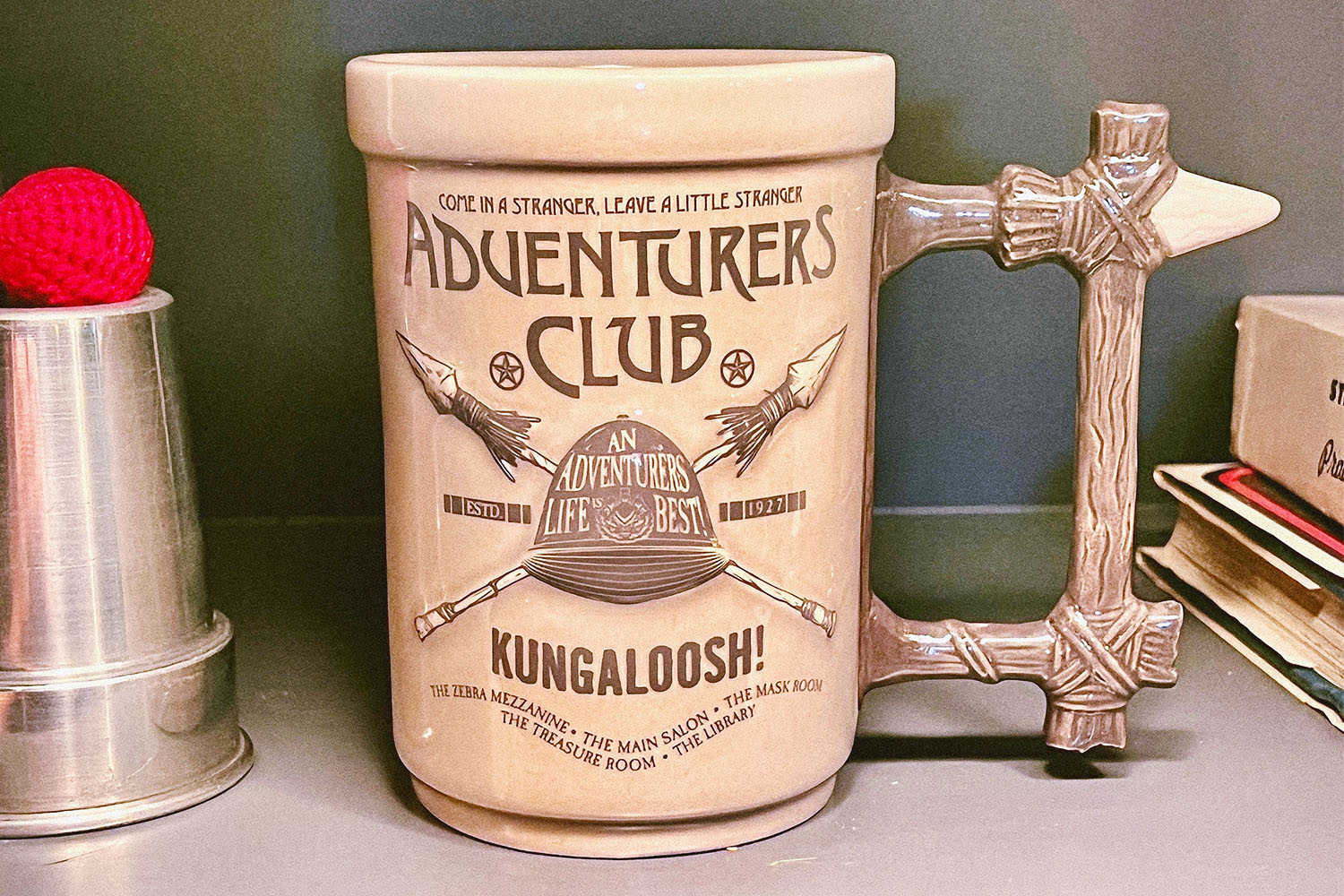 This mug (4) is one of my prized possessions: it's from The Adventurers Club, a now-shuttered venue at the now-shuttered Pleasure Island, now called Downtown Disney at Walt Disney World in Florida. It was a utopic, immersive nightclub by way of Indiana Jones, filled with brilliant improv actors, interactive puppets, magic effects, animatronics, secret handshakes and specialty cocktails. Hold on a minute while my erection subsides.
Public plea: I'm actively seeking any kind of merchandise from this jewel of Disney's past. (I once went, by myself, saw all the shows, drank seven vodka martinis and threw up for ages in my hotel room later. True story, regret nothing.) If anyone has leads on Adventurers Club anything, please reach out. Kungaloosh! Oh yeah, and that winged creature below … that is an Emmy. It's neat, too.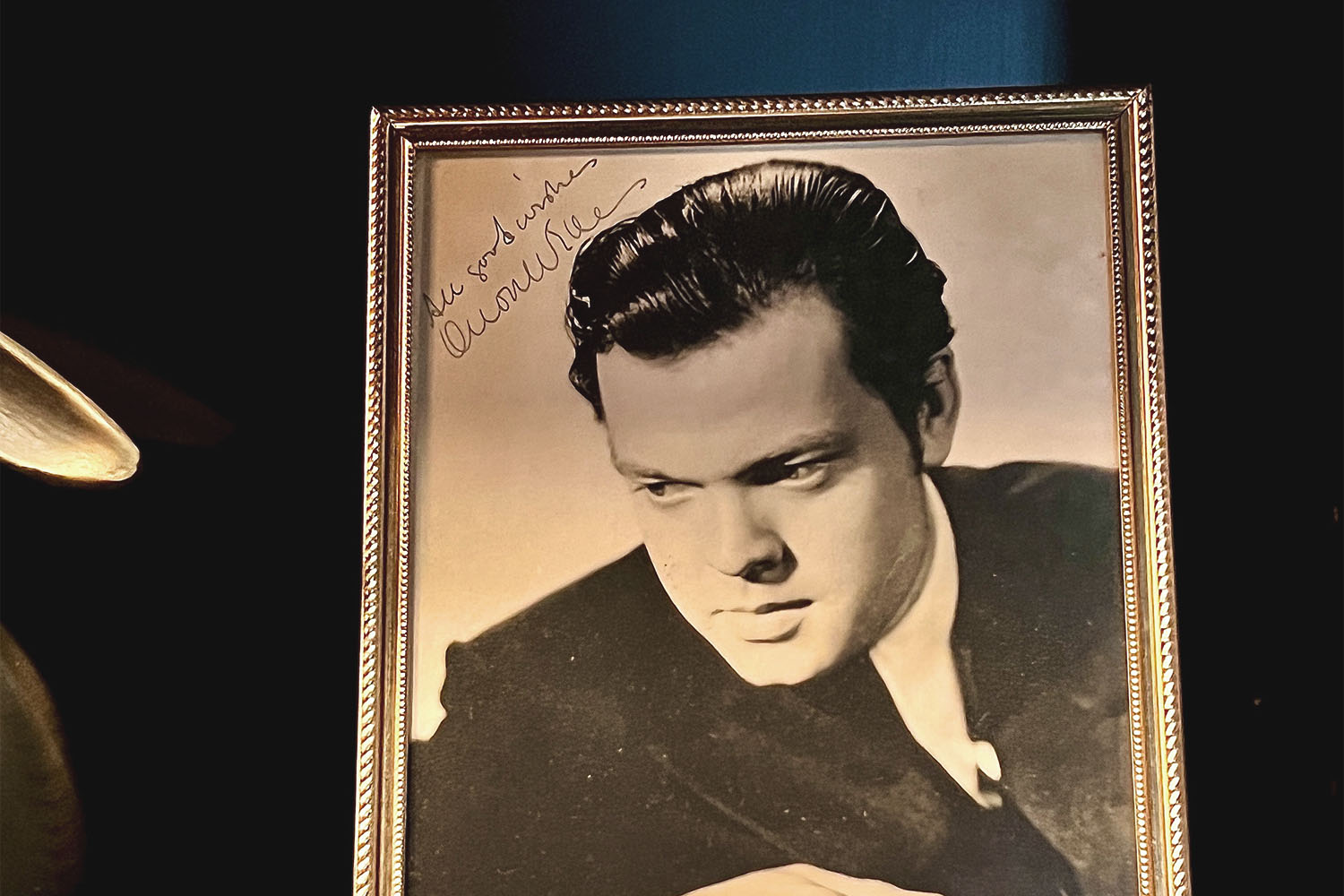 This is a signed photo of Orson Welles (5). It wasn't signed for me specifically, but I like to pretend that it was. I tell people that it was. Orson Welles was one of the first multi-hyphenate visionaries in the world of modern entertainment. War of the Worlds, Citizen Kane, come on. And a magician to boot. A personal inspiration. I stare at it often. Gah, I wish he signed it for me specifically.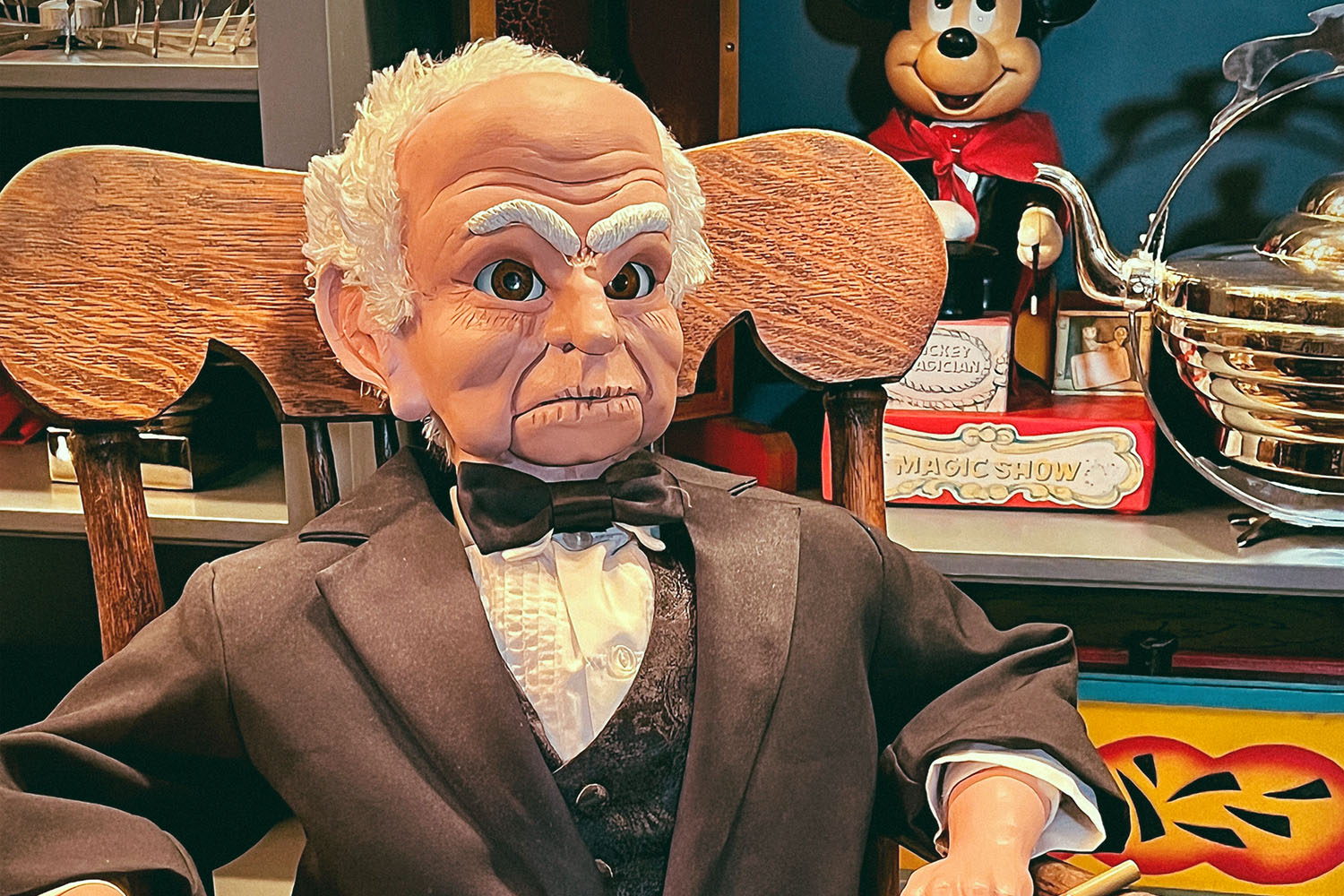 Last but not least … this diminutive old codger is a custom-made ventriloquist puppet (6) — don't you dare call him a dummy! — who guards my office and all its contents. Gifted to me as a thank you for sending a happy bat mitzvah video to a girl I had never met. Mazel tov. Best barter ever..! His mouth flaps, his eyes shift, even his brows raise. He still has no name. (I'm open to suggestions. Seriously. Email me your best ideas here.) I've always yearned for a proper butler, and this one does whatever I say. Quite literally.
---
Recommended
Suggested for you