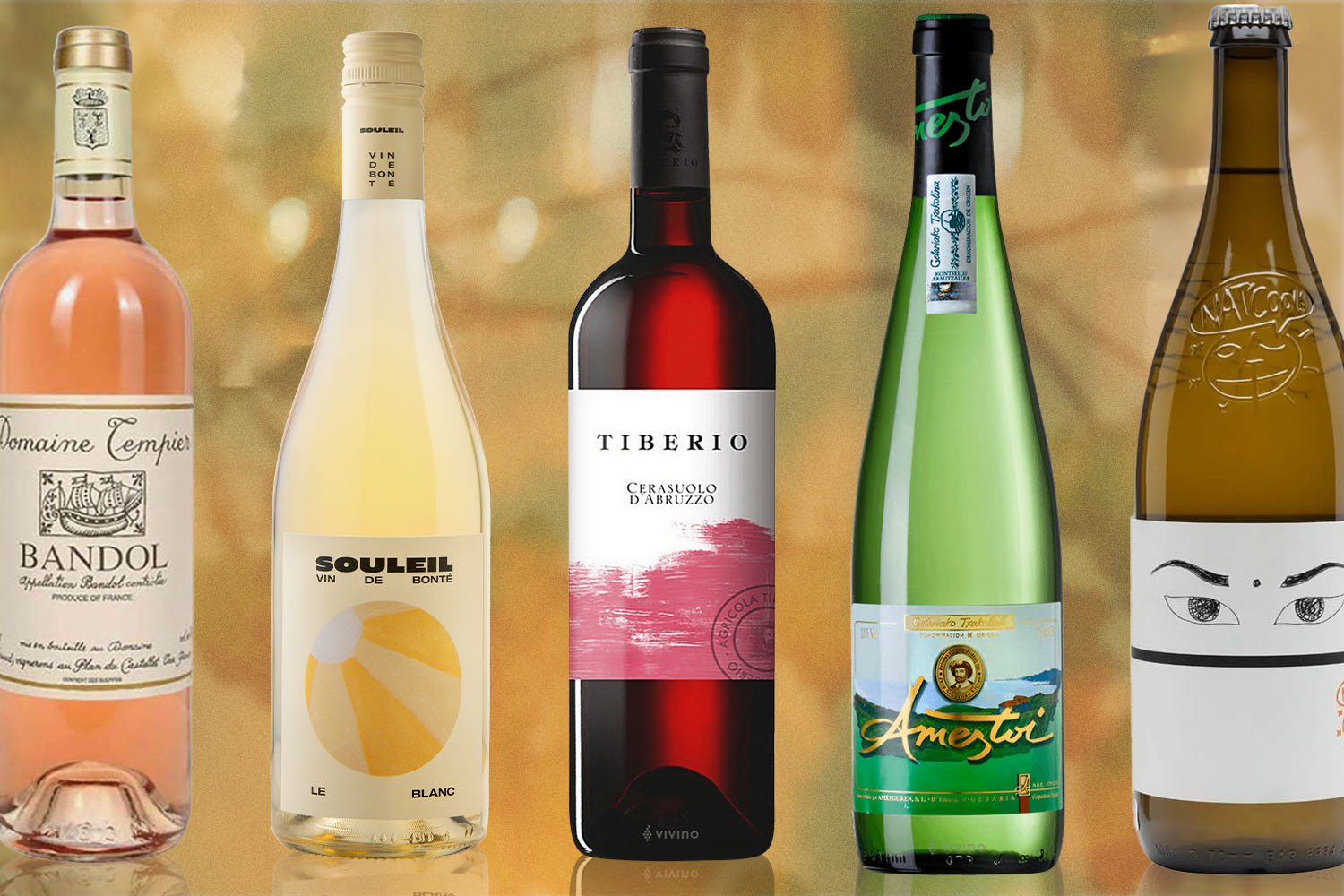 An Oenophile's Guide to Affordable Summer Wines
Orange you glad it's summer?
June 26, 2023 4:02 pm
I'm not a wine expert…but I am an expert wine drinker. I'll try anything, especially when recommended by someone who knows what they're talking about. Which is why I asked sommelier (at Toronto hotspot Dreyfus) and wine writer Kate Dingwall to help us out, and share her recommendations for delicious, affordable bottles. She's assembled an expert selection of whites, rosés and oranges. (Yes, orange wine…it's fantastic — and it allowed me to write that great headline above, that now you get.) Here, she lends us her gifted palate and pen. Okay, her keyboard. -NPH
As the warm weather sets in, push the White Claw over in your cooler and make space for seasonal, sessionable wines. Sure, you could go for the same old bottles of Sauvignon Blanc or Pinot Grigio. But why not try something a little out of left field?
These lesser-known (but well worth discovering) bottles fit every situation — liquid instigators, if you will. Is the weather nice? Is the water lukewarm? Can you turn off the camera at your Zoom meeting?
Whether it's white, orange or rosé, all of these bottles are designed to pair with the season's offerings. That includes sun-drenched days, sunburns, late nights, hangover brunches, BBQs, burnt hot dogs and whatever else the weather brings.
WHITE WINES
This summer, it's time to move beyond your favorite tried-and-true bottles of Chardonnay and Pinot Grigio. Lean into lesser-known varieties like Spain's Verdejo, Italy's Trebbiano and Greece's Assyrtiko.
If you're looking for a white wine for July and August's hot days and nights, perhaps trust those who know. Souleil (a riff on the word for "sun" in French) was started by Marianne Fabre-Lanvin and Thomas Delaude, two South-of-France natives who grew up surfing and shucking oysters.
After years of working in wine individually, Marianne and Thomas came together to make a wine that embodied the energy of a bon vivant French summer night. Their label offers red, rosé and white, the latter of which is bone dry, salty and floral — built to be paired with oysters, olives, boquerones and other French Riviera finger foods best snacked on by a beach. Easy, breezy, wind-in-your-hair wine.
Consider this Spanish wine's answer to a spritz. It's almost effervescent and highly refreshing, plus it has a reasonably low ABV, which means you can enjoy guilt- and headache-free refills.
The wine hails from Txakoli (chalk-oh-lee), a Northern Spanish wine hub in the heart of Basque country. (Don't worry — you don't need to be able to say it, only drink it.) This blend of Hondarrabi Zuri and Beltza grapes offers big, bone-dry notes of lemon zest, sea salt and bright acid, which make it ideal for poolside plates and another round of fried food.
ROSÉ WINES
While you may expect all rosés to be breezy, light-as-air, blush-hued wines, the category is wildly diverse. Some are barely pink, while others are so rich they're almost dark red. Those almost-clear rosés will be crisp and mineral-driven, with notes of rose petal and honeydew. As your rosés get darker, they'll pick up a brilliant cherry color and notes of plum and violet. All will pair very well with food, but here are a few of my favorites.
This particular winery, Tiberio, is helmed by Cristiana Tiberio, an absolute legend in Abruzzo who makes highly affordable, highly precise expressions of the region's top grapes. Her Cerasuolo (chair-a-swool-o) is made with red wine pressed ever so slightly, to make a cherry red chilled wine. As with its color, the flavor inhabits a realm somewhere between rosé and light red — punchy and bright, with notes of raspberry and blood orange. It's still served on ice, but with body, crunch and lift to stand up to heartier dishes.
If Whispering Angel is your idea of rosé, prepare to be shocked. In a good way. Centered around a small fishing village in the Mediterranean, France's Bandol region produces elegant, age-worthy rosés.
Why is the region so special? It's beloved by chefs, first off — Alice Waters headed here to learn from Domaine Tempier's winemaker Lulu Peyraud — and the wines pair beautifully with food, from flavorful fish dishes to hearty meat mains. Domaine Tempier produces benchmark iterations of the Bandol rosé, with incredible fragrance length, and ever-so-slight sea-inflected minerality. Stick some in your cellar tout de suite!
ORANGE WINES
What is orange wine? There's not one single orange involved. Essentially, it's a white wine left to ferment on the skins far longer than usual, giving the wine an orange-ish hue that can range from tangerine to copper in color. While some skin-contact wines may be on the funkier side, others are elegant, rich and textural.
Wait, skin contact? No, we're not flirting with you. A skin-contact wine is the technical term for orange wine. The process is the oldest style of wine in the world, with first examples dating back to the Republic of Georgia in 6000 BC. Ready to wade in? Here are some of our favorite orange wines.
This highly quaffable — there's a reason it's called "Drink Me" — wine is packed into a 1-liter bottle (for sharing, of course). Nat'Cool is a collab between several Port producers from northern Portugal who grew weary of making serious fortified wines, and started a side hustle making experimental, high-energy varieties. They have a low ABV red made with Baga grapes and a rosé that drinks like raspberry juice. Each of them is delicious — would you expect less from winemakers making wine on their days off? This particular orange bottle is cloudy, fresh and vibrant with bright citrus and a slightly savory note to it. It'll fizz a bit when you open it but that'll cool off to an herby, key lime finish. Cheeky afternoon drinking wine!
The Envinate label was started by four Spanish friends who met in winemaking school. While Napa and Bordeaux called upon graduation, the quartet was more interested in working at home. So they started making wine in the Canary Islands, a remote archipelago in the Atlantic off the coast of Africa centered around an active volcano. Sane? Perhaps not, but the wines they make are utterly unique and incredibly beautiful. This wine is cloudy and apricot in color, with a bright salinity, a subtle smokiness, notes of white peach and a zing of citrus.
NPH: Thanks, Kate — wanted to swoop in here, real quick like, and also plug ya boy's original rosé…which comes with a puzzle-plastered box and an oh-so-deliciously dry citrus taste. Do enjoy.
BONUS QUESTION!
NPH: Kate, how can someone help a sommelier (or a great bartender, waiter or wine shop salesperson) pinpoint a wine they'd like?
KATE: Start by taking note of what wines you love. Red or white? Light or bold? How do you feel about oak on your wine? Do you like acidity or minerality, or do you prefer something richer? Are there any countries or regions you love? Do you like the wine to dry out your mouth (psst: that means it's tannic)?
Remember those characteristics. Write them down. (Your phone's Notes app is great for this.) Next time you're in a wine shop or searching a menu for your next glass, mention those characteristics to your somm or salesperson. They'll be able to direct you to your new favorite wine. And you don't have to pick up all those characteristics at once! As you try new things, take heed of what flavors and characteristics you love, and which ones you don't, and add them to your notes. You'll build out a stable of favorites — and the tools to talk about them with the pros — in no time at all!
---