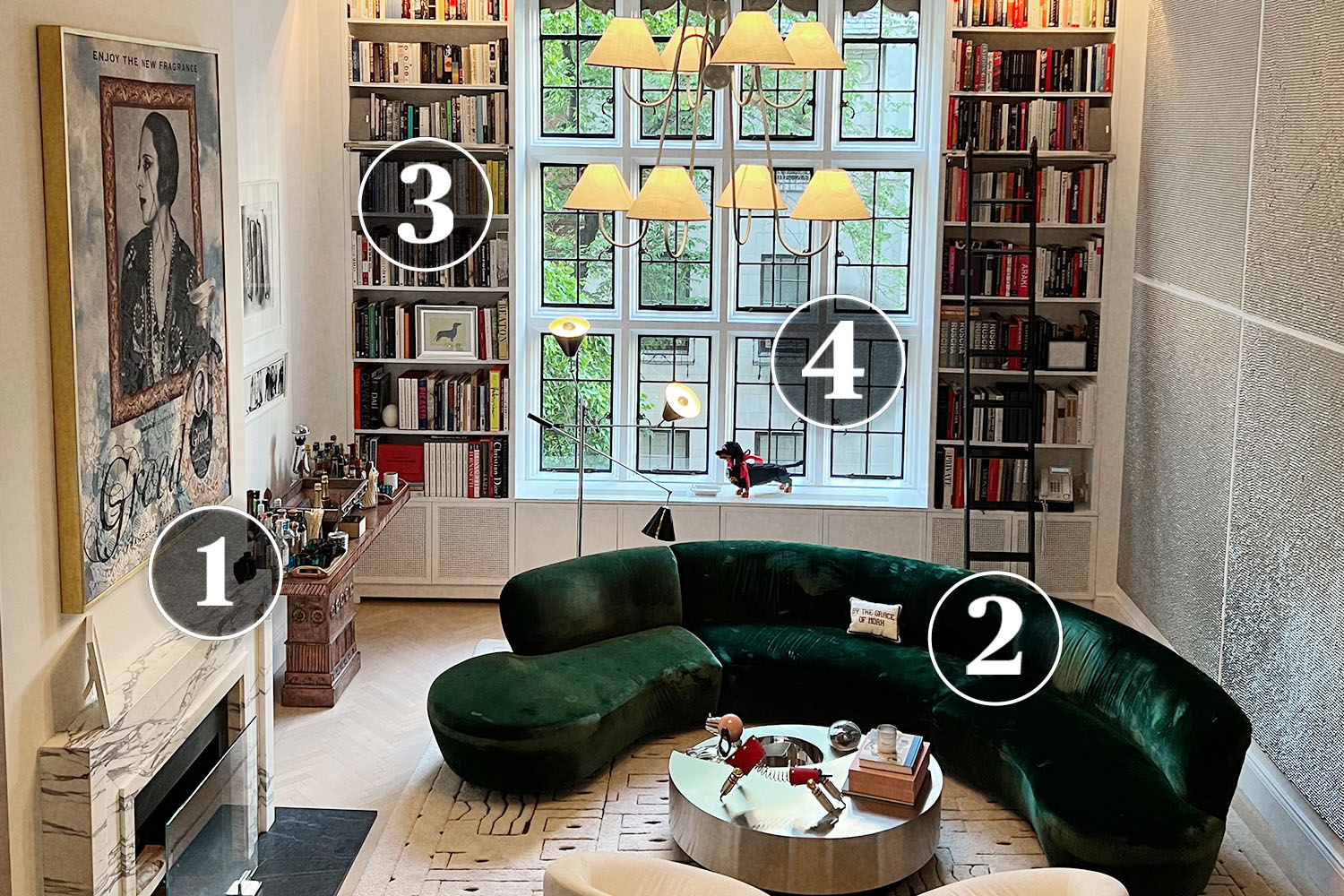 A Tour of Derek Blasberg's Living Room
Fancy fireplaces, a Lego dog and more!
July 25, 2023 12:19 pm
It turns out, I know some super interesting people who — this is the really cool part — who also like sharing fascinating details about their lives.
One such guy is my great bud Derek Blasberg. Derek works at YouTube as the head of fashion and beauty (he's friends with, like, every gorgeous supermodel — be sure to check him out) and as a senior staffer at Gagosian Gallery. Chic, no? Well, we're just getting started…. He's worked at Vanity Fair, Harper's Bazaar, Vogue, W and V magazines, and has had a longtime TV hosting gig on CNN Style. Yes, those jobs are every bit as cool as they sound.
Equally cool is the New York City home that Derek shares with his partner Nick Brown and their twins. (Hey, I've got a set of those too!) Whenever I'm in his living room I get curious about the cool stuff he collects. And last time I was like, Light bulb! Wondercade readers will be curious, too! So we've made that happen…sans light bulb. Which brings me to this article: Below, Derek will give you a tour of his living room — the very spot where my idea was born. – NPH
---
Hi Wondercade! I'm Derek Blasberg. Since Neil gave me such a lovely introduction, let's jump right into it, shall we? Welcome to my home….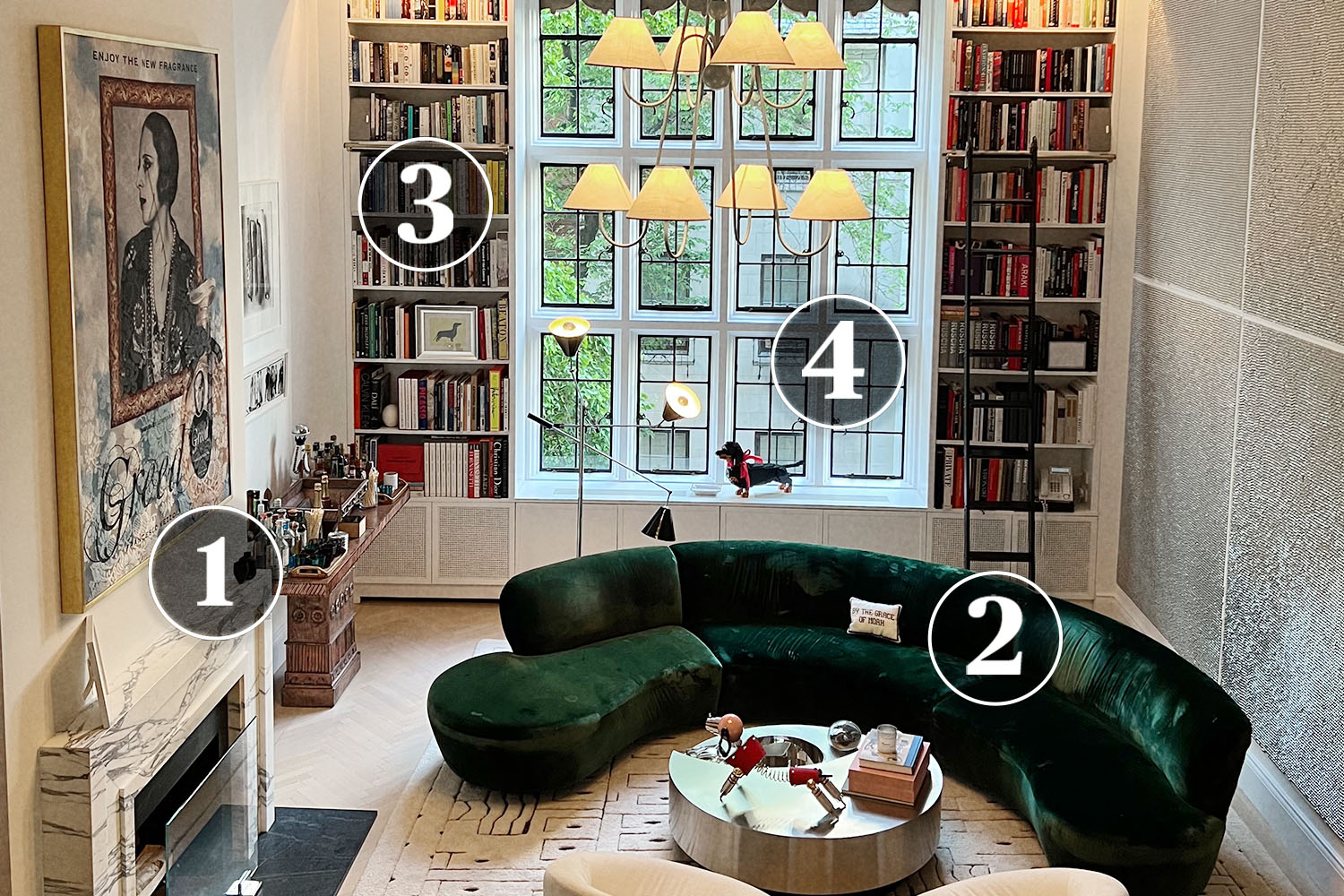 I fell in love with this sunken, dramatic living room when we first saw it because it reminded me of the scene in All About Eve when Bette Davis says, "Fasten your seatbelts. It's going to be a bumpy night." For the wall, the artist Dan Colen did a special installation of his stud paintings. It reminded me of a giant disco ball. The bar on the left, which is stocked with every kind of liquor we could think of (we aim to please at this house!), was designed by a Russian designer named Harry Nuriev. Above that — which you can just make out in my shot — is a photograph of Andy Warhol's Factory by Richard Avedon, which is one of my favorite works of art because it sums up such a moment in Pop culture, and above that is an Irving Penn photograph of cigarette butts on a New York street corner. My mother hates both of these because she thinks smoking is gross and it's absurd to have an image of exposed genitals in the house. Good thing she doesn't live here! The sofa was inspired by Vladimir Kagan's mid-century designs and covered in a plush, green Ralph Lauren velvet.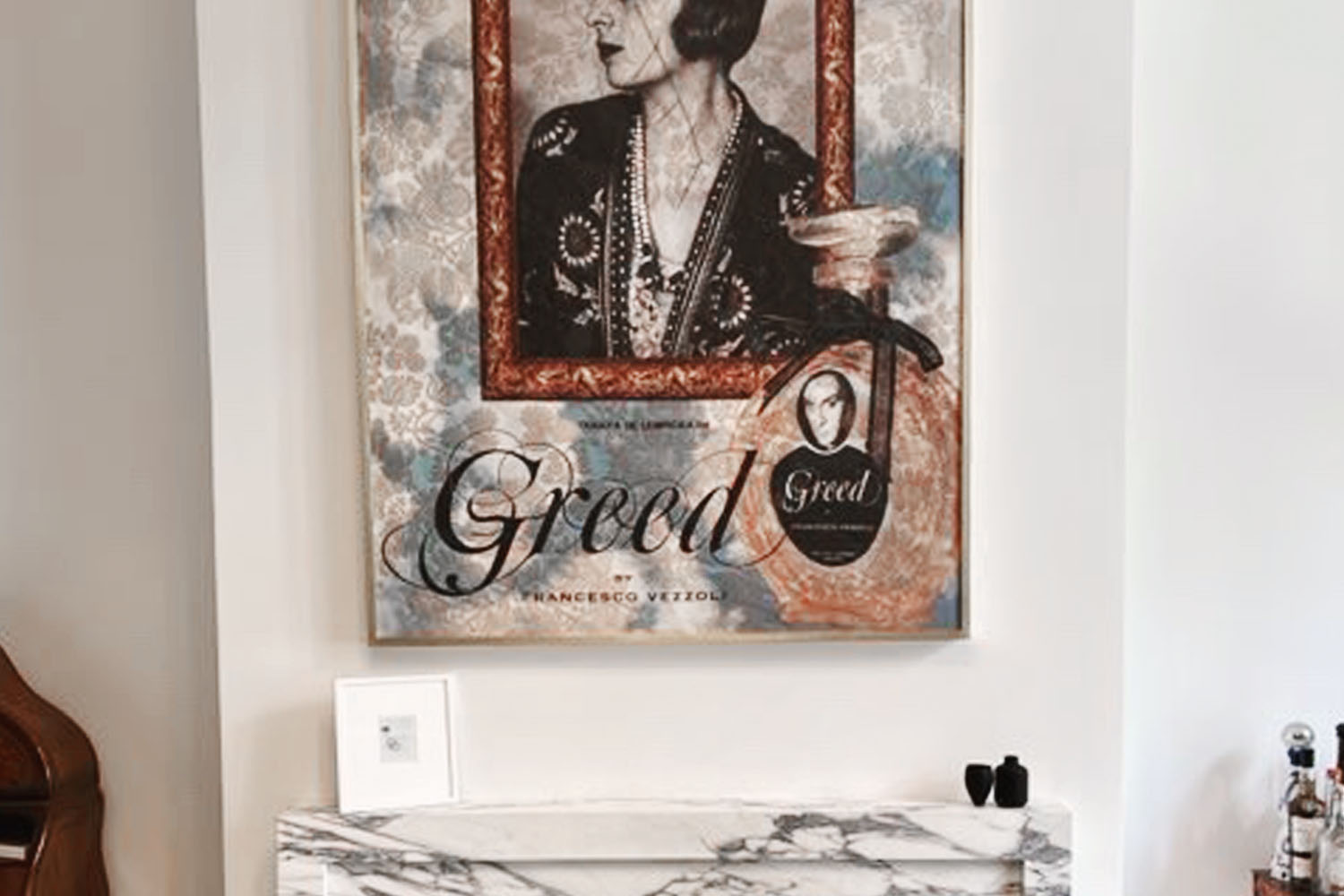 (1) I didn't realize what a luxury it was to have a wood-burning fireplace in New York City until the Covid lockdown. It felt cozy and reassuring to gather by a fire. Above the mantle is an embroidered work by the Italian artist Francesco Vezzoli. It's part of his series of satirical celebrity fragrances, this one from the artist Tamara de Lempicka. On the left, resting on the mantle is an Andy Warhol Polaroid of a cocktail party, which features spilled wine glasses and cigarette butts, which is a good vibe for entertaining. On the right are two small Japanese ceramics, which my partner Nick's father brought back from a trip.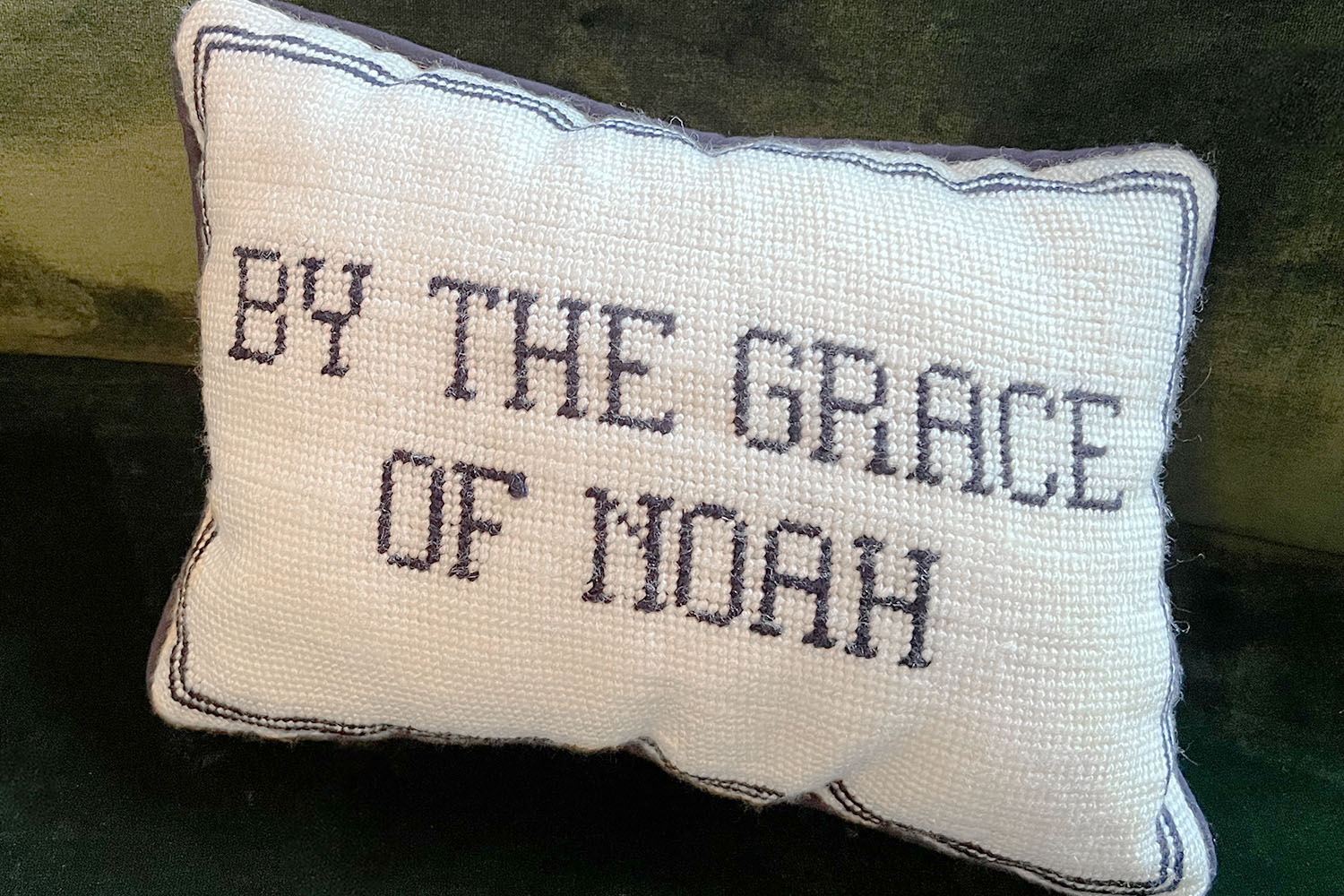 (2) Our friend Mark Guiducci gave us this pillow, which was inspired by the names of our children, Grace and Noah. All of my pals know that two of my biggest obsessions are puns and embroidered pillows, so I love this. Sadly, my partner Nick hates both of those things, so this is the only pillow that I have out (and he always rolls his eyes at my puns). Just know that I have bags and bags of similar ones that say things like, "I don't repeat gossip, so listen carefully," and, "If you have nothing nice to say, come sit right next to me." Maybe when I'm older I'll learn how to embroider and this can become a business for me?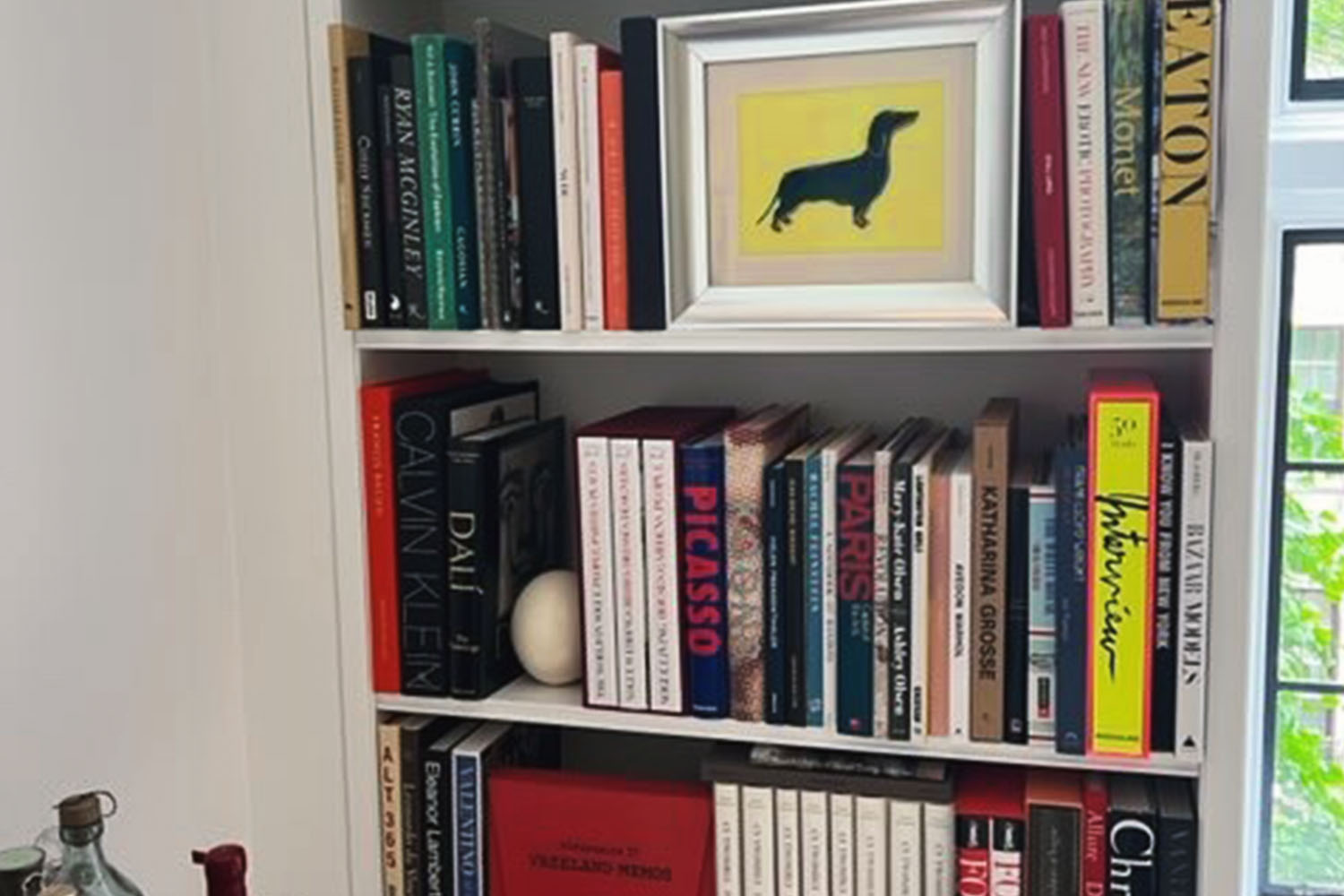 (3) I often tease visitors that this painting of my dog, Monster, is the most expensive piece of art in the house. It's a joke, because the artist is me. It's probably the only thing I've ever painted (yet?) that turned out, so I'm incredibly proud of it. I also love Monster so much.

Some other fun things in this shot include the Vreeland Memos, which the art collective Visionaire published about 20 years ago. It features actual memos that Vogue editor Diana Vreeland would send her staff. They're ridiculous and fabulous. After he died, it was revealed that Richard Avedon had saved them and was the source of the project. Shameless plug: All the way to the right on the second-to-bottom shelf is a book called Bazaar: Models, which I wrote! And it's available on Amazon. I should also point out, in case my mom is reading this, that the pack of Marlboro Reds on the corner of the bar is actually a ceramic ashtray I found on Etsy.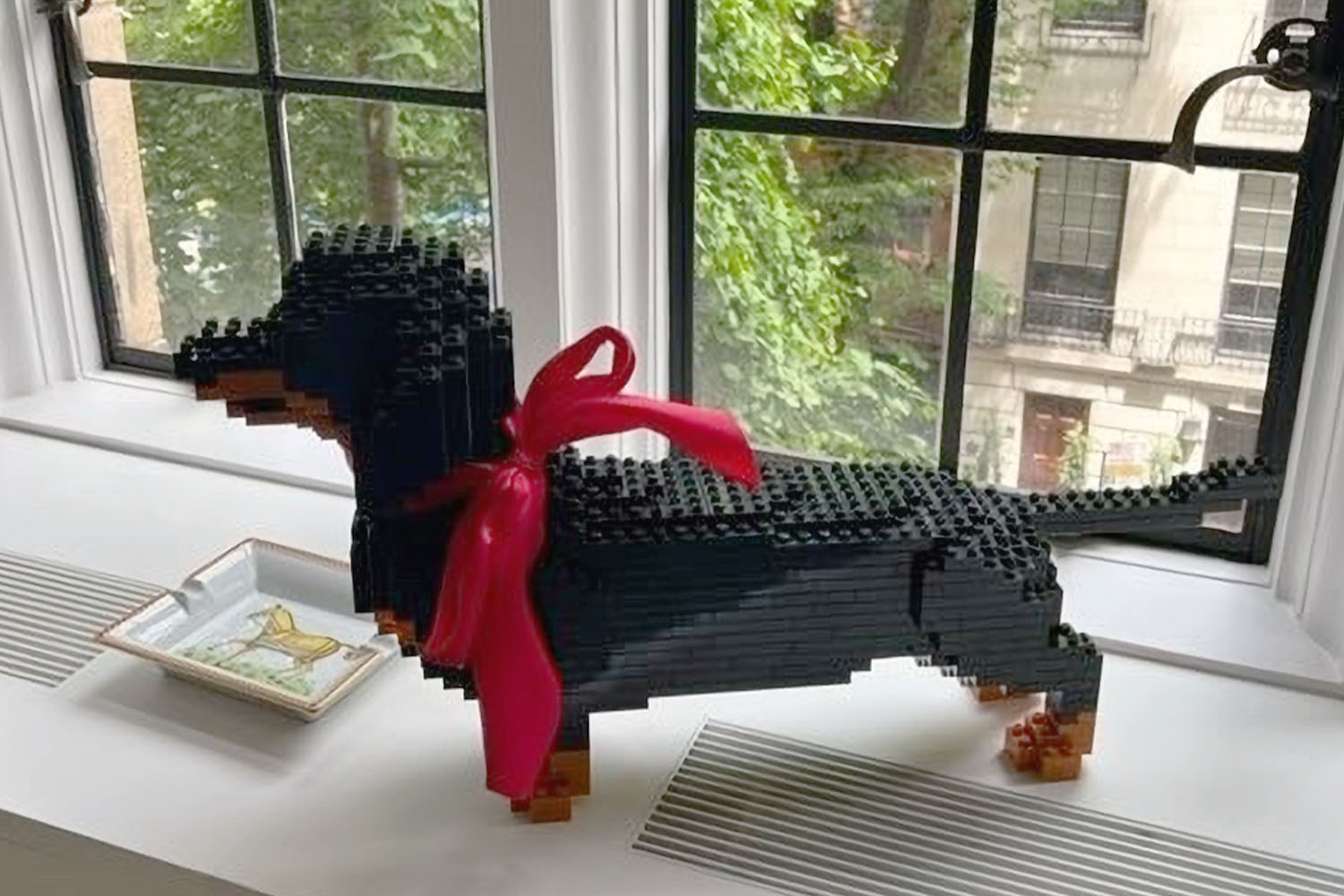 (4) I've already mentioned how much I love my dog. But if you don't believe me, here's a Lego version of Monster that my friend Fabiola Beracasa gave me for Christmas one year. It may be the best present I've ever received (sorry, Nick) and I thought it looked especially festive with the holiday bow, so that stuck. Also on the windowsill is an Hermès ashtray. Mom: Seriously, I don't smoke!
---