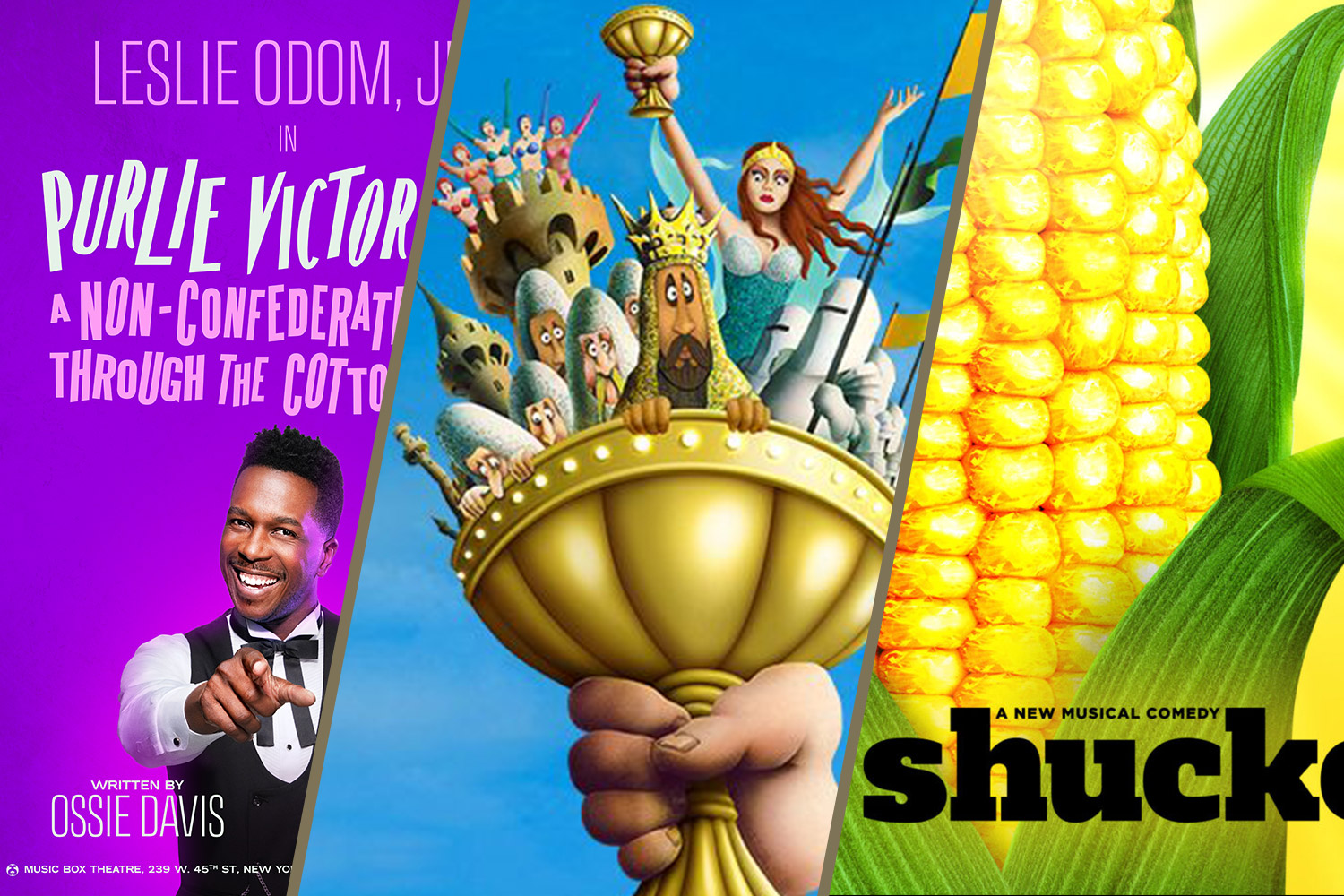 Harvest the Magic of Broadway's Big Fall
Gertie Grable previews the new season
August 24, 2023 12:01 pm
Here's the Grande Dame of the Great White Way's take on the new Broadway season. Curtains up… -NPH
---
Don't you just love summer in the Theatre District? Broadway's dressing rooms are buzzing, ticket lines are swarmed with bewildered tourists, and there's the smell of Tony Awards and sold-out houses in the air…
Well, my darlings, the dog days of summer have come and gone, and all that hullabaloo has fizzled like the tonic in your $20 souvenir sippy-cup cocktail. I've personally said my goodbye to Joe — that pillar of Sardi's who was always waiting for me with a smile and an ice-cold Gibson — and on Broadway we've said happy trails to a number of shows that just couldn't hack it. I guess audiences weren't interested in Bad Cinderella, New York, New York, Once Upon a One More Time, and Aaron Sorkin's take on Camelot, which closed early after anemic ticket sales. But the big question is: Are they more in the mood for Spamalot?
The fall theatre season is upon us! Shine your shoes! Get your mink to the dry cleaners! And quite possibly the biggest surprise is the return of Spamalot, which is already back on Broadway after the original production closed in 2009. Will Monty Python's guffaws put more butts in seats than Lerner and Loewe's ballads? I'd bet my VIP tickets to the Delacorte's pre-renovation extravaganza on it, especially since the producers have an ace up their puffy sleeve: Ethan Slater, whose name I was sad to see pop up in the gossip pages of the Post, is starring.
It certainly feels like a big family reunion on the Great White Way this year (I stay far away from the Grable get-togethers, but the gals from my louche chorus girl days still have a standing brunch at Joe Allen). Leslie Odom Jr. is back on Broadway, for the first time since his Tony-winning turn in Hamilton, with Purlie Victorious: A Non-Confederate Romp Through the Cotton Patch. It's a play, not a musical, and one from 1961 at that, so no playing it safe for him. The same can't be said for Josh Gad and Andrew Rannells, who are stripping away the supporting cast they had in The Book of Mormon and opting for a two-man show called Gutenberg! The Musical! The most triumphant return this season is no laughing matter: Here We Are, the final musical by Stephen Sondheim, which was unfinished at the time of his death, will be staged Off Broadway at the Shed. New Sondheim! Off Broadway! There are more questions than answers with that mystery of mysteries, so don't come knocking on my door. Just buy a ticket now. And while you're at it, buy one to the starry Merrily We Roll Along, which you'll finally be able to see now that it's on Broadway instead of in a 200-seat shoebox in the East Village.
The other week, my date to Shucked — a musical set in the midst of corn fields is the closest I'll ever get to an actual corn field — asked me my thoughts on "Barbenheimer." Now, you'd think your dear Gertie would be quite troubled that people are flocking to movie theaters instead of the far superior theatre. But I haven't lost a wink of sleep, and I'll tell you why: Everyone, deep down, longs for the stage. Back to the Future? It's on Broadway now. Jaws? Robert Shaw's son co-wrote a play about that film that's up at the John Golden Theatre. Movie stars like Matthew Broderick and Brooke Shields (Love Letters), and Michael Shannon (Waiting for Godot) and Aubrey Plaza (Danny and the Deep Blue Sea) are clamoring for a taste of that applause. Even Alicia Keys, who has probably sold more albums than Andrew Lloyd "Now and Forever" Webber, will be premiering her own musical down at the Public in October. Oh how the tables have turned.
Am I worried about theatre being eclipsed by that lesser art form of CGI and celluloid? Sweetheart, David Byrne and Fatboy Slim are throwing a dance party at the Broadway Theatre 8 times a week with Here Lies Love. You can keep your popcorn.
---