A Recipe for a Hummus Dip with Drip!
Here's a simplified version of this NYC restaurant's staple dish
July 7, 2023 11:02 am
Chef John Fraser has opened scores of restaurants all over the country, from California to Florida to New York, and this year, the New York Times named his restaurant, Iris, one of the top 100 restaurants in NYC. Also: Dude. Has. A. Michelin. Star! Nice. You're welcome. But back to the food…today John's sharing the recipe for one of Iris's most popular dishes: hummus. (More like yummus, amirite?! You're welcome again.) Take it away, John. -NPH
Fresh hummus with crudités and fluffy sourdough pita for dipping is a staple at my restaurant Iris in NYC, and a comfort food I've enjoyed all my life. This particular recipe is a simplified at-home version we offer at Iris Mezze, our new delivery experience. It's the perfect dish for your next picnic — it's easy to make, easily transportable, healthy and full of flavor. Enjoy!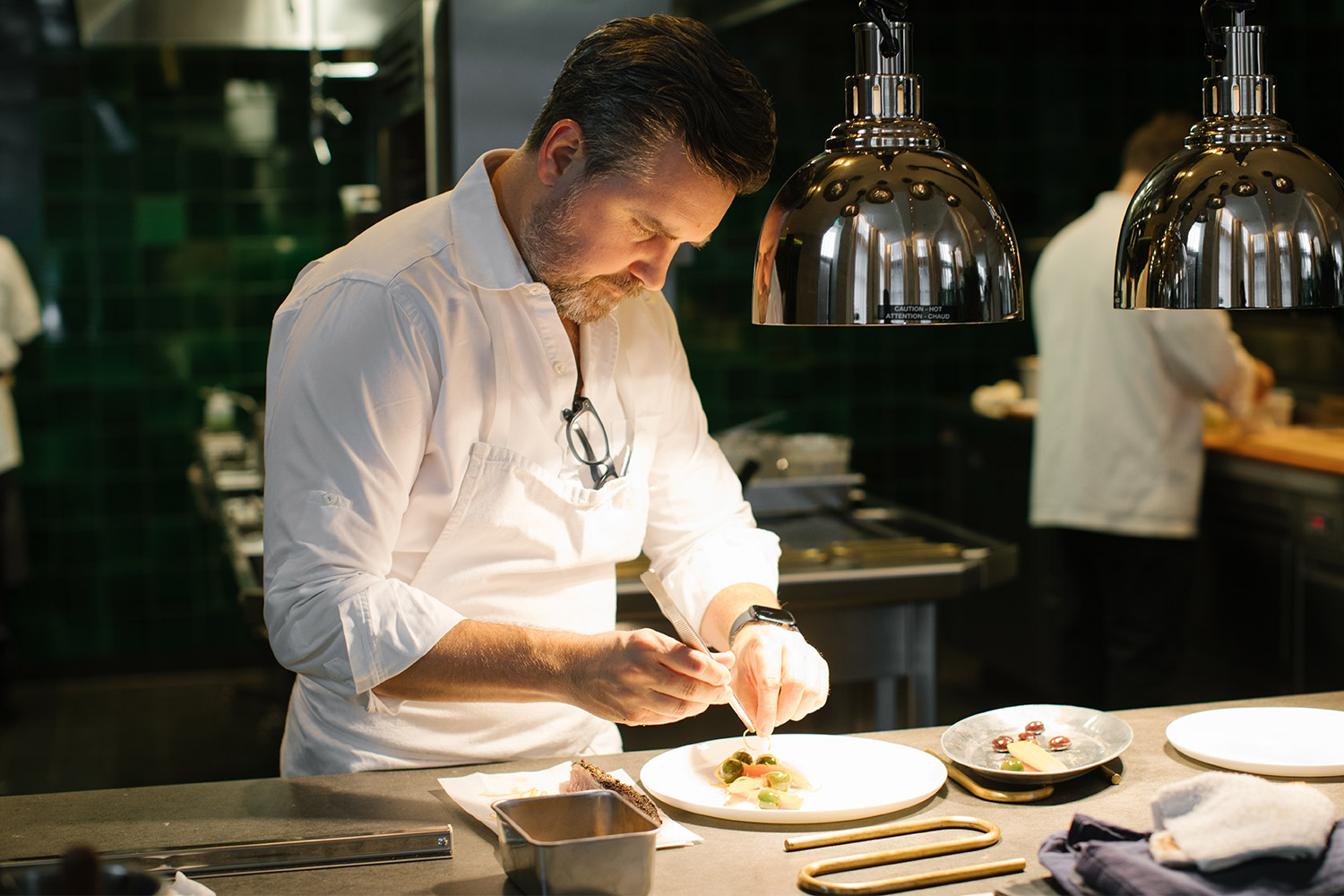 John Fraser's Iris Hummus
Copy Ingredients
Ingredients
2 garlic cloves, peeled
a pinch of toasted and ground cumin seeds
2 tsp. kosher salt
3 ½ cups canned chickpeas
1 cup tahini paste
⅓ cup fresh-squeezed lemon juice
3 tbsp. room temperature water
Roasted Red Pepper Topping
2 garlic cloves, peeled
4 fresh plum tomatoes
1 cup roasted sweet bell pepper
1 Fresno chile pepper
½ cup finely chopped parsley
1 tbsp. pomegranate molasses
1 tbsp. lemon juice
3 tbsp. extra virgin olive oil
2 tsp. kosher salt
Directions
Copy Directions
In a food processor, use the "pulse" button to create a paste from the garlic cloves, cumin and salt.

Add the canned chickpeas to the food processor and turn it on. As the chickpeas become a puree, stream in the tahini paste, followed by the water and lemon juice.

For a creamy texture, let the food processor run until the puree is silky smooth. If you prefer a chunkier style of hummus, process the chickpeas for less time.

For the roasted red pepper topping: Roughly chop the garlic cloves, fresh plum tomatoes and roasted bell pepper. Add these ingredients to the bowl of a food processor and pulse until they reach a chunky texture, similar to salsa.

Transfer the mixture to a small mixing bowl and whisk in the finely chopped parsley, pomegranate molasses, lemon juice, olive oil and salt.

Serve the hummus by making a divot in the center, similar to making space for gravy in mashed potatoes. Fill the divot with the roasted red pepper topping.
---
Recommended
Suggested for you