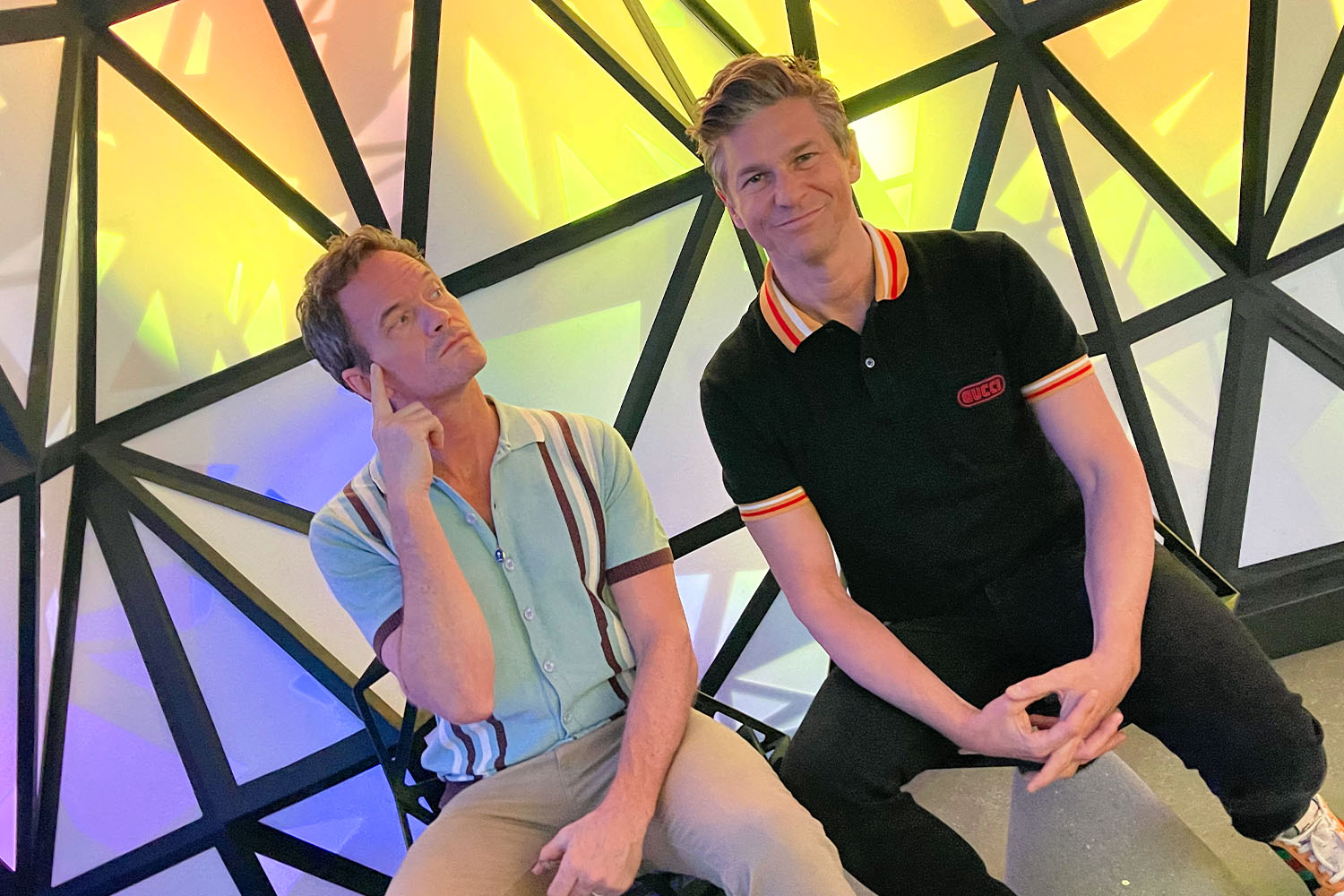 The Wondercade Guide to Las Vegas
How to do Sin City — no gambling required
May 17, 2023 12:16 pm
Nobody knows Las Vegas better than Emily Jillette. That's precisely why, whenever David and I are Nevada-bound, we hit her up tout de suite: she is our stellar Sin City specialist. And we share exactly the same interests — magic, escape rooms, musicals and more. So, if you're like us and want to take advantage of all Vegas has to offer, sans gambling and clubbing, do consider our itinerary. Emily will take over from here, and I'll sprinkle in my own observations and anecdotes throughout. — NPH
Emily Jillette: This was such an incredible Saturday. And we packed a LOT in! The very first thing I did was pick up Neil and David from where they were staying at Resorts World. (We nibbled on some brioche from Guy Savoy in the car. Delicious!)
From there, we hit up Area15 — it was a big part of our day. Area15 is, at its core, an entertainment mall. There are at least 10 different things and attractions you can see and do, and they're all kind of independently run under one umbrella. There's a set of coordinates painted on the side of the building — and if you look them up on Google Earth, it actually says on the roof "does not exist." It's so cool. Plus, the entranceway has a lot of amazing, Burning Man-type art. Neil and David recreated a beautiful statue — check out the pic!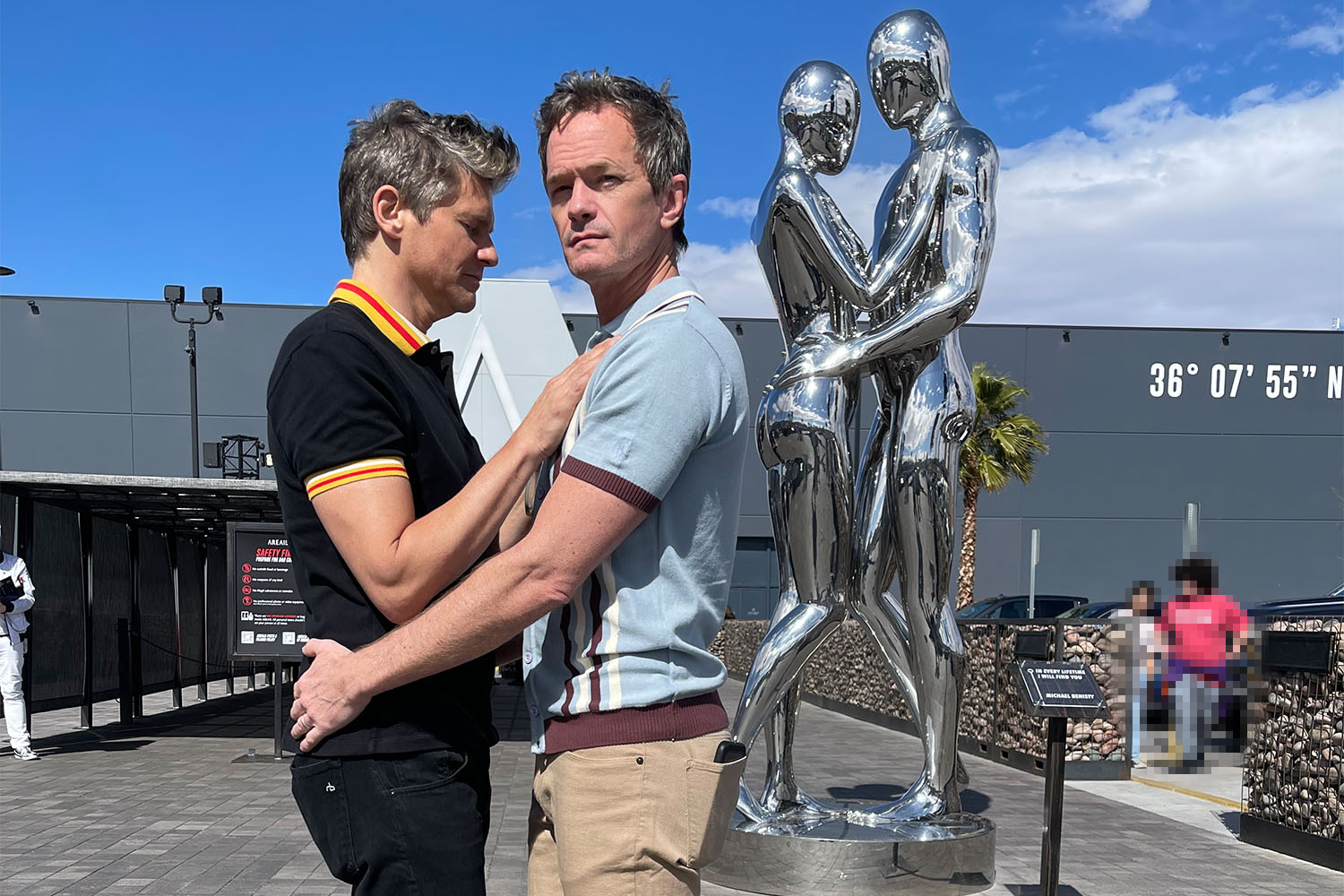 Once inside, we went inside Wink World: a psychedelic, immersive experience and light show created by Chris Wink, one of the originators of Blue Man Group. It's an 8-room, 3-4 minute experience that's very 3D and colorful. Neil was really into it — if I had to guess, I think it was his favorite part of all. (Neil Note: Hard to compete with Omega Mart [see below], but I am a fan of Blue Man ideology, as well as infinity mirrors….) It was beautiful.
After that, we checked out this installation called Brainstorm. It's an interactive console that monitors your brainwaves and turns them into art. Then, at the end, it issues you a card that tells you about your personality. Neil did it, and I put his card in my purse so that he didn't have to carry it around. (Neil Note: And, erm, never gave it back? I'm nothing without my personality…) Afterwards, we went to Area15's wonderful little bar, Datamosh, which has signature cocktails with big bubbles.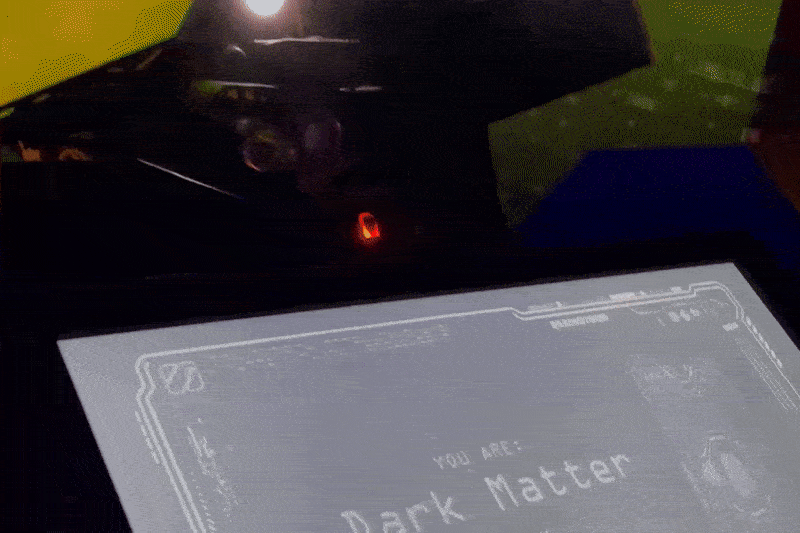 Area15 also has a ride called Haley's Comet, which is a bit like indoor hang-gliding: you ride in the air, around the venue, and see everything from above. You can control and steer it, like a kite. It's pretty fast, once you're in it. Neil did it twice! (Neil Note: Listen, anytime anyone asks you to indoor any-glide, you'd best say yes. Life is too short.)
And then, of course, there's Meow Wolf, which is Area15's collection of trippy art installations that has an entire narrative storyline you can follow. The Meow Wolf in Vegas isn't the company's first, though: there's this wonderful documentary about the original Meow Wolf in Santa Fe. (Neil Note: My home state, baby! Land of Enchantment represent!). The version in Las Vegas has a front section called Omega Mart, which is essentially a surreal grocery store where you can buy all sorts of weird and wonderful grocery items. Neil and David bought so much stuff for the kids. (Neil Note: The grocery store is also a facade for the very immersive, truly remarkable, massive inner sanctum, filled with countless hours of backstory to uncover. It's surreal and outstanding. But yeah, the comedy food items were cool, too.)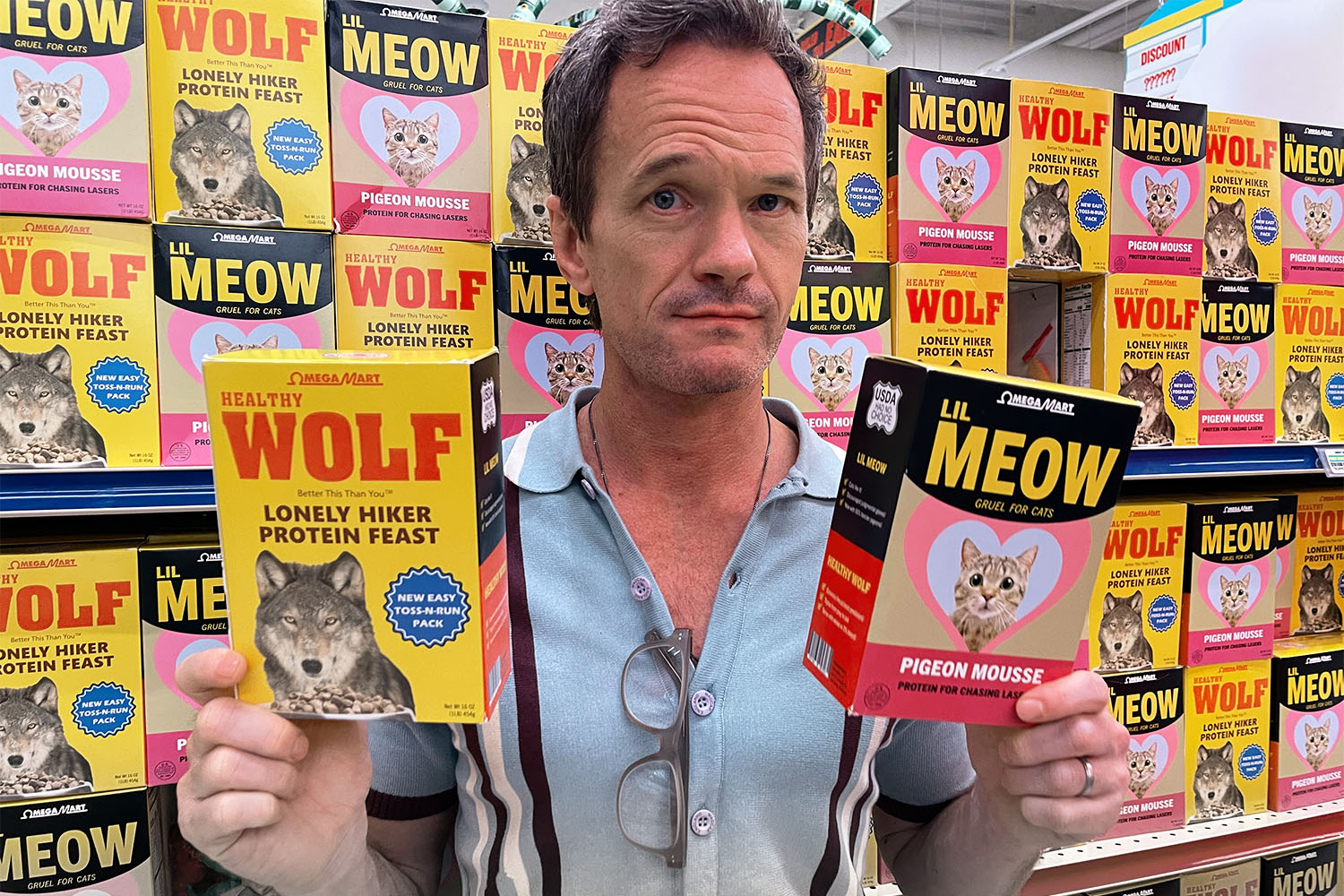 After spending a few hours at Area15, we headed to an escape room. We went with my friend, comedian and magician Harrison Greenbaum — he and I do escape rooms almost every week together. He's also a participant of the Recon escape room convention with David and Lisa Spira (Neil Note: Get to know David and Lisa via this recent Wondercade article, now on our website). Harrison's the former president of the Harvard Magic Club, and is the host of Cirque du Soleil's New York-themed Mad Apple show (Neil Note: We went to that, too — keep scrolling to read about it!) So, everything he does is quite the Venn diagram of everything Neil loves in life. (Neil Note: He's legitimately hilarious. And his first name contains my last name, so…kinship.)
In the first room we did, called The Study, we had to escape from a serial killer's — you guessed it — study. This one had an actor in it, and it also had what a lot of people don't like: jump scares. But it wasn't intellectually scary, just viscerally scary. And escape rooms turn Neil into a hyperactive 14-year-old, and it's the most adorable thing ever. (Neil Note: Can confirm. I'm just a tad over 14.) I've done quite a few escape rooms with him, and he never fails to entertain, and he's so good at them! (Neil Note: Can confirm this as well…I have done over 60 escape rooms and I'm undefeated!) We escaped, but I didn't escape with my dignity…one of the "we escaped" photos we took was in front of a green screen, and I was wearing a green sweater! So I was basically just a floating head, as you can see in this photo:
Around 6:30, we hit up Cabinet of Curiosities: a speakeasy that I think may have been one of Neil's favorite things, because it's a funhouse filled with so many artifacts and oddities…it's almost museum-like. It's inside a hotel called Horseshoe, which is a throwback to the Horseshoe that was in downtown Las Vegas.
The entire hotel lobby is filled with all sorts of these curios: skulls, keys, antiques, artifacts, old boxes and all kinds of things. They each have numbers on them, and if you scan the QR code, it takes you to a website where you punch in the number, and it gives you the provenance of the item: where it came from, how old it is…its background story. Neil was so in love with it! He was saying, "Oh my God, I want to do this in my house. This is amazing." (Neil Note: It's not quite the same thing, but I did give you a detailed inventory of all the treasures in my home office in an early edition of Wondercade. Here 'tis, online, if you missed it. OMG, I love having a website!) And then, we had to solve puzzles to get into the back bar. Here's a photo of Neil popping out of the safe!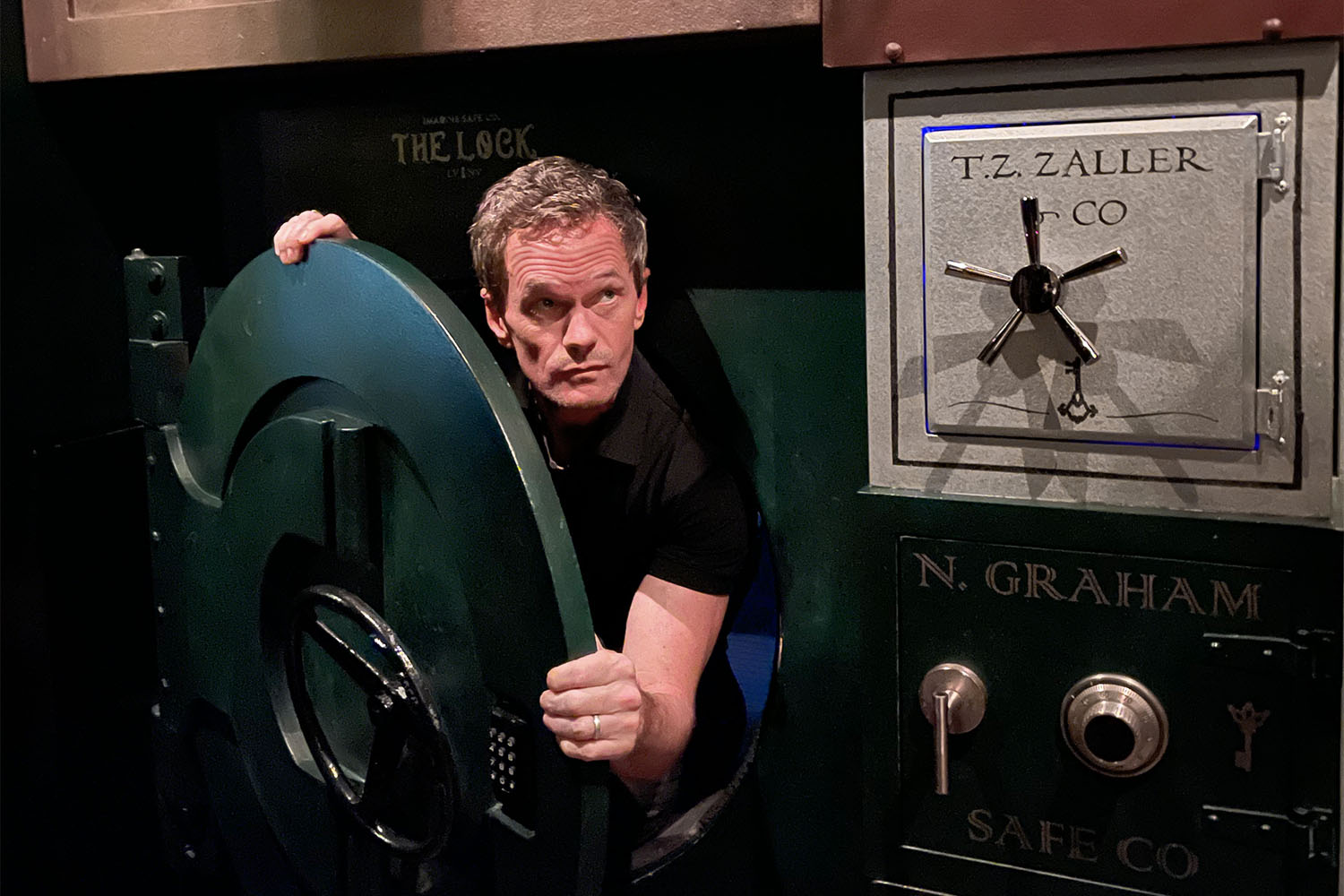 When we made it to the other side, we got access to the inner bar, which had a 1930s speakeasy vibe with leather seats, dim lighting, beautiful charcuterie, flavored popcorn and all that. We had a special drink at the bar: a cocktail with a smoking skull in it. The theming was a 10 out of 10. (Neil Note: An 11.) Afterwards, we went to dinner at Bobby Flay's new restaurant, Amalfi, which was fabulous. I believe we licked the plate on everything. (Neil Note: Not all of us. David is too well-mannered for that. So I licked his. The plate — take it easy.)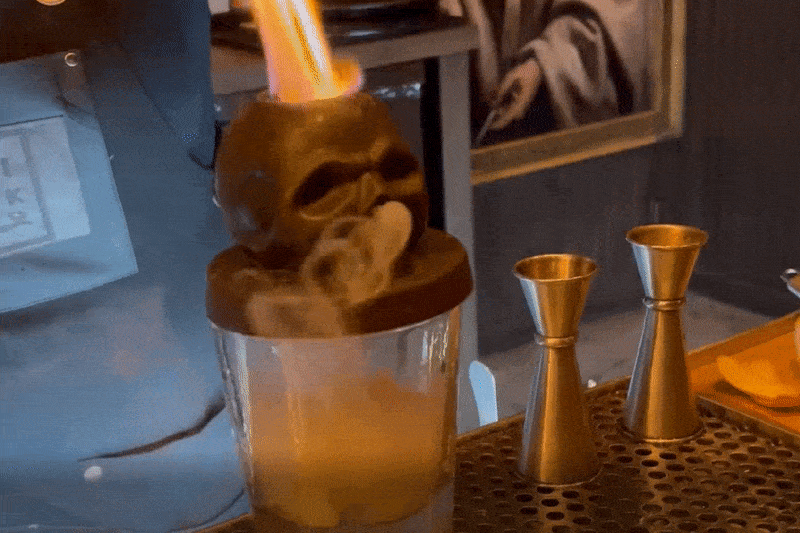 After dinner, we went to see the Cirque du Soleil show that Harrison is the MC for, Mad Apple — and it was spectacular. It's essentially a variety show and the premise is: "Hey, this is what New York City is like!" There's a trampoline basketball act, with one guy who's what you call a spinner — one strong guy lays on his back, and then flips the other guy up on his feet. (Neil Note: This definition of "spinner" is very different from the one I use…let's hear it for short kings!) Plus, a band is on stage for part of the show, and the trumpet player is a man named Isaac Tubb — who's one of the best trumpet players in the entire world. (Neil Note: He really blew.)
There's also a bar up on stage, where you can go and get drinks before the show. But when the show starts, the bar literally moves out of the way, and the actual stage descends from the ceiling. So the bar where you were drinking before the show becomes the stage for the performers. It's so cool. (Neil Note: Oh good, that actually happened. I was worried I had just been over-served.)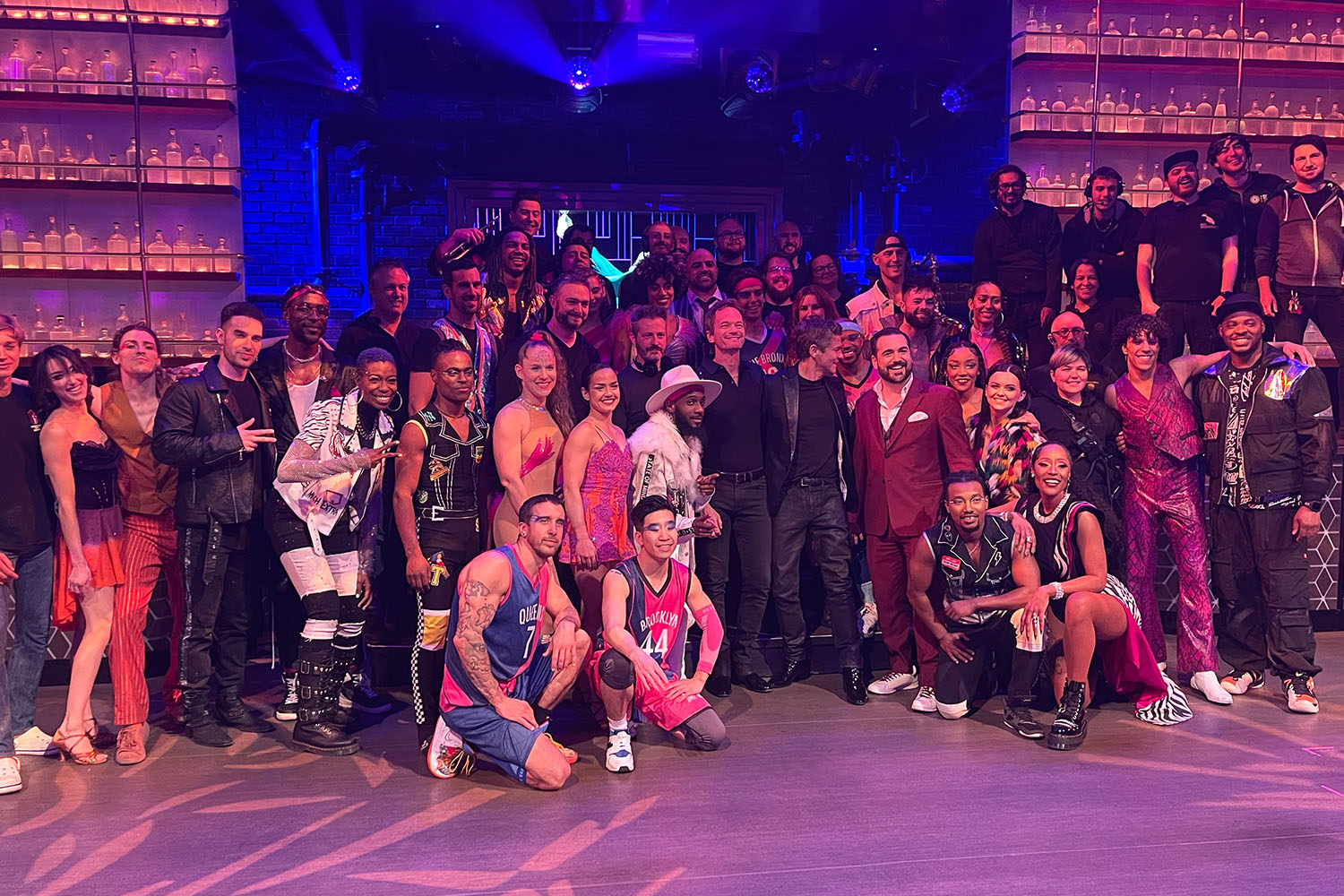 Finally, after Mad Apple, I was like, "Okay guys, do you want to get a drink, go to Lake of Dreams and see a show, or go do another escape room?" I thought they would need to recharge their batteries, but everyone rallied and said, "Let's do an escape room!" We made some calls and requested that they stay open for us after their last scheduled show, so we were able to do a late-night escape room. (Neil Note: Emily totally flexed. It pays to have friends in high places.) It was called The Asylum, which puts you in a small, dimly lit and foggy mental asylum you have to bust out of. As you can see, David donned some pearls and glasses to transform into one of the characters! He embodied it. Even spoke in an "oh, woe is me" old lady voice. (Neil Note: Not the sexiest voice…but I'll still play.)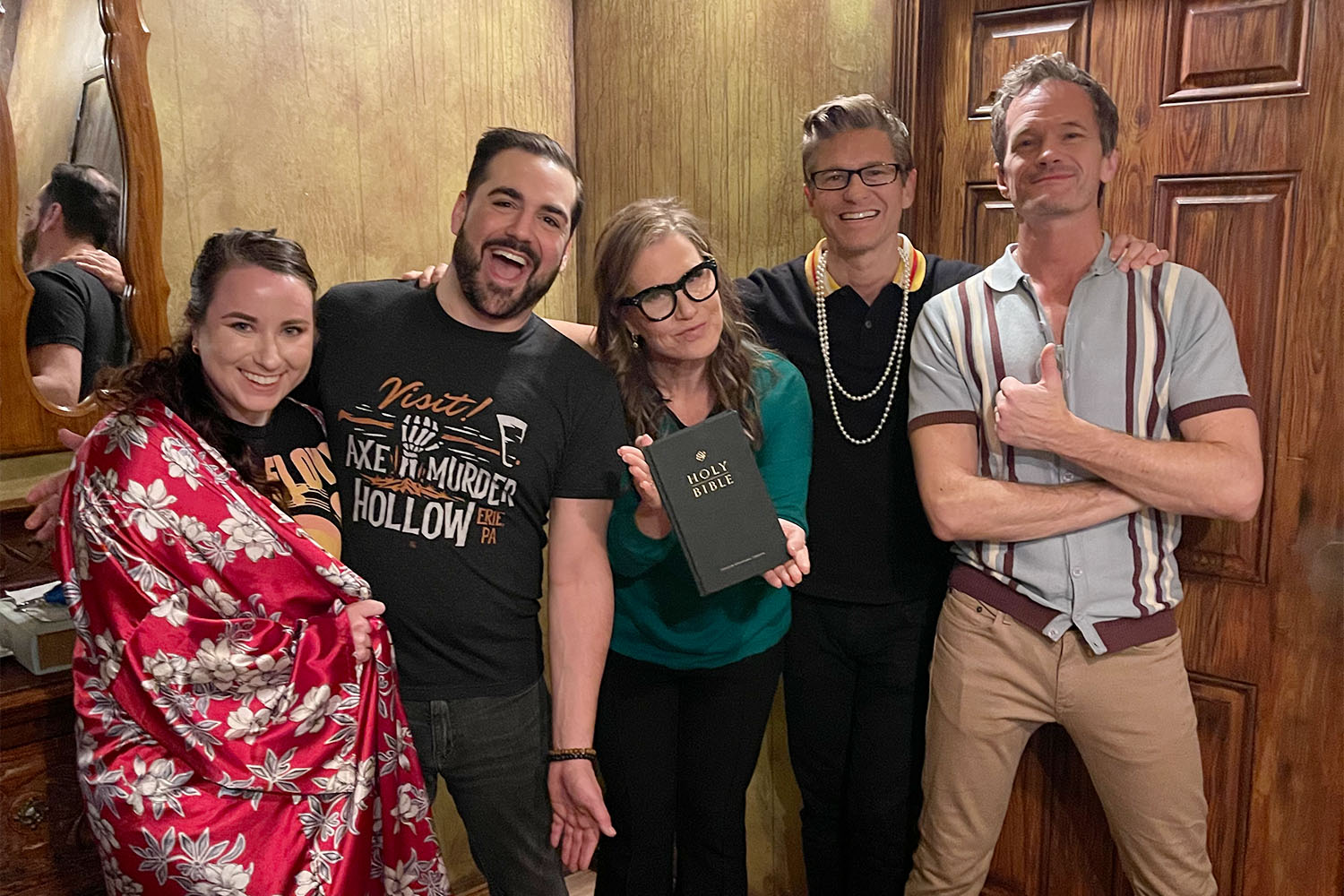 Overall — we had an amazing time. Come back again soon, Neil and David! (Neil Note: Thanks, Emily. How's late May? Can we stay with you?)
Neil Note: Here's another thing we did — and another brilliant recommendation from Emily. Spiegelworld has amazing shows, and I've been a fan since first seeing them at the Edinburgh Fringe Festival years ago. Absinthe made them a success, deservedly so. Their MC, the Gazillionaire, is revolting perfection. They now have three shows running, all worth seeing. We brought friends to Opium, and found it amazing. The first-rate acts happen right in front of you, the comedy is lewd and awesome, the setting is outer space. What's not to love? I especially love how intentionally unpolished it is — the show isn't precious. It almost feels like a downtown NYC, Lower East Side kind of show. And in turn, the impressive acts are that much more thrilling.