The Art Of Il Pranzo: Or, How To Eat Lunch Like An Italian
Understanding what makes Lo Scoglio one of Italy's secret (not so secret) culinary gems
June 1, 2023 12:33 pm
At our home in New York — as is the case in so many homes, likely your own — family dinner is sacred.
David and I are busy people. Our children, somehow busier. And sitting down to eat and laugh and pry answers out of our kids about the state of their lives is often the only time we get to spend together in a (mostly enforced) no-phones environment each day.
As I was reminded on a recent trip to the Amalfi Coast, they have a similar tradition in Italy, only it spans about two extra hours and involves approximately 200% more food: il pranzo. Lunch. And there perhaps is no place on earth that has better perfected the art of serving lunch than Lo Scoglio da Tommaso in Marina del Cantone.
Scoglio is Italian for boulder, and the name makes sense the moment you set eyes on the place. Lo Scoglio's dining room is a sprawling deck that juts out into the Tyrrhenian Sea, and underneath that deck is a great big boulder. When Tommaso de Simone, who wasn't sure what to do with the abundance of produce from his local gardens, saw that boulder in 1958, he decided he'd like to build a restaurant upon it. Three generations and 63 years later, not a whole lot has changed.
Presiding these days are Tommaso's grandchildren, Giuseppe and Antonia. On a typical day in summer, they host somewhere between 80 and 100 guests, many of them arriving by boat, like David and I did. Some of the boats are bigger than the restaurant. And some of the people who step off of them are even bigger than the boats, figuratively speaking.
"What is wonderful is that all of the celebrities, when they come here, feel at home, and also come in a very easy way," Antonia tells me. "Like entering at home. It's fantastic."
Lo Scoglio's magic lies not just in the exceptional food — though we'll get to that — but in its effortless sense of hospitality. The de Simone family has built a reputation as one of the best restaurants in the world by making an endless carousel of A-list guests feel like they aren't the guest of honor, for once. Instead, it feels like you've been welcomed onto a very warm and large Italian family's back porch.
"Every time, we are always blushing, even if you don't see that we are," Antonia continues, moments after being notified that the president of one of England's biggest football clubs is en route. "Maybe in your other life, you have a lot of pressure, no? Working, business, stresses. So, I really desire that when you come here, you must be free. You must be comfortable, at home."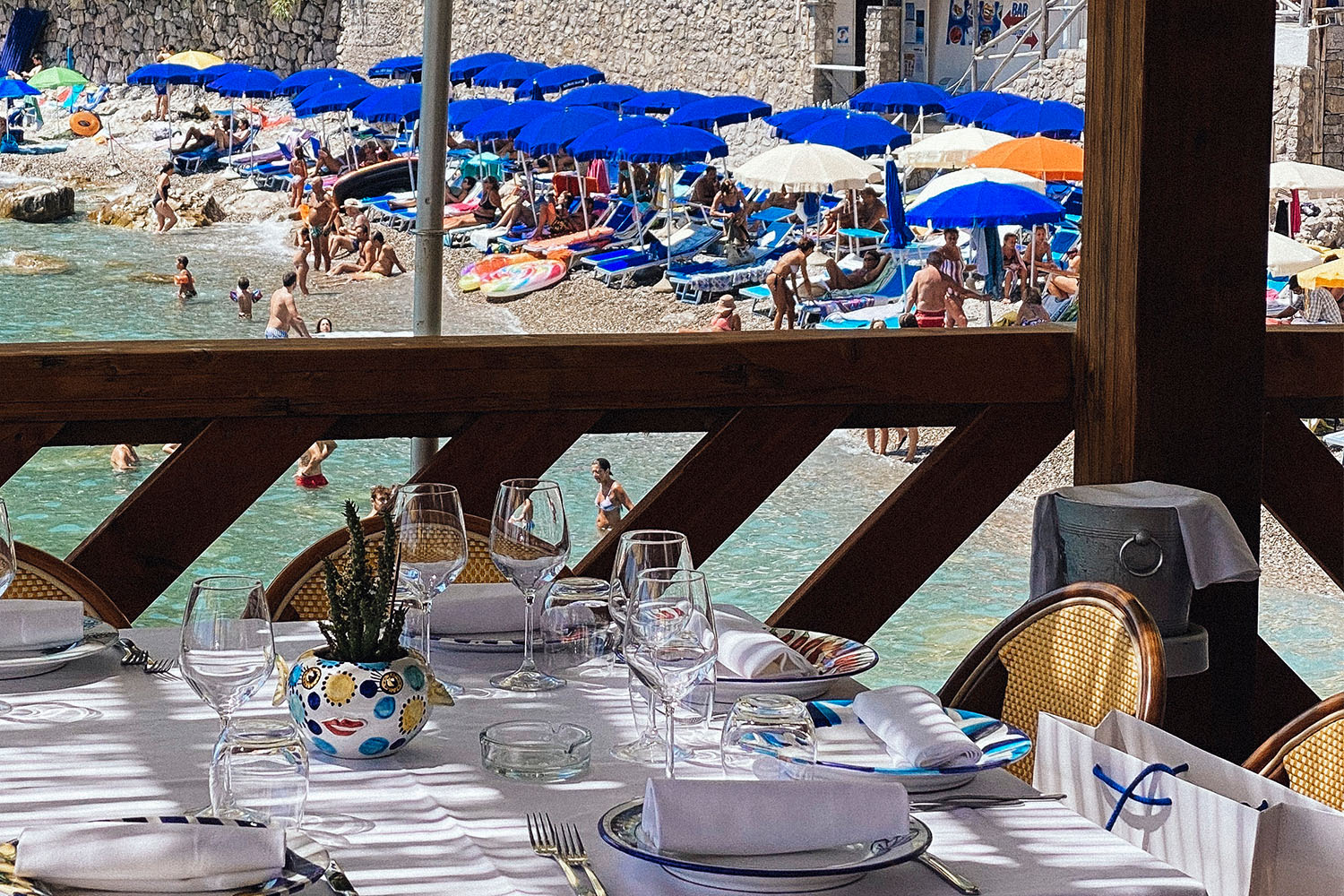 "At home" means white tablecloths, true, but an otherwise almost total lack of pretension or grandeur. The dishware is handpainted. The decor is spare and functional. And the food is so refreshingly unfussy that it's almost an act of rebellion against the uber-modern bistros and boîtes that have come to dominate the culinary world.
The restaurant specializes in two things: produce grown on the various plots of land in the surrounding hills that make up the de Simone family farm, and whatever frutti di mare the restaurant's fishermen pull out of the sea each morning. They then combine those ingredients with homemade pastas, local cheeses and what David suspects were liberally-eyeballed dollops of butter to create the kind of simple, three- and four-ingredient Italian dishes that everyone likes to make but very few people know how to make well. "People that come to Lo Scoglio want to have food that we normally have at home," Antonia says.
The restaurant's signature dish is a zucchini pasta (keep scrolling for a link to learn the exact recipe), but a simple tomato salad with basil and olive oil might be a close second. The seafood offerings change daily based on what falls out of the net; uni, lobster, crab, clams, grouper and branzino all make frequent appearances.
The real key is eating all these things slowly and sequentially, one plate at a time, and enjoying your company as you await the next dish. No one will rush you from your table; in fact, they'd prefer you stay. "My father always preferred when there were less people, so his job was easy," Antonia tells me with a laugh.
Do I expect the long, languid Italian lunch to replace my family dinners any time soon? Unlikely. That would require a wholesale rebranding of the American workday, a cause that I am not quite prepared to make my own. But in the meantime, David and I will surely be looking to turn some upcoming lazy weekend afternoons into our own version of a visit to Lo Scoglio, and I encourage you to do the same.
Click here and, you'll find the recipe for their famous zucchini spaghetti — sent direct from Antonia — to help you get started.
---
Recommended
Suggested for you