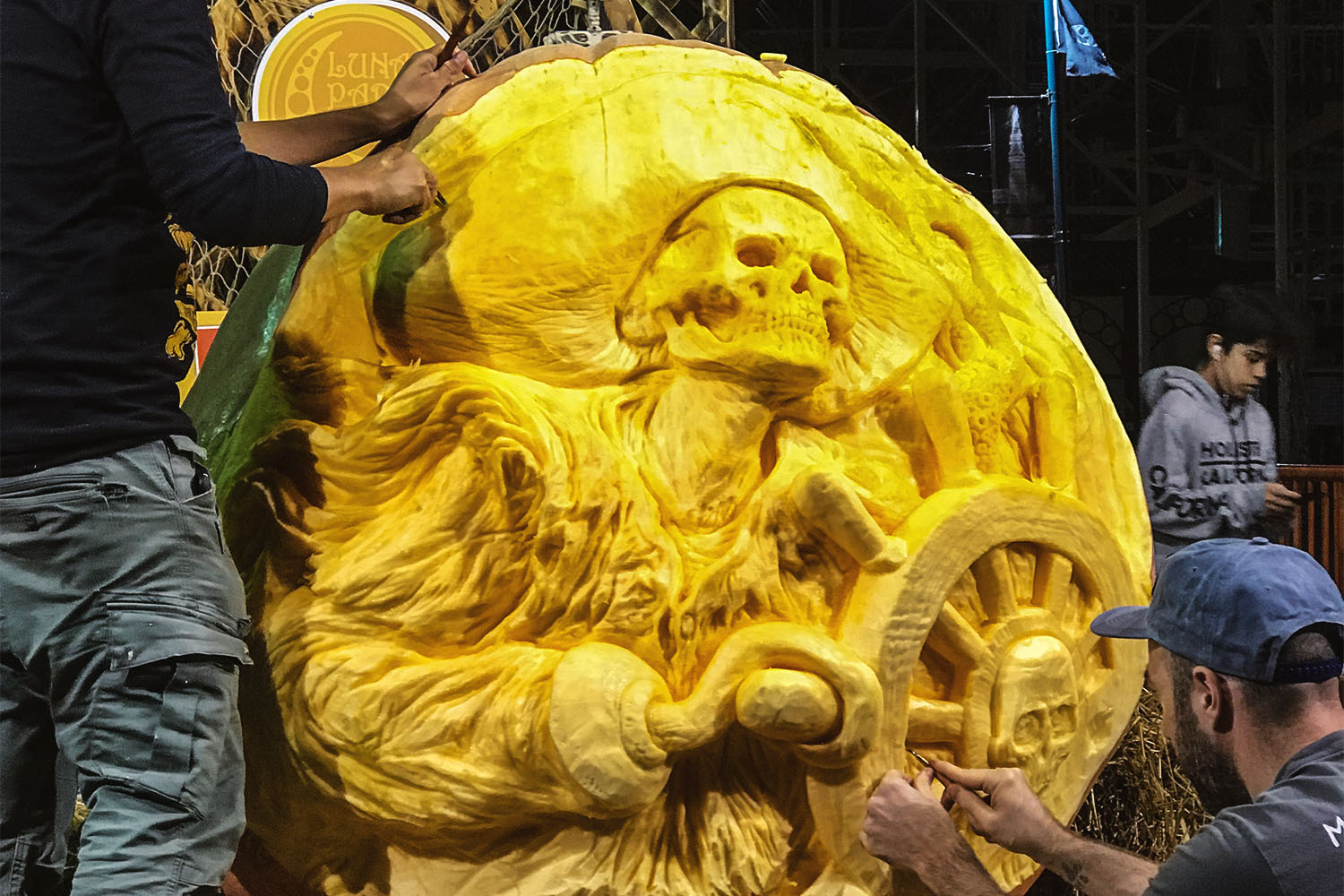 How to Carve an Incredible Pumpkin
Jumpin' jack-o'-lanterns!
October 2, 2023 5:10 pm
I sat down with Maniac Pumpkin Carvers, who have taken the practice of pumpkin-carving to heights I never knew existed. (I'm getting vertigo just thinking about it.) Run by a pair of pals, they take those iconic orange gourds and spectacularly transform them into works of art. Literally. They've recreated the Mona Lisa and van Gogh's Starry Night, in addition to countless other things, from George Clooney's handsome mug to an ode to the minivan. (So much legroom!) Today, not only will you be treated to loads of pretty pumpkin pictures, but I've also asked the guys for a bunch of tips on how YOU can carve a better pumpkin! In other words, you've scored. – NPH
---
There's pumpkin carving, and then…there's pumpkin carving like this. New York-based Maniac Pumpkin Carvers, founded by childhood pals Marc Evan and Chris Soria, pumps out the most brilliant pumpkin art you've ever seen. I spotted them on Instagram, and now I'm obsessed.
Marc and Chris have known each other since middle school, studied art together at the Parsons School of Design, and had a long-standing tradition of carving pumpkins around Halloween while working bar and restaurant jobs in New York. They got a bit of press attention here and there for their creations, and then in 2009, the New York Yankees called. "They wanted 50 pumpkins for all the skyboxes for the World Series," Marc recalls. That led to more press, and the two decided to go all in, and turned Maniac into a full-time operation.
So naturally, I reached out to them…and connected with Marc (I'll assume Chris was in the middle of a masterpiece and couldn't jump on the call) to get 5 tips for amazing pumpkin-carving. All in the service of helping you make gourdgeous Halloween decorations. You're welcome.
1. Pick the Perfect Pumpkin
Don't just grab a pumpkin at the cheapest place. People buy pumpkins a lot at box stores. Those pumpkins are beat up by the time you see them on the shelf. They're not fresh; often the stems are broken off. Ideally, you want to go to a garden center or a pumpkin patch or a farm that sells fresh pumpkins. It shouldn't have bruising on the skin. You don't want to see damage from insects or have it look like it's been dropped 10 times. The texture can be off; an older, dried-out pumpkin is going to be very challenging to carve — the texture totally changes. It won't last as long once you start carving it, and when you do start carving it, there could be rotten parts inside.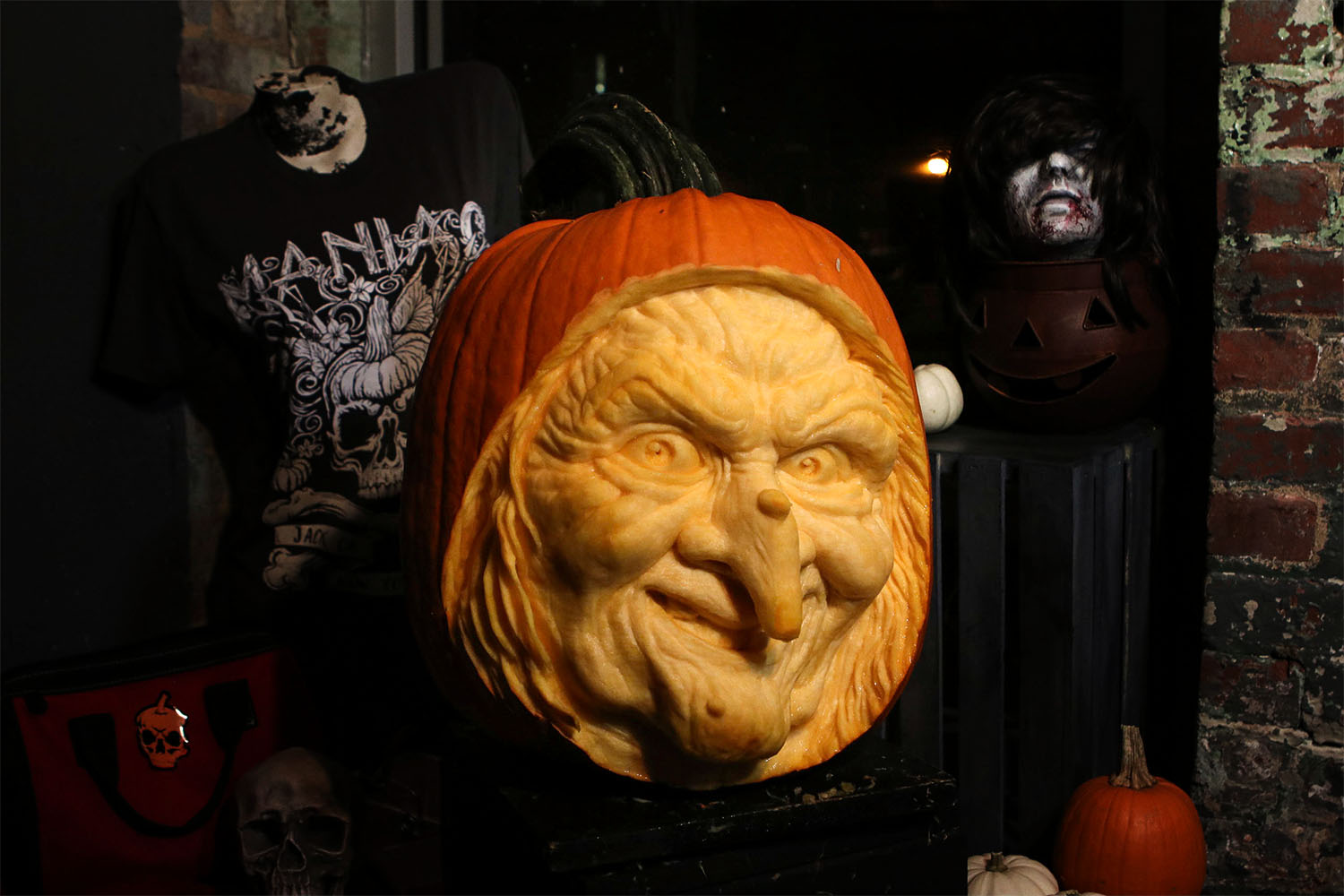 2. Scope the Stem
You want to make sure the pumpkin has a stem attached. The stem is kind of the lifeline that the nutrients and the water came into the pumpkin from. The stem being attached is a sign that the pumpkin is fresher. The greener the stem is, the fresher the pumpkin is. The stem is also not a handle to lift your pumpkin by. Pumpkins are grown lying on the ground. The stem isn't meant to support the weight of the pumpkin.
3. Tool Time
That cheap pumpkin-carving kit you can buy at the grocery store? The one with that little neon plastic saw? That's actually great if you're doing a classic, cut-through pumpkin carving. But if you want to try something new, or try your hand at what we do, think outside the pumpkin-carving kit box…and inside hardware stores, kitchen supply stores and art supply stores. We use wood-carving chisels, gouges, things called ribbon and loop tools which you usually use when making pottery, and other things that help scrape the flesh off the pumpkin rather than carving it. You can even use things you might have lying around your house to achieve different textures, like paring knives, drill bits, lemon zesters or melon ballers, the latter of which you can make eyeballs with if you're making a pumpkin face, or warts or pearl necklaces.
4. Plan Ahead
You want to keep an organized, clean workspace. And have a plan. We always recommend sketching out a couple ideas. Even if you're doing a classic triangle-eyed, jack-o'-lantern face, draw it out on paper…figure out the relationship of those shapes: the triangles, the squares, the circles. Once you've drawn it on paper and like what you have, then you draw it again onto the pumpkin, and that's when you start carving.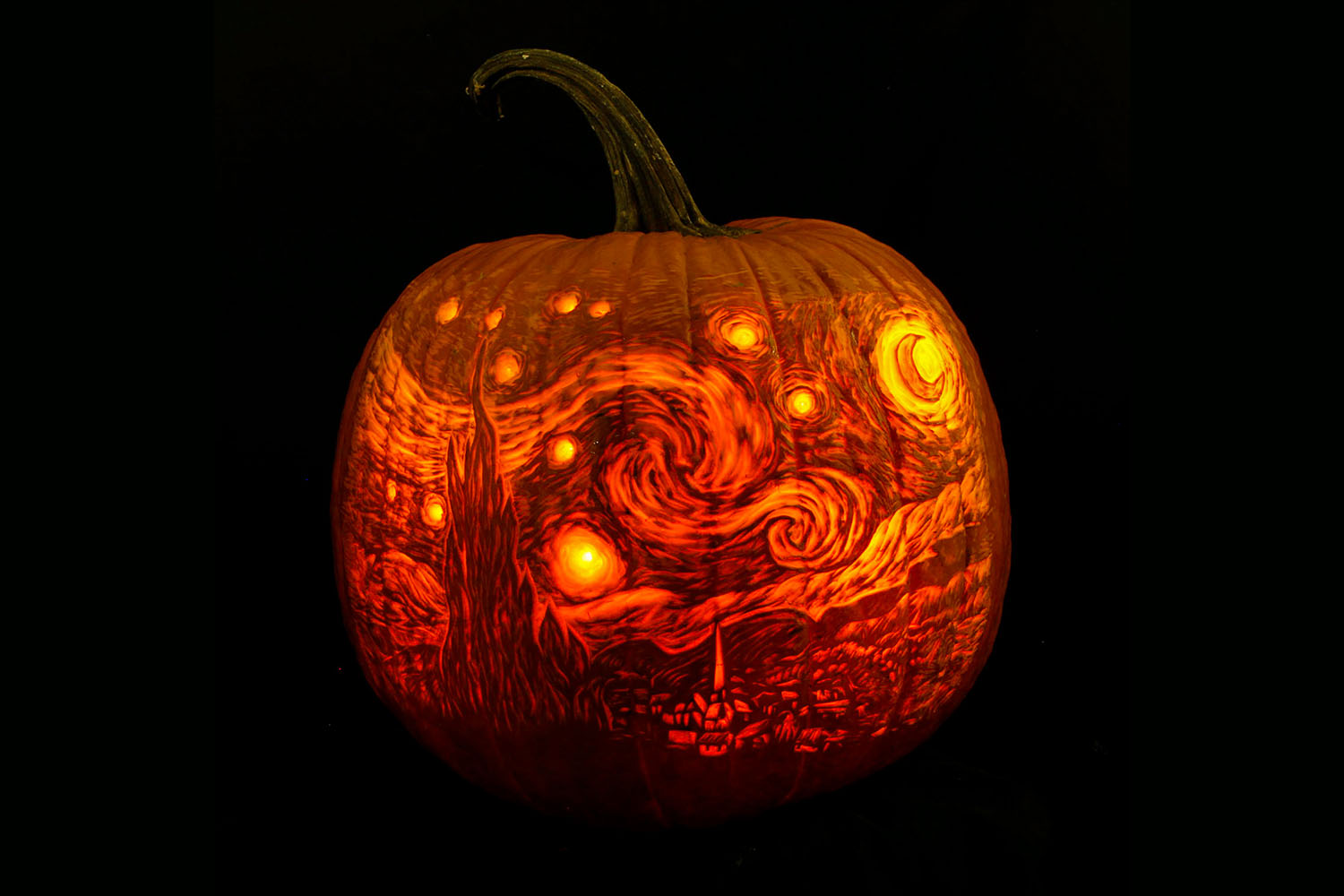 5. It's Supposed to Be FUN, Remember?
This is an ephemeral art, like sand sculptures, ice sculptures, floral designs and even the culinary arts. This is a perishable work of art, so the process is hugely important. The work is meant to be experienced in a short window of time while these pumpkins are viable. There's an immediacy about that and something kind of magical about it. The best thing to do is enjoy the process, and take great photos…and then carve some more.
---