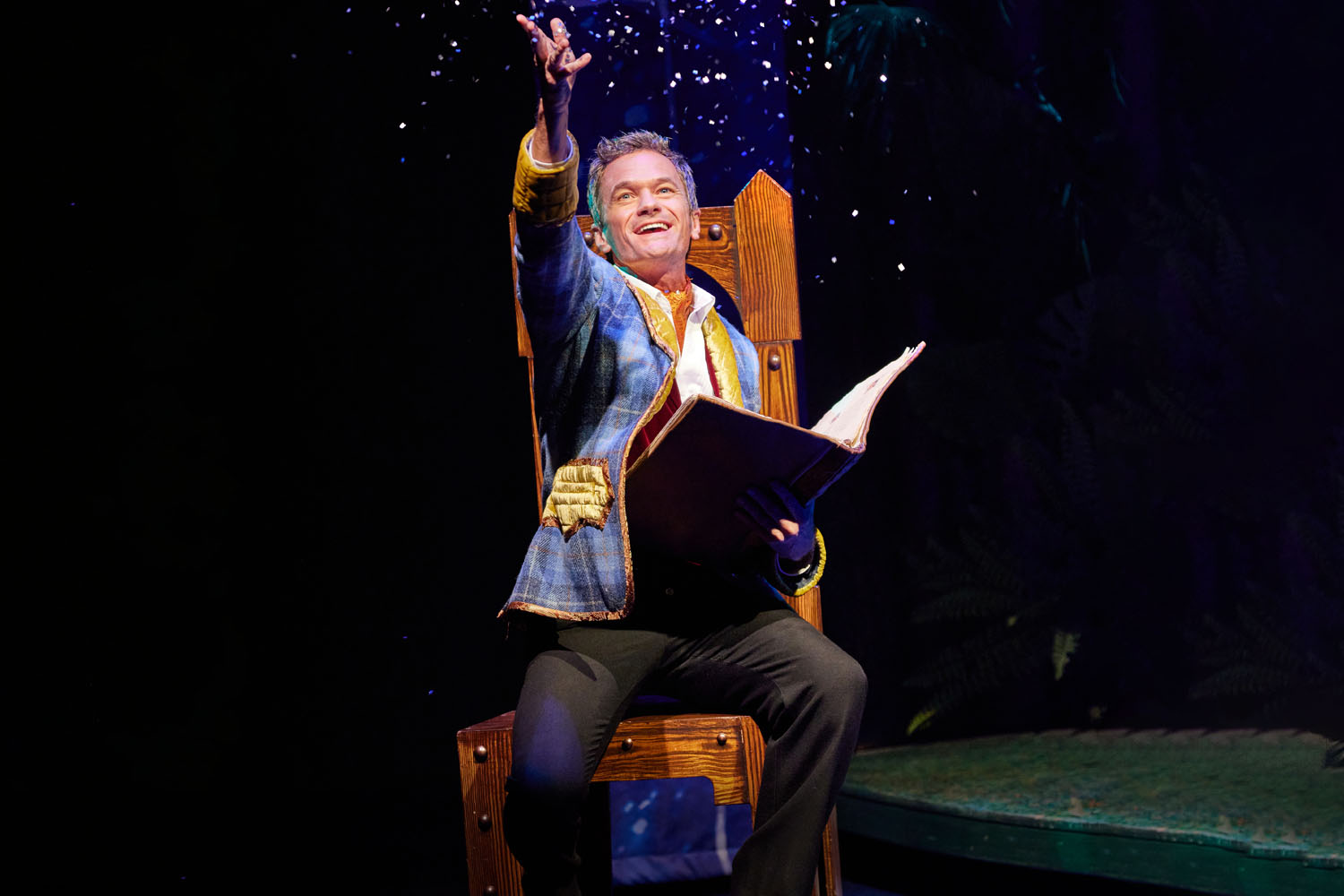 Behind the Scenes of "Peter Pan Goes Wrong"
Neil talks about his experience in the Broadway slapstick comedy
April 21, 2023 10:11 am
A note, before we raise the curtain. Last week, I started performances in the Broadway production of Peter Pan Goes Wrong, at the Barrymore Theatre. But more on that down below, under that cute rabbit popping out of the hat. First, I want to share a little serendipitous synergy: my husband, David Burtka, is also starring in a play, just a few blocks away from mine! I'm crazy proud and excited. You may know David as a renowned chef. (That's because, well, y'know…he is.) But in addition to being a gallant gourmand, David's also an actor — we first met through the theatre, actually — and he's starring in God of Carnage, opening April 27th in New York. Hit that link in the previous sentence to join David as he takes us behind the scenes of the play. -NPH
---
I love comedy. Adore it. Am enamored by it. And have the utmost respect for it. Because, firstly, it can be extremely subjective (some people love burps and fart jokes…others heady wordplay). Thus, I believe it to be one of the more challenging branches of the performing arts. But at the same time, comedy can also be so universal and undeniable — physical comedy in particular. (There's a reason why people falling is perennial YouTube gold, after all.) Ever since I saw Denis Lacombe as a mad conductor pulling handfuls of batons out of his tuxedo pants, or growing up watching legends like Charlie Chaplin, Buster Keaton, Harold Lloyd, or even contemporary clowns like Rowan Atkinson and Bill Irwin and his brilliant trunk routine (note: these are hyperlinked for a reason — when you have a few, check 'em out; amazing!), I was hooked. David Shiner as the main clown in Cirque du Soleil's Nouvelle Experience is perhaps the single funniest thing I have ever seen. Long story short (too late): I have great respect and reverence for physical comedy.
Fast forward to London around 2015, when I saw a show on the West End called The Play That Goes Wrong. As the name implies, it's about a play that…goes wrong. This was a troupe taking physical comedy to another level. Pratfalls and malfunctions galore. I absolutely fell in love with it: its attention to detail, its perfect design and utterly precise execution. Eventually, like a Rube Goldberg machine or a giant game of Mouse Trap, the entire two-story set literally collapses around the actors — it's a technological and comedic marvel. From that moment, I knew I was hooked, and that I had to work with them.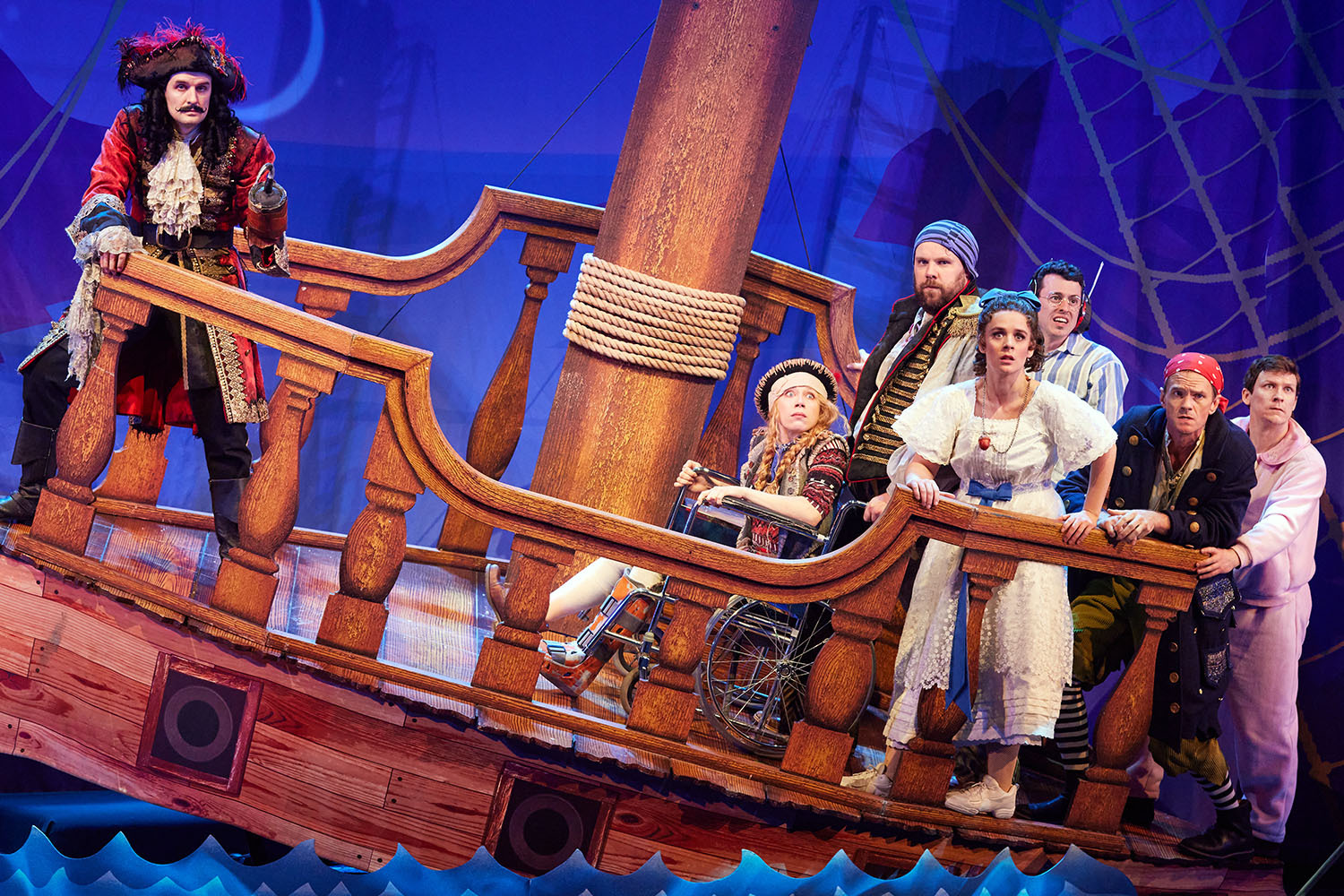 So, I started following Mischief Theatre, the company behind The Play That Goes Wrong. They started as a group of U.K. theatre students (LAMDA, how very…!) who, in the late 2000s, pooled their money and went to Edinburgh Fringe (the world's biggest performance arts festival) to do an improv show. It was a hit, and they kept doing it for several years, eventually transitioning into more scripted projects based on this idea of the Goes Wrong universe. The Goes Wrong premise is this: a group of actors gets together to put on a show — one that they're convinced is going to be just fantastic — but they're inept in every imaginable way. Whatever could go wrong absolutely does. It's meta comedy gold. Soon, Mischief became a proper British success story: The Play That Goes Wrong won the Olivier for Best New Comedy in 2015, they produced more live shows (such as Peter Pan Goes Wrong — more on that one paragraph down) and created a handful of TV specials (like A Christmas Carol Goes Wrong and the hilarious Goes Wrong Show).
Then, last year, Artistic Director Henry Lewis, one of Mischief's founding members, here looking startled…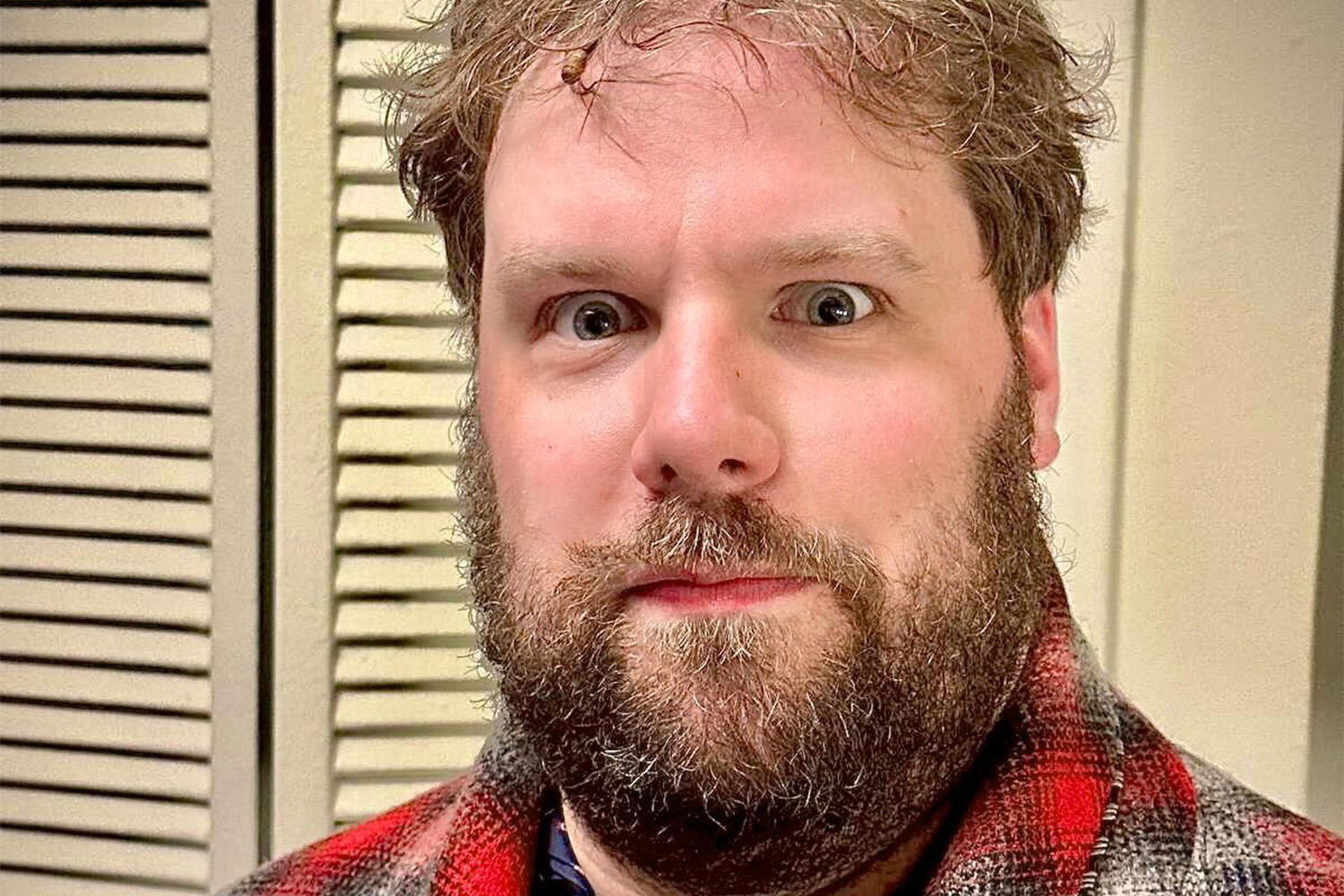 …reached out to me and told me that Peter Pan Goes Wrong was coming to New York, and wondered if I'd be interested in playing the Narrator, for just a few weeks. A lovely ask, to be certain. But the thing is, I didn't want to only be a narrator, sitting in a chair, passively observing all the physical fun from the wings…so I told Henry I'd do it if I could also play Cecco the pirate and join in the physical fun. They said huzzah, and ramped up the amount of physicality that my characters get to do onstage (I take some harrrrrd falls). This show has both destroyed and delighted me to no end. Apparently, I bruise like a peach.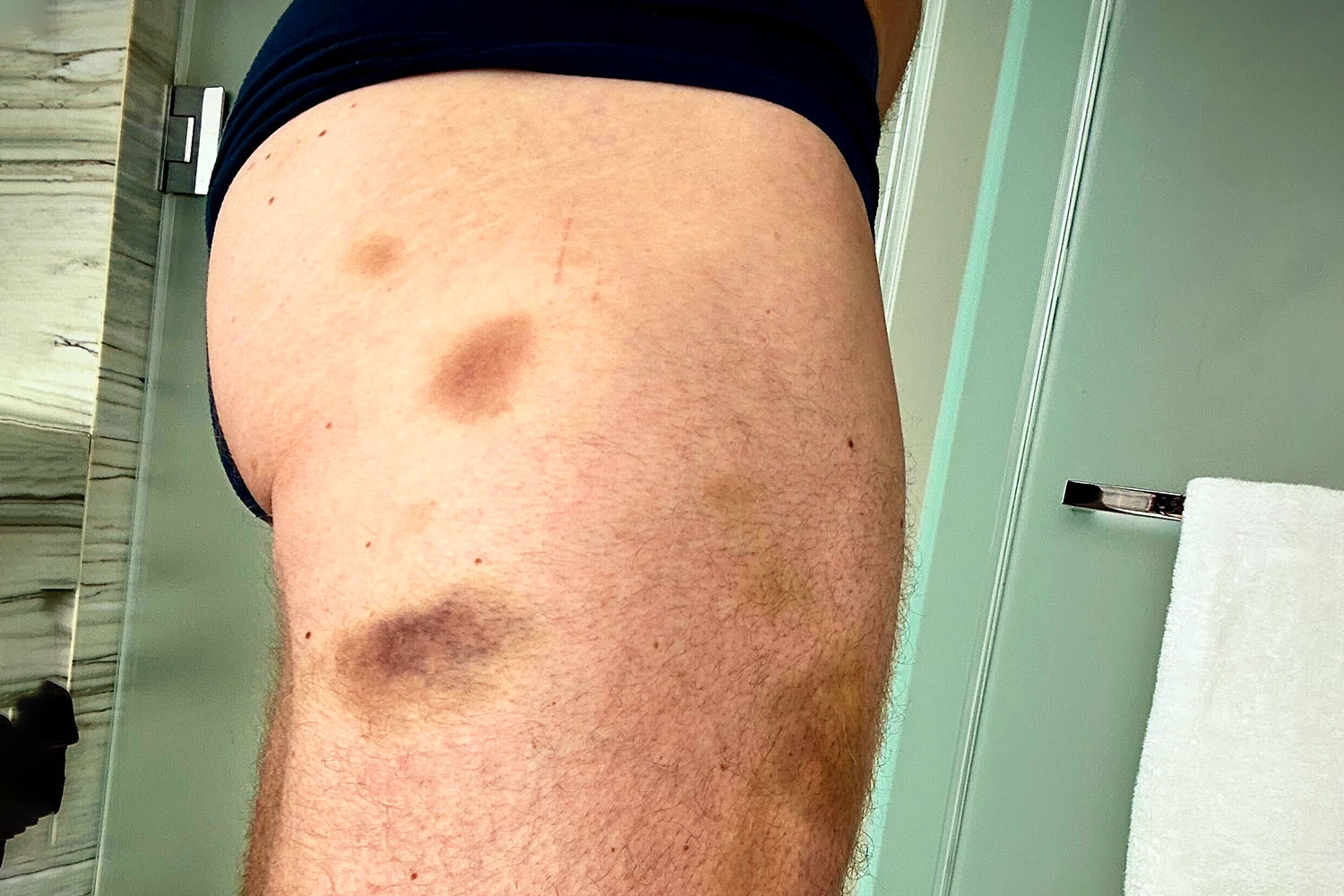 One might think that this level of bruisery would make me less excited to do the show every night…nothing could be further from the truth. I am gobsmacked each night by what these people do, and I'm just trying to match their perfectly honed style and energy as best I can. Also, it must be known: they're also the nicest, most professional group of individuals you will ever meet. They could not be lovelier backstage. They couldn't be better scene partners. They couldn't have been more welcoming.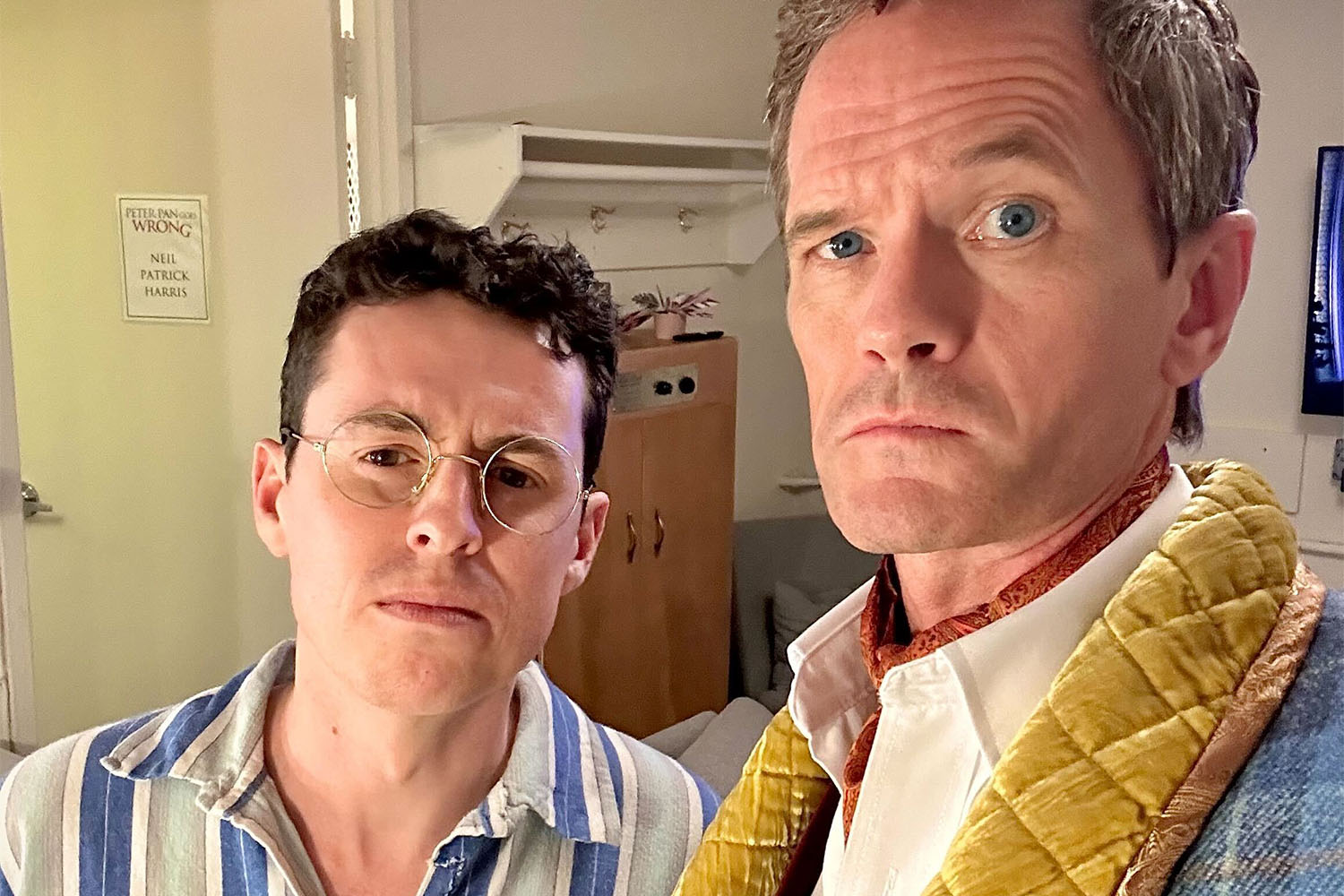 In an alternate reality, I would join Mischief and travel with them forever. We're seemingly all cut from the same cloth — Henry and I particularly have much in common: we both dabble in magic AND have both created tabletop escape games. (For me, BoxONE; for Henry, The Mystery Agency.) He's just a remarkable dude. They all are. Remarkable, not dudes. Bonus! This cast loves escape rooms. We recently crushed Escape Game's Playground, right here in New York City just two nights ago. Good times.
So, come to New York and see Peter Pan Goes Wrong, we are having a splendid time. It's relentless comedy. I haven't heard a thousand people laugh so much in years. Hell, see the show whether I'm in it or not. Anything Mischief does needs to be on your theatrical and comedic must-do list. (Here's a link to buy tickets…just sayin'.)