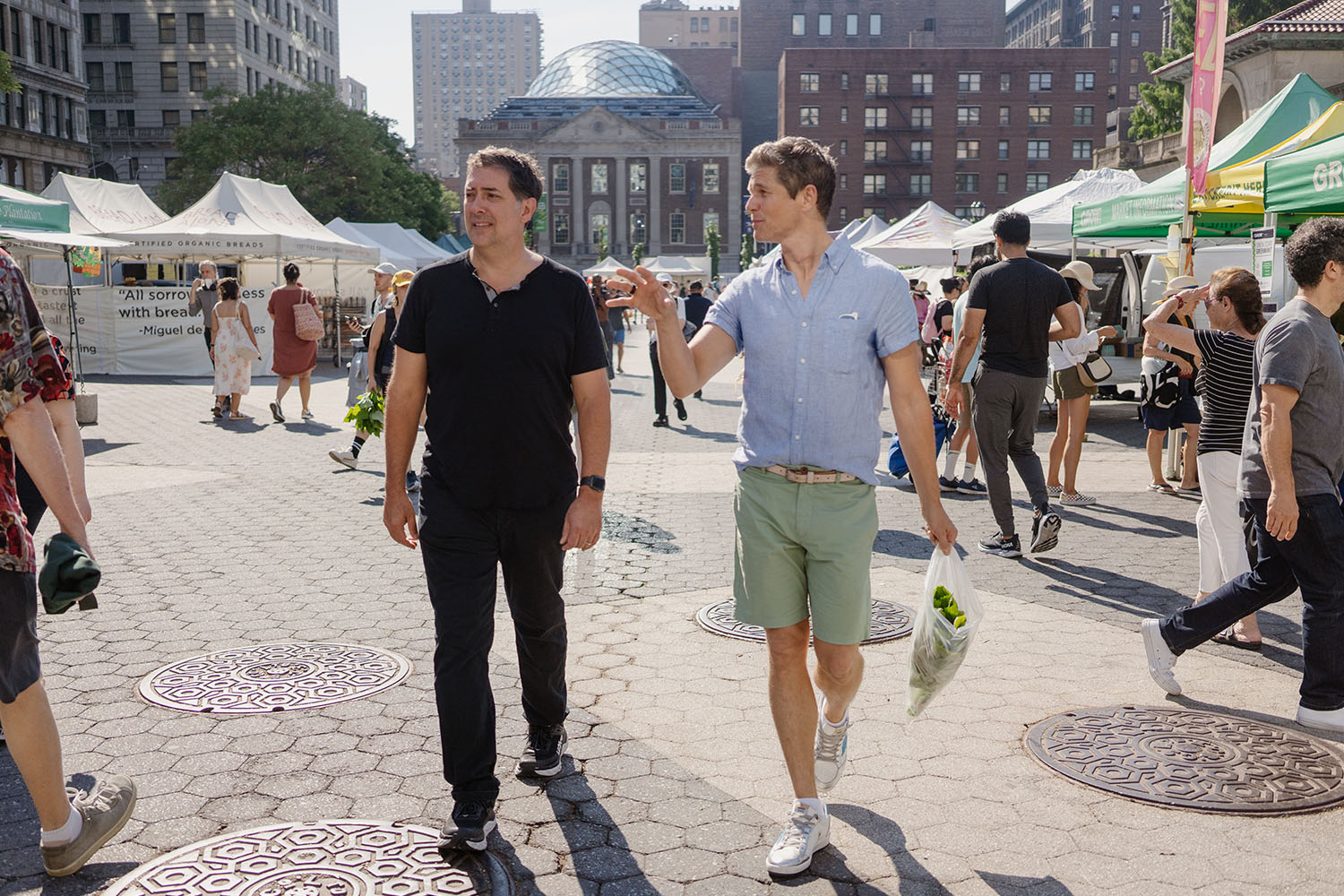 A Primer on Produce, by Chefs Michael Anthony and David Burtka
The two took a trip to the farmers' market and cooked up something magical
July 10, 2023 1:33 pm
DAVID BURTKA: Hi Wondercade! I'm sitting with Michael Anthony in a dining room at New York City's Gramercy Tavern, where he is the executive chef. Mike and I have been friends for a long time, having gotten to know one another through our work at God's Love We Deliver, where we both sit on the culinary council. Over the years, Mike has impressed me with his unrivaled expertise of produce. No one knows more about vegetables. What they are, how and where they grow, how to cook them and their nutritional value — what they do for your body.
Mike and I just took a trip to the Union Square Greenmarket this morning, and it was awesome. Going to a market with Mike is a revelation…he's just so incredibly knowledgeable — not only about produce, but also the farmers, many of whom he knows personally.
So, Mike, what's the first thing you want everyone to know about produce?
CHEF MICHAEL ANTHONY: Buy fresh, buy local and by god, experiment! In your very kind introduction you hit on one of the great things about farmers' markets and the Union Square Greenmarket in particular: personal connections.
We [at Gramercy Tavern] look to the Greenmarket as our most precious resource, our port of entry for delicious things. And we appreciate all the years of activism that went into establishing it and maintaining it. Danny [Meyer, the owner of Gramercy Tavern, The Modern and many more notable restaurants] decided to build his company on that foundation of the Greenmarket. His Union Square Cafe is only half a block away from the market, and from day one, its reputation was built on tapping into the freshness of daily trips to the market. Then, eight years later, Danny opened Gramercy Tavern, just a few blocks away, and continued with that same ideal.
Over the years, our menus have spawned from mornings exactly like the one we just had. A walk through the market, asking ourselves, What looks fresh? What ingredients move us?
And you found that this morning with some currants.
Absolutely. I just dropped them in the kitchen, and they will be on the lunch menu an hour from now.
Oh, that's fantastic. I love going into a market blindly, with no idea what you're going to cook and then getting inspired by what's fresh, beautiful and bright, and coming up with something. That's art.
It is. And we're really lucky. There are lots of communities around the country that either don't have fresh markets, or don't quite see how they can create one. I don't want to oversimplify the politics and effort that go into creating and sustaining a farmers' market, but at its core, it requires local farmers to be in business. And restaurateurs have a big role to play in that. For example, earlier this year we wrote a $30,000 check to Norwich Meadows Farm. We've taken meticulous kitchen notes over the last 10 years, and we know our precise usage of their crops. We know we're going to shop their Greenmarket stall four days a week and over the season buy X pounds of this crop, and Y pounds of that one. And finally, we recognized that they struggle in the early part of the year, March and April, before they have any cash flow coming in, yet they need hundreds of thousands of dollars to organize equipment, labor, seeds…. And we decided that we would try to take on some of that risk by paying early and in advance. We've established a kind of co-producer relationship — we don't want to just show up in late July and say, "We'll buy all your good stuff." We want to be involved in the conversation of, "What are you going to grow this year?"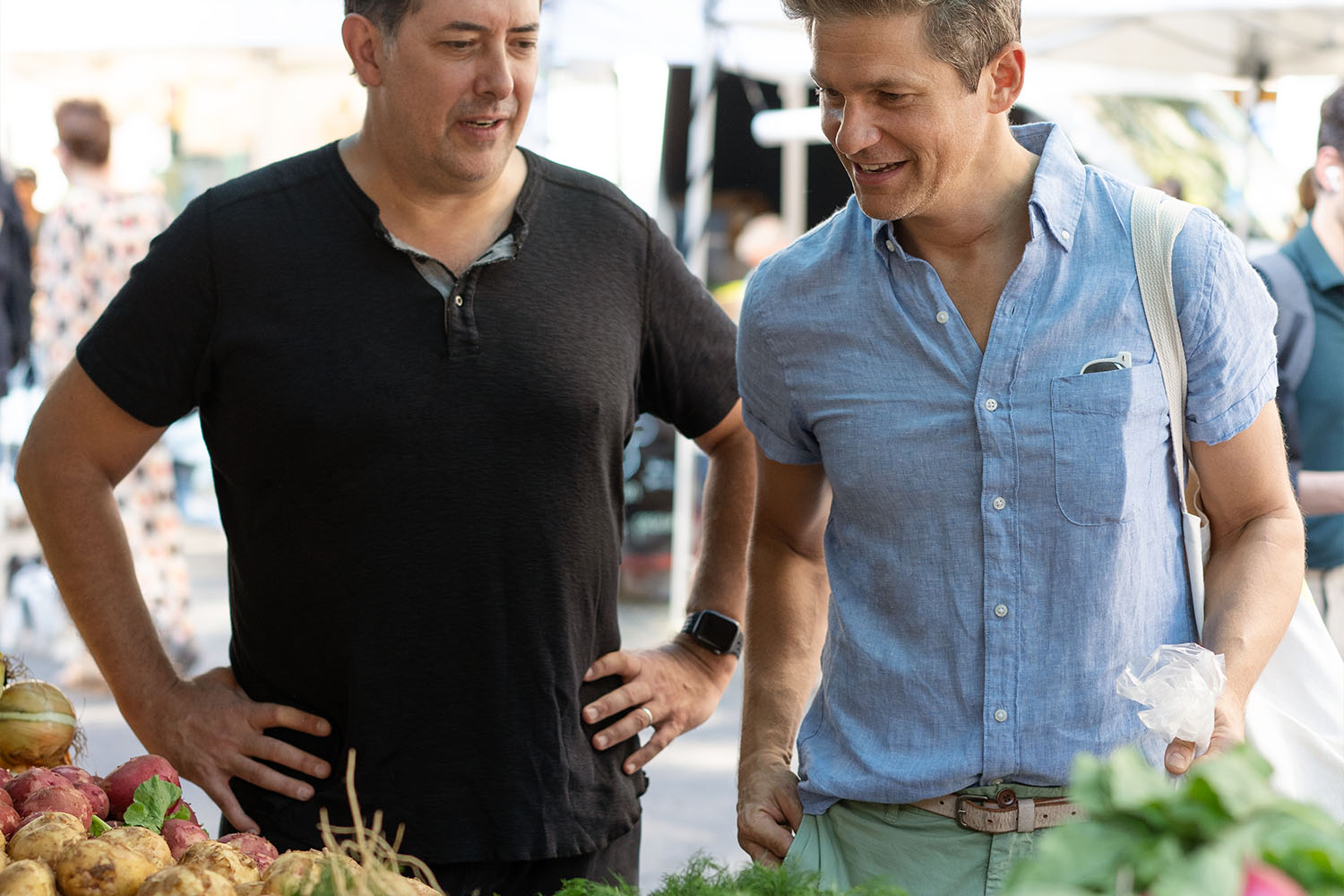 Right. We're in this together. I'm always so floored by the freshness of what's on the plate at Gramercy Tavern, and now it all makes sense! And Mike, for the sake of all the Wondercade readers who might not live near New York City or be able to afford to eat at your restaurant, let's talk about your cookbook, V Is for Vegetables.
For me, as a chef, the question I get all the time from friends is, "What side dishes do I make?" And you wrote a book almost entirely about vegetable-forward side dishes! You do a super deep dive into 26 vegetables — one for every letter in the alphabet. I use it all the time.
Oh wow, I'm proud to hear you say that. Thank you, David.
The corn stock may be my favorite. I've got pints and pints of it in my freezer. I add clams to it, and it's summer in a bowl. Even in winter! Corn clam soup is one of my kids' favorite things to eat.
Mine too! When I sat down and discussed the idea with my co-author and the producer of the book, Dorothy Kalins, the idea was to reproduce the act of flipping through a seed catalog. Just like a farmer or gardener flips through a catalog and thinks, "What am I gonna grow this year?" I wanted home cooks to go through the book and think, "What am I gonna cook?" The book also has a similar visual feel to seed catalogs, which often have beautiful engravings and artwork.
The book's prints, drawings and photos are gorgeous.
The drawings were done by Mindy Dubin, my wife—
—Oh, get out!
I got very lucky when she agreed to do it.
I hope she gave you a good rate. Neil is terrible at that when he asks me to contribute to Wondercade. He pays in hugs.
[Laughs] She did. We shot all the photos in Dorothy's apartment. We could have done it at the restaurant, but if you saw me cooking on a stainless steel counter, using professional equipment, it wouldn't be as accessible. It was a process in the apartment! It was crowded, the photographer was moving all around us at awkward angles, standing on the table…but I think it gives home cooks comfort to see things being done in an environment like their own.
It's a book about cooking local vegetables…to encourage people to eat more of them, and to feel more comfortable cooking them. I really wanted to give people confidence. As we learned this morning, when you go to the market and you kind of see new things, they can be intimidating.
Right. And that comes back to the assignment Neil gave us today…. There are so many vegetables available this time of year, many that people don't know about and wonder, "What is that? What does that taste like? How do I cook with that?" This morning at the market I noticed that some farmers had descriptions of their produce and how to use it. How do you approach something you're unfamiliar with? Which I imagine never happens for you, Mike. [laughs]
It happened this morning! We both looked at that Hoja Santa leaf and we were like, What?! And some of the other things that caught our eye were from Korean-American farmers who had Asian varieties of things that everyone might know: cucumber, eggplant, tomatoes, squash…
The avocado squash we got today is completely new to me.
How great is that?! Think about it…you, a chef, made a new discovery right here in the middle of New York City. For the home chefs, here's my advice: Ask questions. Farmers love to talk about what they've grown. Theirs is truly a labor of love and when folks get excited about their wares, well, they're over the moon. Second rule: Buy something new and then do a bit of research! Online recipes, even YouTube. Third rule: Trial and error. Cook for your family and ask for feedback. Though in my house, I don't have to ask [laughs] — my daughters are my toughest critics.
Oh, and have your family participate! I'm getting very good at cooking Finish Your Own meals. We have Make Your Own Taco Night, Make Your Own Sushi Night.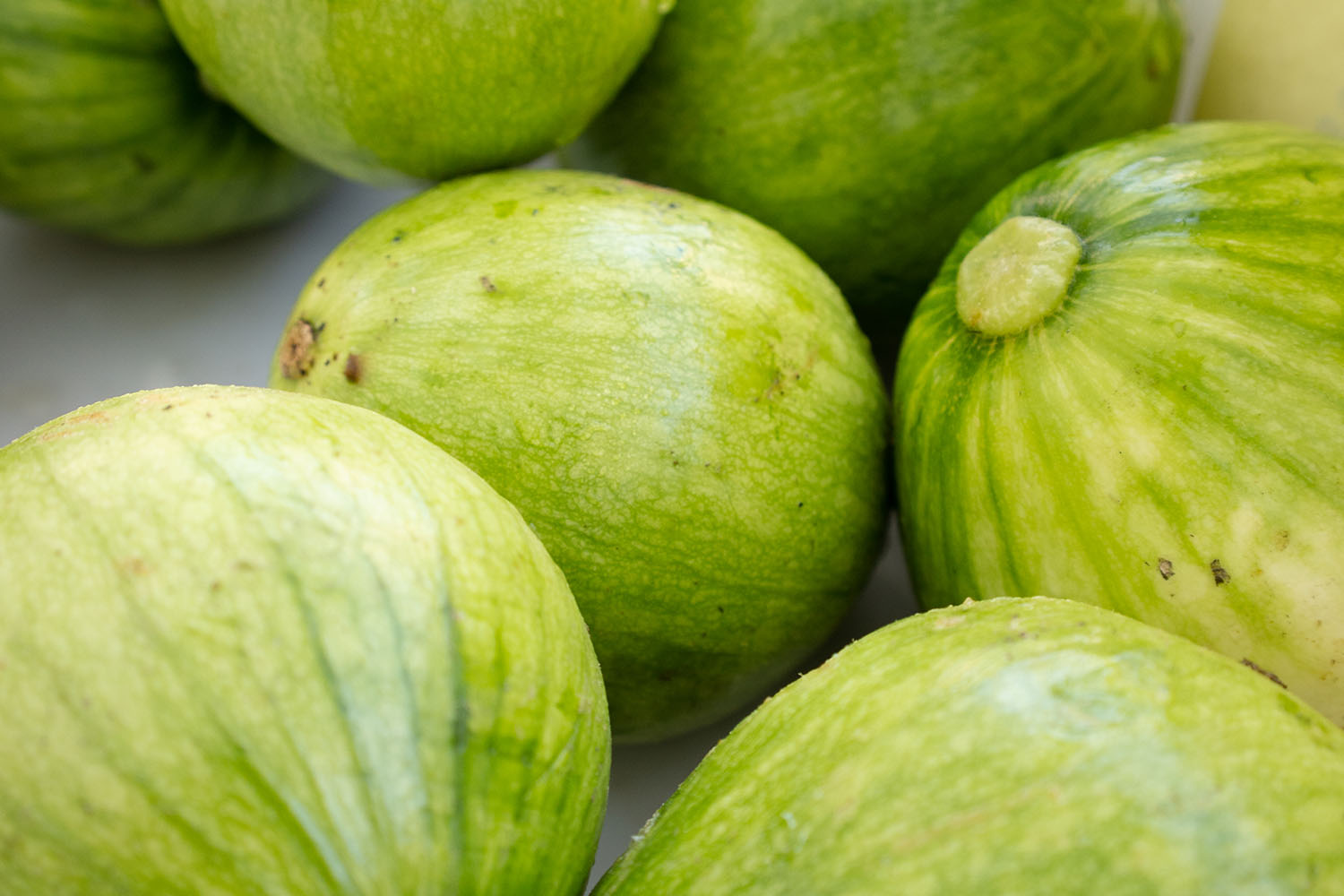 People love being the master of their own stuff, especially kids. It gives them empowerment. Two days ago my son said, "Do you think things taste better when you make it yourself?" And I said, "Yes, completely! Because you put the time and the effort into it!" Anyway, back to the avocado squash….
When we saw it, we were drawn to it. It looked interesting. It felt interesting. I told you what I'd done with it in the past and then we found those Perilla leaves and were like, "What if we slice the squash really thin and then lay the Perilla leaf on it?" You could pick that up and eat it in one bite, like a taco or a lettuce wrap, like in Korean food. And that's how great dishes are made — in the moment.
Mm-hmm. I totally agree. Speaking of wraps, we need to start wrapping this chat up. Last question. What are a few lesser-known vegetables that Wondercaders should consider trying?
Kohlrabi is a great one…but people are freaked out by it! It looks like a flying saucer, it has 6, 8 stems coming out of it…. But they taste unlike anything else. They're crunchy, like a water chestnut. They're kind of like a really great turnip…but…they're not turnip-y. [pauses] It's more like a carrot. [pauses] Maybe an apple or a pear. Jicama, even.
Yes, jicama is a great parallel! Earlier this summer I discovered Padrón peppers. They're tiny and they're not spicy at all. You can treat them like shishitos but you don't get that super spicy one for every 10…but these are mild and delicious.
Those are great peppers. All across the U.S., we're growing a wider variety of peppers — Korean peppers, peppers from the West Coast, peppers from South America…. I've been using them more than ever in my cooking.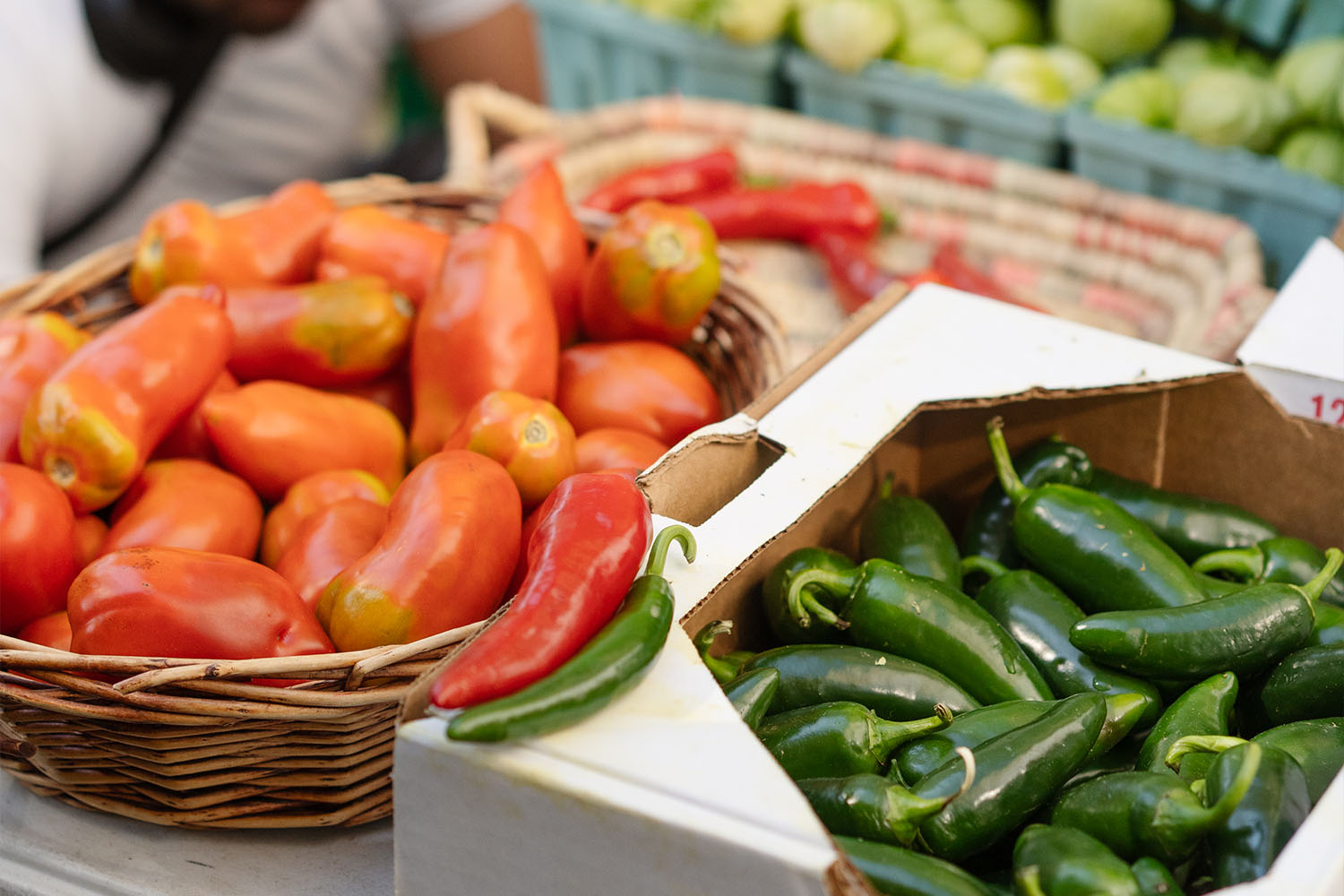 What's your go-to pepper right now?
We're pickling a lot of Fresno peppers, although they're smaller than the one that we saw today.
The one we got was huge. Usually, they're tiny. But pickled Fresno peppers — oh my gosh, on tacos or ceviche…so good!
You can pickle almost any vegetable. And if you've bought a little too much from the market and you're not gonna eat it fresh, pickling is a great way to preserve it. You told me you planted some of those Japanese turnips—
—Hakurei turnips. Yes. They're delicious. And they're the first things up in the ground in the spring, which is always a joy. They pickle beautifully, but I like them raw, and the leaves are just as delicious as the root.
Eating the whole plant is, I think, new to some people. One of the things that I often hear at the Greenmarket is, "It's so expensive!" It is, but I think we need to have some perspective, too. Once you learn about the Herculean effort required for small producers to grow and get food into the city, there's better understanding of the economics. But there's also the notion of are you utilizing everything you buy? Leaves and stems, too?
Right. Take beet greens. People often throw them out, but the greens are the most nutritious part of the beets! And for me, maybe the most delicious.
At its core, cooking is a combination of thrift — I bought it, so I'd better use it — and ingenuity: "What can I make with this beautiful stuff?"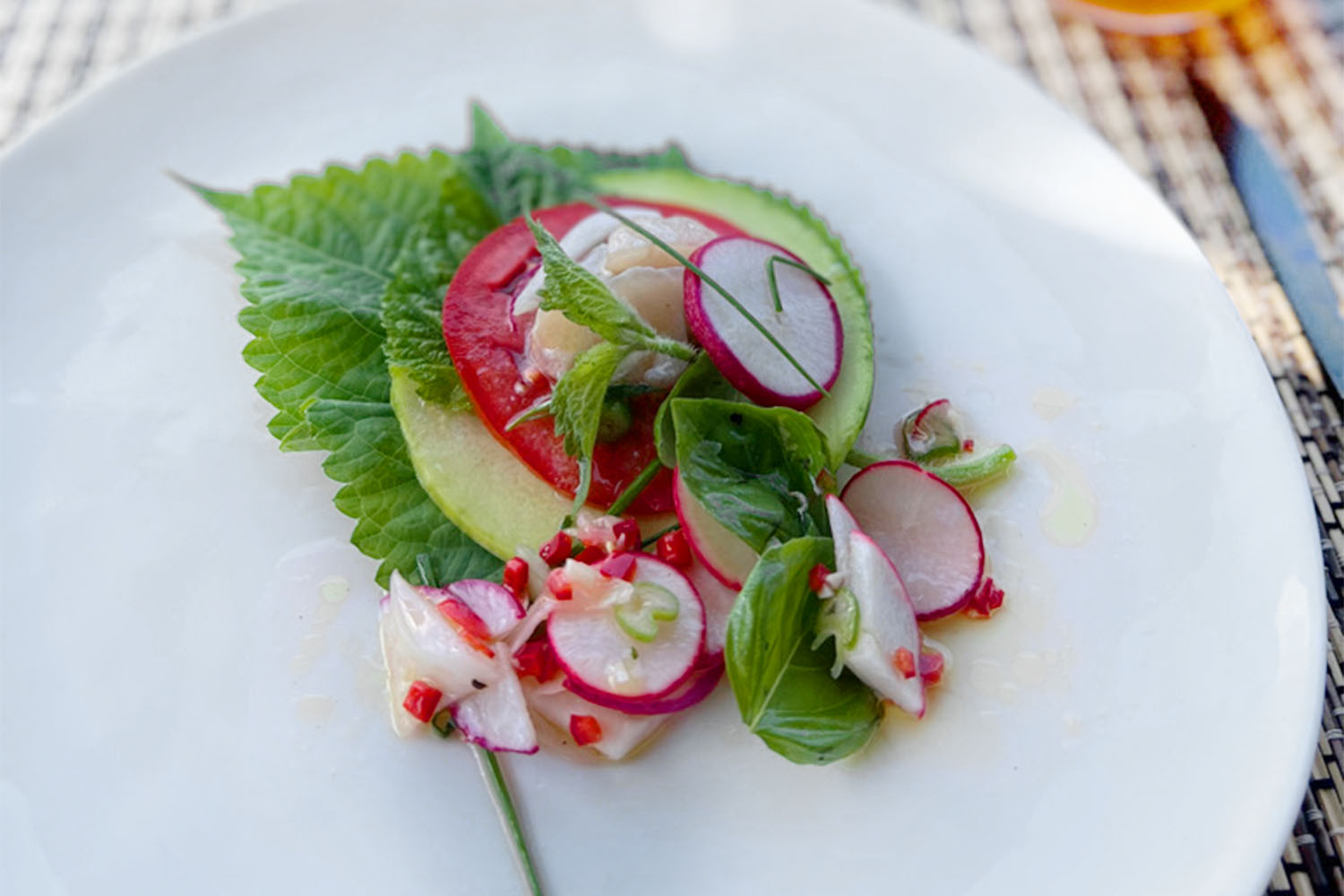 Chef Michael Anthony's Cured Striped Bass, Avocado Squash and Perilla Leaves
Copy Ingredients
Ingredients
1 lb. striped bass
3 Tbsp. salt                          .
1 Tbsp. sugar                      
1 avocado squash    
1 bunch Perilla leaves     
3 radishes                 
1 Fresno pepper       
1 clove garlic                      
1 Tbsp. soy sauce               
1 lime                       
2 Tbsp. olive oil
Directions
Copy Directions
Trim the striped bass, removing all skin, bones and bloodline.

In a bowl, mix salt, sugar, 3 chopped Perilla leaves and the zest from the lime.

Toss the striped bass and coat with the salt-sugar cure. Cover the fish in the cure and let sit while you prepare the other ingredients (about 15-20 minutes).

Using a sharp knife or a mandoline, slice paper-thin rounds of the avocado squash, radishes, garlic and Fresno pepper. Leave the Fresno seeds for slightly spicier notes.

Wash and pick 8 medium-sized Perilla leaves.

Juice the lime.


Remove the striped bass from the cure, rinse in water and pat dry. Slice or dice the fish.

Gently toss all the ingredients in a bowl, and season with a pinch of salt. Add any fresh herbs, lettuce leaves and edible flowers you might have on hand to add to the color, flavor and texture.

Gently toss all the ingredients in a bowl, and season with a pinch of salt. Add any fresh herbs, lettuce leaves and edible flowers you might have on hand to add to the color, flavor and texture.
---