Harper Burtka-Harris's Recipe for Party Pancakes
A Q&A with Harper, and then the best pancakes you'll ever make
April 4, 2023 1:20 am
HARPER BURTKA-HARRIS: Hi Wondercade reader. Let's make some pancakes! Okay…you start off by scooping some AP flour into a cup with a spoon. You do this because you don't want to make your flour compact. That makes the pancakes fluffier. Also, I take the side of the spoon — this is Gideon's trick, actually — to level the flour, and then add it to a bowl for the dry ingredients.
NEIL PATRICK HARRIS: Quick question. AP flour: is that like AP English or AP Biology?
DAVID BURTKA: It's all-purpose flour.
NPH: Ah. So Harper, you're not planning on taking AP Flour at school next year?
HBH: Wow. Okay, so here's two tablespoons of sugar I add to the flour, as well. I like to do two heaping spoonfuls of sugar because everyone loves sugar. Two teaspoons of baking powder—
NPH: Quick tip with the sugar: you might want to taste it first, because we've done this before and accidentally used salt.
HBH: Yes, but that wasn't my fault…okay it was. Now, if you're using regular milk, you don't have to use the baking soda. But because in this recipe we decided to use buttermilk, we add half a teaspoon of baking soda in the dry ingredients. Then we add half a teaspoon of salt.
DB: Salt always makes things better. You always need salt in your baking — it brings out flavor.
NPH: Unless you think it's sugar.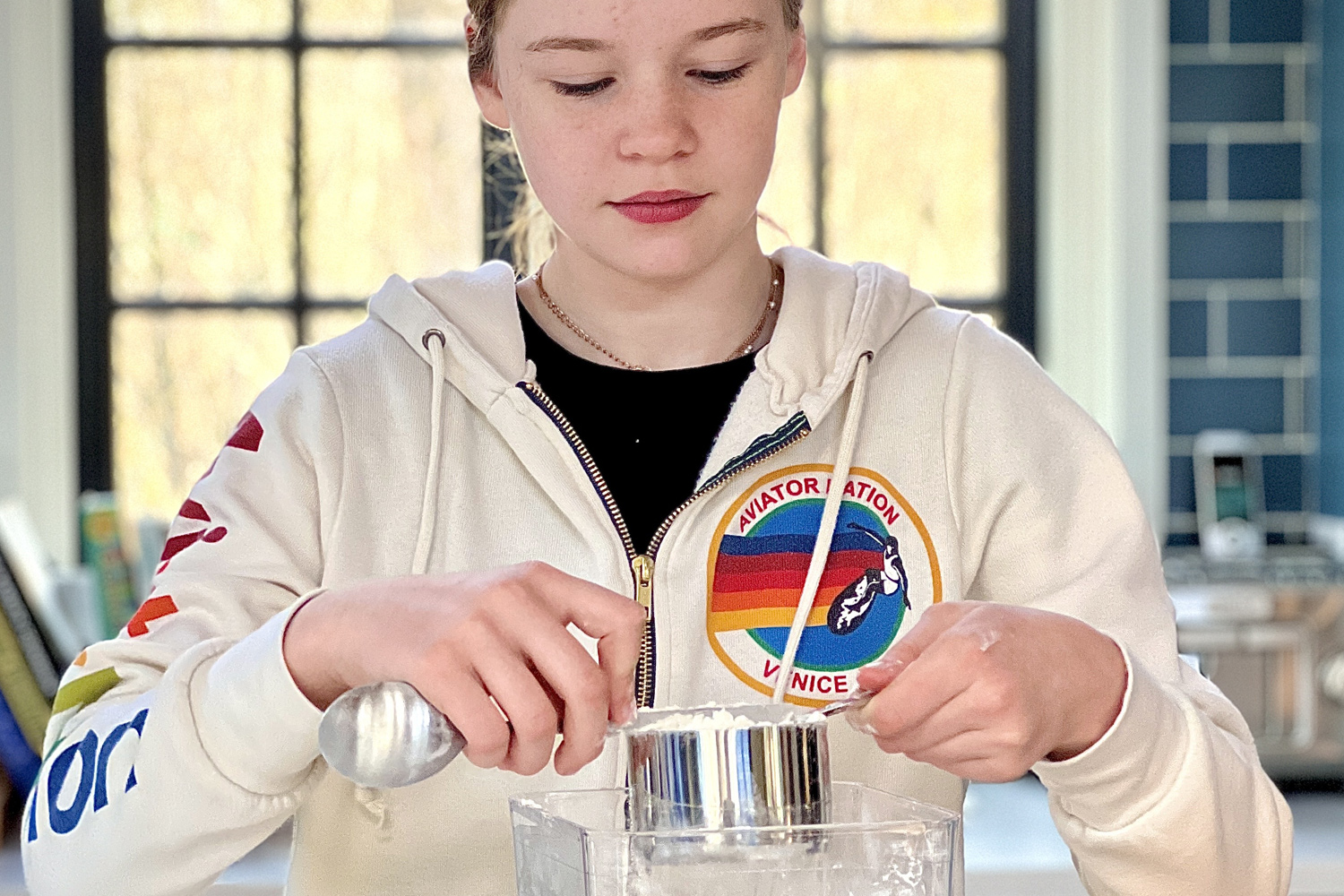 HBH: So then I take two tablespoons of butter, and I melt it for about 30 to 40 seconds in a microwave. Be careful not to put it in the microwave for too long because the butter will explode, and my dad isn't thrilled when he has to clean up the microwave.
Okay, I did my dry ingredients, I whisked them and I have my melted butter here on the side. I'm going to add one large egg to the butter once it cools a little bit. And then I'm going to add one cup of buttermilk. I like buttermilk, it gives it a bit of a tangy flavor.
DB: Make sure you shake your buttermilk before you pour it into your wet ingredients.
NPH: Here's a good tip when you're measuring the cup with the buttermilk: if you pour too much, you can take the stem of the spoon and level it flat.
HBH: No! That's not something to do!
NPH: Not like the flour?
HBH: Ugh, no. Now we add the vanilla. It says one teaspoon in the recipe, but I eyeball it. Okay, so then you add your wet ingredients to your dry ingredients. Now this is really important: when you mix them together, it's okay if it's lumpy. You don't want to overmix your batter because then the pancakes won't be light and fluffy. When I finish mixing, I let it sit for a couple of minutes while I get the griddle ready.
NPH: You often sit for a few minutes and play with your iPad.
HBH: Ha-ha. There are a lot of dishes piling up. Papa, do that. Instead of comedy.
Okay, so now I'm spraying the griddle with some coconut oil. You don't want to use butter because it'll burn.
NPH: If you don't have a flat top, explain what you'd do…
DB: If you don't have a flat top, just use a big pan or a cast iron skillet.
HBH: So we take a big spoon, and we add our pancakes to the hot griddle. One big spoonful is great. Now here's another secret to my recipe…I'm going to add in sprinkles to the top. These are Amirah Kassem unicorn sprinkles, because my dad's good friends with her, and she makes the best sprinkles. There's rainbows and unicorns and little chocolate things in it.
The way to tell that your pancakes are ready to flip is that they're going to bubble on top. Once they do, you can flip right away. Oooh, these are turning out to be nice and fluffy.
DB: Sometimes when it looks like the center's not cooking, I like to put them in the oven for a couple of minutes, just to finish baking.
HBH: Okay they're all done! I like to put Nutella on mine — I'm 11, I crave sugar — but you can put anything on yours. Syrup, whipped cream, butter…enjoy!
Harper's Party Pancakes
Copy Ingredients
Ingredients
1 cup all-purpose flour (spooned and leveled) 
2 tablespoons sugar 
2 teaspoons baking powder
1/2 teaspoon baking soda
1/2 teaspoon kosher salt 
1 cup buttermilk
2 tablespoons melted butter 
1 large egg
1 teaspoon vanilla 
Cooking spray or coconut oil as needed
1/2 cup assorted sprinkles, optional 
Optional toppings: butter, syrup, chocolate chips, Nutella, jam and whipped cream
Directions
Copy Directions
In a bowl, whisk together flour, sugar, baking powder and salt.

In a second bowl stir buttermilk, butter, egg and vanilla. Add in dry ingredients; do not overmix.  

On a flat top or big frying pan use cooking spray or add a small amount of coconut oil. Spoon three or more tablespoons of batter. If using sprinkles, add a couple of pinches to the top. 

Cook until you see tiny bubbles on the top of the pancake, 1-2 minutes. Flip and cook till both sides are brown.

Transfer to a platter and cover with foil while cooking the remaining batter. When all pancakes are finished, enjoy with desired toppings. 
---
Recommended
Suggested for you