When Role Playing Gets Real: Bringing Board Games To Life
The new experience includes being thrust into a fantasy world with live action and audience choice aspect
March 28, 2023 8:55 pm
Your imagination is a magical thing. It can turn a dining table into a king's feast, your living room into the balcony of a wizard's tower, a musty basement into a demon's lair. But we have other senses just waiting to be satiated. A tabletop tale, no matter how expertly spun, cannot fully satisfy our urge for adventure. Man doth not live by gaming and pizza delivery alone. (Believe me, I've tried.)
The Stranger Things team knows this better than anyone. Did they spend a reported $30 million an episode on their latest D&D-adjacent season? Yes. Yes they did. (And I, for one, am all for big Netflix budgets. Wink wink, season 2 of Uncoupled, anyone?!) Did they leave it at that, with you only able to see the Upside Down through your screen of choice? No chance. This summer, Stranger Things: The Experience is opening up holes into alternate dimensions in NYC, San Francisco and London (and possibly other cities, if you want to nominate yours to be the new site of a hellmouth). We all watched the Hawkins kids play D&D, then fight real-life monsters, now we have the chance to visit Dr. Brenner's lab and use our own telekinetic powers…and then decompress with a cocktail named after the Demogorgon. Sounds…slimy.
Okay, up there where I said the Stranger Things team "knows this better than anyone"? I lied. My friend David Andrew Greener Laws is actually the reigning expert on turning the tables on tabletop gaming and bringing the role-playing experience to the stage. I know David personally — he's the DM for Gideon and his merry band. Because that's such a difficult invite to score, you'll have a better chance of getting to know David as DAGL, the name he's adopted as the game master behind The Twenty-Sided Tavern, an immersive, interactive, improvisational show that transports a night of role-playing from your basement to a theater.
As you may have surmised, this is no ordinary night at the theater. The basic premise of every show is the same: a troupe of adventurers embark on an epic quest. But who are these rapscallions? What twists and turns will the quest take? That's up to YOU! Remember those Choose Your Own Adventure books? That's what happens at the Tavern, but with your phone instead of a paperback. You're actually encouraged to turn your phone on at this theater. Don't tell Patti LuPone.
Which theater will be transformed into the Tavern next? Today through Sunday, they've returned to NYC. As David tells me, tickets have long been sold out, but they release a few at the door every performance and always have a no-show or two. This particular run is a warm-up for the main event: the Edinburgh Fringe Festival, where they'll be performing at the Pleasance Dome from August 3rd through 28th. If you'll be in Scotland, make this your first stop. Tell DAGL I sent ya. If you can't hop across the pond, the show will be back with another yet-to-be-announced production in the fall…. Sign up here to get on DAGL's mailing list (psst…scroll to the bottom).
---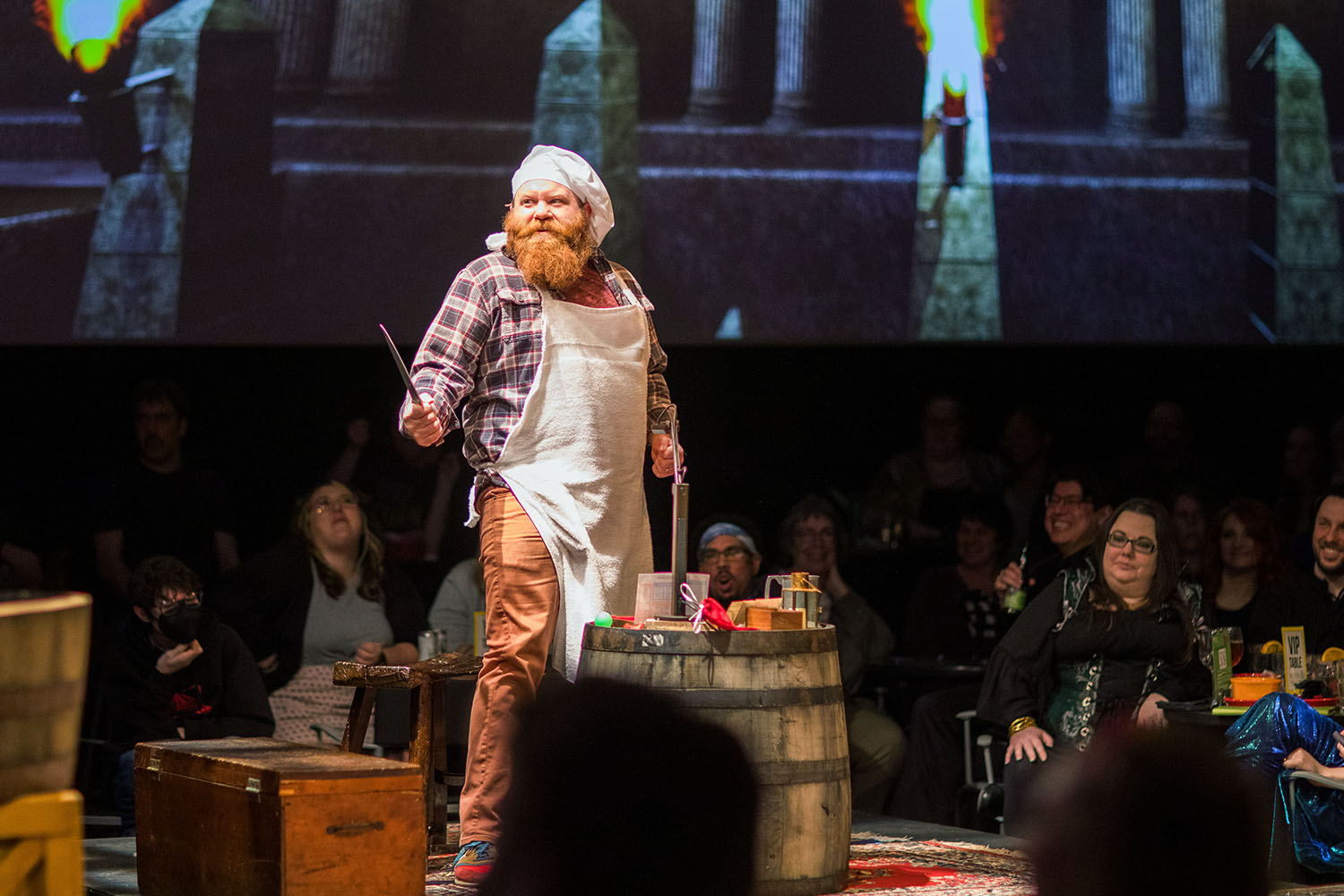 Still having a hard time picturing the Tavern in your mind's eye? You can lay off the imagination for now, because I sent a message to DAGL through a magic mirror I had lying around to see if he could help illuminate some of my favorite parts about the production.
Favorite part #1: It's one show, but new campaigns are always in the works.
DAGL: The new campaign is our fourth journey, "Cryptids at Coldfire Caverns." This quest sees our heroes hunting an unknown monster through the titular cave system, but they don't know exactly what they're looking for. There are dozens of rooms to explore, new characters to meet every night and no two stories are ever the same.
Favorite part #2: David cut his teeth performing in Drunk Shakespeare.
DAGL: I played Macbeth for almost 400 performances, and used that time to hone my personal skills of audience engagement. With The Twenty-Sided Tavern, there is absolutely no fourth wall. The people in the audience are there, they are part of the story, they are integral to the game and we get to celebrate them as a group and as individuals, while keeping them safe and engaged.
Favorite part #3: Regular-sized dice are used, but there's a special one too.
DAGL: It's a giant 20-sided die, a brainchild of mine brought to life by our brilliant scenic and costume designer, Katie McGeorge. We call it The Decider and use it for the most pivotal decisions, including the first roll of the game, which is done by an audience member to determine whether they'll be rewarded with a shot of delicious ambrosia or a dastardly poison.
Favorite part #4: The show starts when you walk in, not when the lights go down.
DAGL: The actors are mingling before the show starts, making sure that everyone's comfortable, hungry for adventure and logged into Gamiotics, the technology that powers the audience choice aspect. After a brief introduction, everyone will be thrust into a fantasy world full of grablins, garglebirds and double bacon cheese ogres. The audience uses their phones to vote in elections and compete in minigames, creating the magic of the world onscreen, onstage and in their own minds.
It all sounds super exciting, but I'll be honest — they had me at the gigantic 20-sided die picture. Who doesn't want to play with one of those things…?!?
---
Recommended
Suggested for you