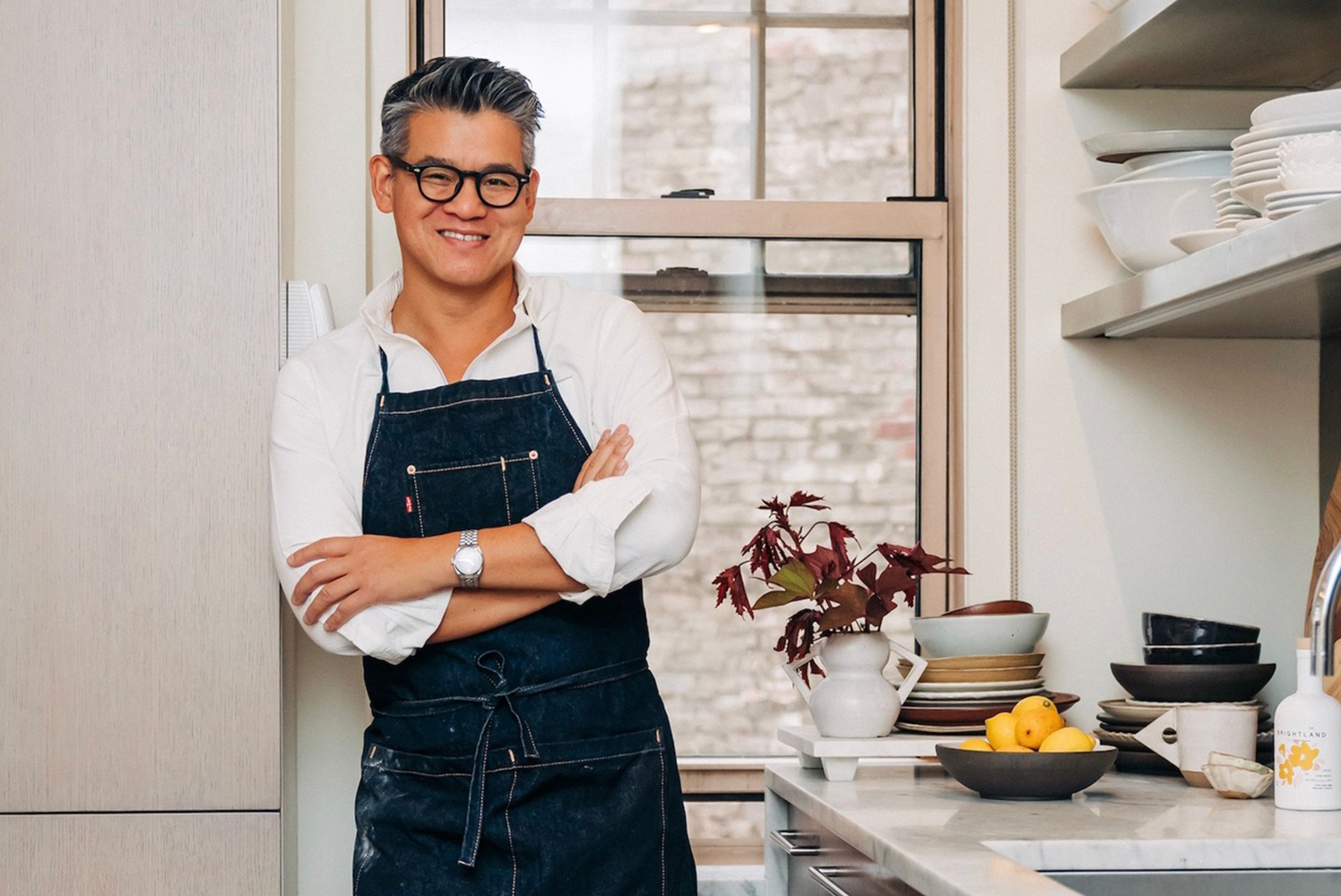 Your Go-To Hosting Guide For Cocktail Party Season!
Be it on Turkey Day or New Year's Day, here's how to throw a great friggin' party
November 1, 2023 5:10 pm
Attending festive gatherings like holiday cocktail parties is a ton of fun [hiccup!], but you know what I like even more? Hosting holiday cocktail parties. It makes one's heart (and living room) so very full. But, tee bee aitch, it can also be kinda scary. And scary season is SO last month (literally). So today, we're presenting you with the season's inaugural, maiden guide to throwing a killer party (I think). Check your anxieties at the door, and get ready to make entertaining effortless, easy and enjoyable — and, evidently, alliterative.
To guide us on this journey of geniality is Peter Som, a triple threat of food, design and fashion. His culinary creations have been featured in publications like Bon Appétit, Food & Wine and many more, and he's designed clothing for Michelle Obama and Beyoncé. (I once ate food, drank wine and read Michelle Obama's book while listening to Beyoncé.) He's going to walk us through the four dimensions of a failproof fete — decor, snacks, drinks and entertainment — and it'll be a template you'll be able to use over and over again as we enter these next couple of celebration-saturated months…and beyond. -NPH
---
Well, we are here! It's holiday party season — that time between November and New Year's where the sometimes-frenetic whirl of glad tidings, potent potables, double-kisses and theme sweaters takes center stage. Sure, it can seem daunting, but in the midst of nonstop cocktail party season, you CAN be a sea of calm when you host your own dig of shin. 'Cause it's really no sweat, my pet. I'm Peter Som, and as Neil mentioned, I'm sharing a few of my foolproof strategies to pull off an evening where you'll be having just as much fun as your guests.
Decor
One word on decor: big flowers. Okay, that's two words. But truly the best decor investment that will nod to the season and still be chic is to have fresh flowers or foliage that speak to the occasion. And the quickest way to do that is with one large arrangement. It'll have more impact than a bunch of small arrangements scattered about. (Though save a few blooms for the powder room and a side table). In general, stick with one kind of flower, or one color palette — this'll keep life easy for anyone who's not a pro floral designer. For the holiday season, my go-to is magnolia branches that'll give you height…and all you did was arrange some branches — talk about easy! Once we get past New Year's and approach summer, voluminous hydrangeas are great. It only takes 8 or so stems to create a showstopping and fabulous arrangement without breaking the bank.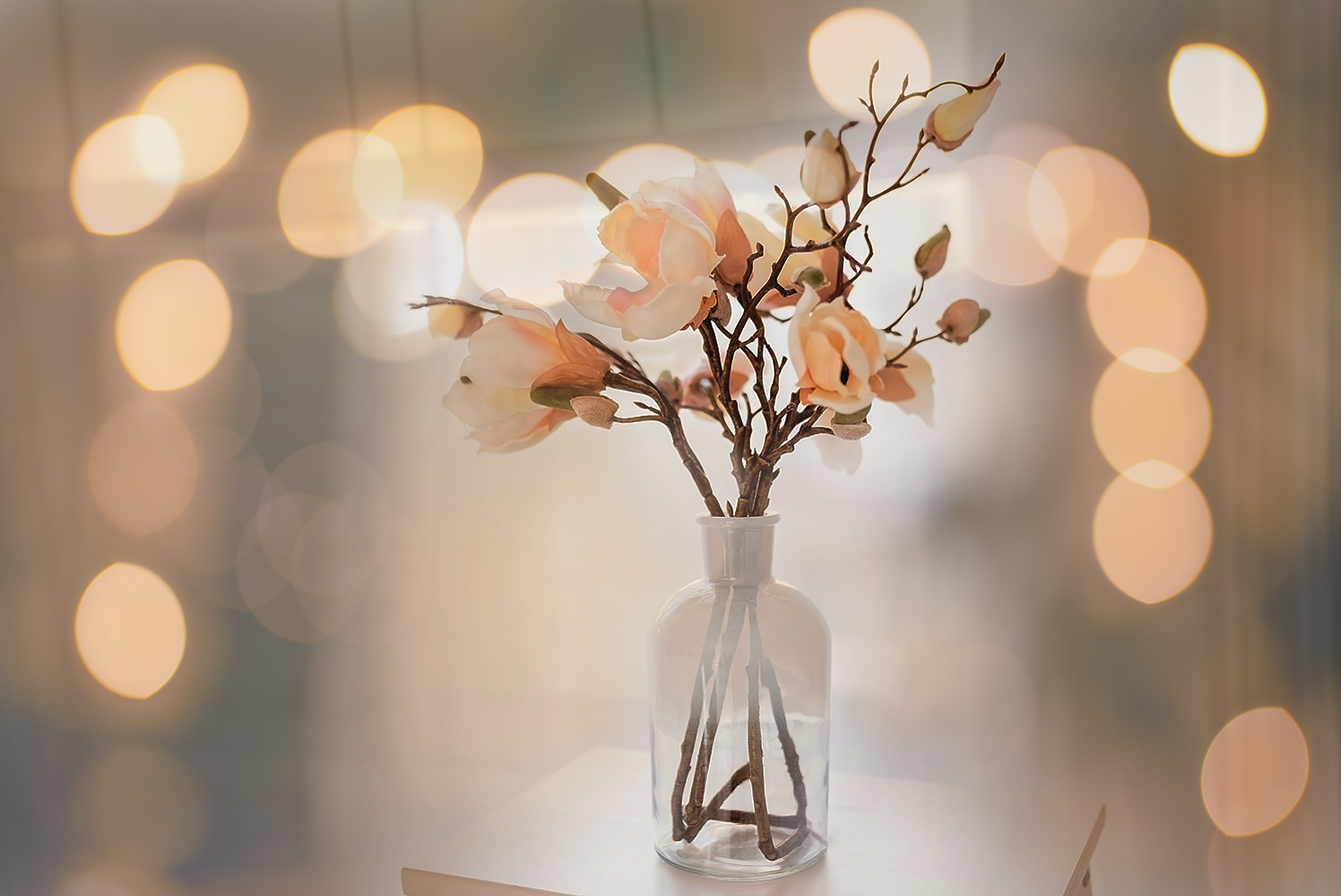 Secondly, lighting is everything. Think of every swanky cocktail lounge or restaurant you've been to…they're not lit up like the corner CVS, are they? The quickest way to create a vibe is to turn off the overheads. Or dim them to a gentle flattering glow. (Wait, you don't have dimmers? Turn 'em off then!) Keep lamps on (and dimmed a touch) and invest in a good handful of votives that can be placed around your party space. I like to always arrange a bunch in front of a mirror or a window, as a glowing reflection is always pretty, and festive.
A Cocktail (With Recipe!)
My favorite drink to serve is a cocktail I call "The 358": 3, 5 and 8 are lucky numbers in Chinese numerology (as well as 88), so I've aimed to create a cocktail to celebrate good things and good times. Cheers to that!
The 358 is a lychee gimlet variant with blanco tequila and a five-spice Tajin rim on the glass. The brightness of lime and the floral notes of lychee are the perfect complement to the smooth complexity of any quality tequila. (You can sub out the tequila for vodka, if you prefer.) And the spice on the rim is quite warming — literally — so it's perfect for a holiday party. Pro tip: You can quadruple the ingredient measurements and make big pitchers before your guests arrive.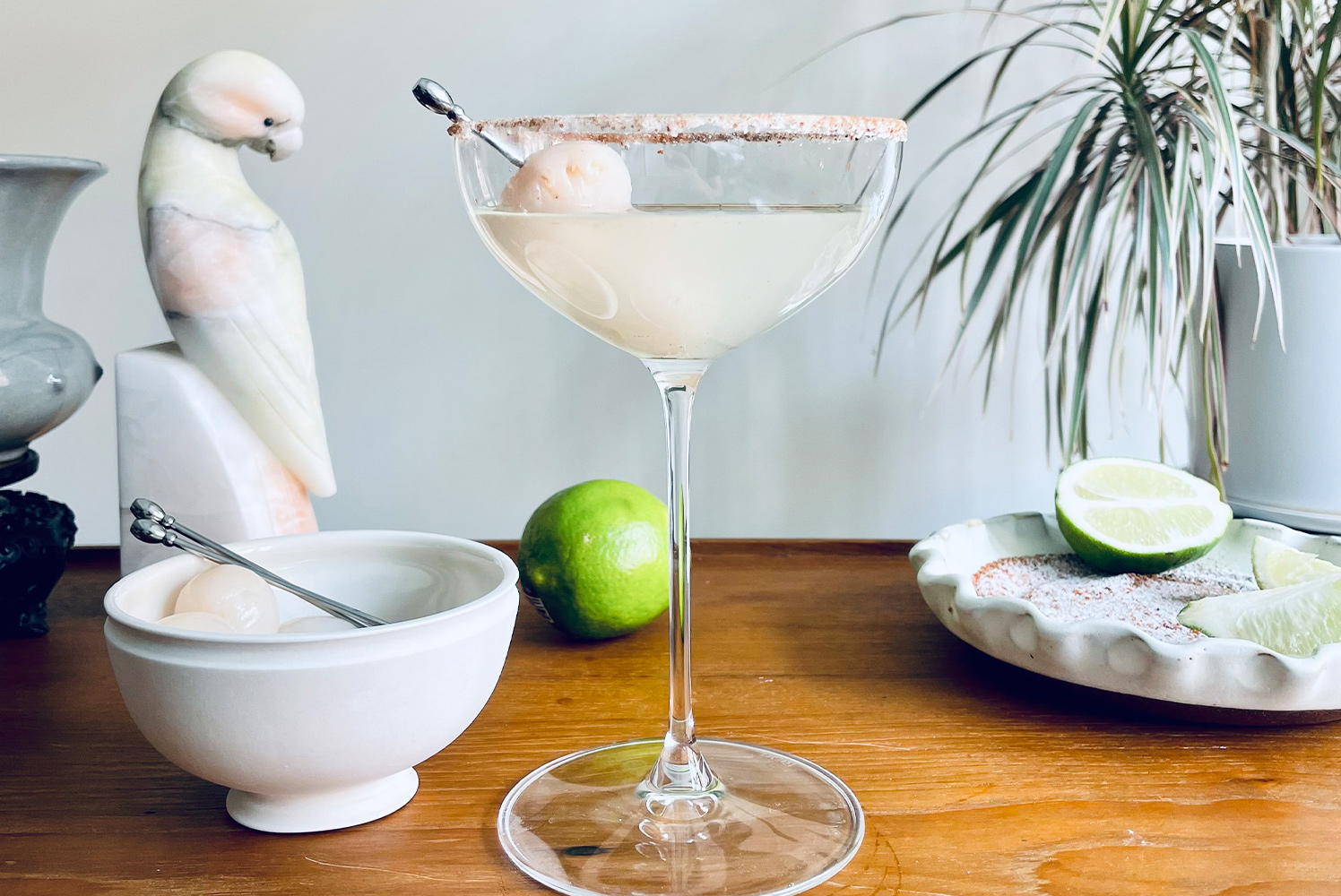 The 358 by Peter Som
Copy Ingredients
Ingredients
3 oz. blanco tequila
1 oz. fresh lime juice
3 oz. lychee juice
4 sprigs cilantro
4 lychees
1 tsp. salt, for rim
1 tsp. Tajin seasoning, for rim
1 tsp. five-spice powder, for rim
Directions
Copy Directions
Combine salt, Tajin and five-spice powder in a small plate.

Rim lime wedge around the edge of a martini glass. Dip the rim into the salt mixture evenly to coat and set aside.

In an ice-filled shaker add tequila, lime juice, lychee juice, 2 lychees and cilantro and shake vigorously. Strain into prepared glass.

Garnish with remaining lychees.
A Dish (Again, With Recipe!)
A quick note about friends bringing food to your cocktail party: You should encourage it. It makes things easier on you, and it makes your guests more invested in the evening. (This does not apply to dinner parties, but that's another guide for another time, if Neil decides to invite me back into your inbox. [Neil Note: Ummm, yes please, Peter! I'll find you Som-how.]) But there are a few different approaches to this, each of which will keep the menu — and your friendships! — cohesive.
First one: When friends ask, "What can I bring?" give them specific guidance. This is not rude; it's your party, and they asked! The second approach? Be elegantly bold. On the invitation write — in small lettering — "Please bring your dish for everyone to share." Most of your friends will ask what to bring, and as noted above, you can steer them to something appropriate for your cocktail party. Thirdly, you can go all in, and incorporate a dish into the theme of the night! For example, give the party a Dessert and Bubbles theme, and ask your guests to bring something sweet or a bottle of champagne. I guess you could run the risk of everyone bringing one or the other, but a desserts-only or a champagne-only party sounds like heaven to me.
As for the dish I'm suggesting today for your holiday get-together, I am all about the classics for cocktail parties. Who doesn't love pigs in a blanket? Or for something a little fancier, some caviar and creme fraiche on a potato chip? My Cacio e Pepe Palmiers are the perfect bite — a riff on the classic puff pastry cookie with all the flavors of the famous Italian pasta dish — and they can be assembled in advance and baked off just before the guests arrive.
Palmiers are usually sweet — made of puff pastry and sugar and baked to a golden brown. But mine is a savory take with pecorino and black pepper. Unless you're a gifted baker or have heaps of free time, get some store-bought puff pastry. It keeps things simple, yet the finished product is elegant and impressive.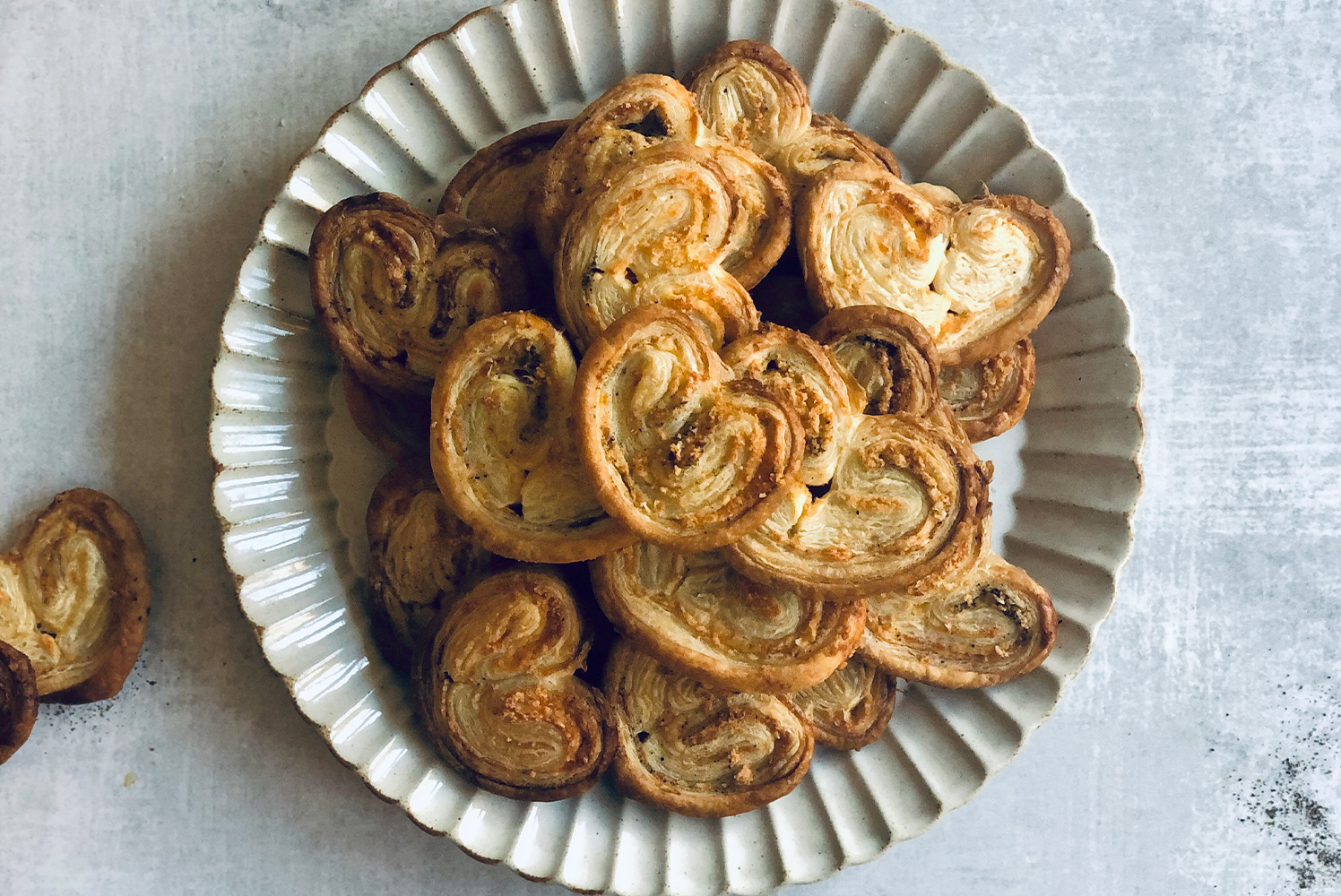 Cacio e Pepe Palmiers
Copy Ingredients
Ingredients
1 sheet puff pastry, thawed
1 egg
1 ½ cup freshly grated or finely grated (or a mix of both) pecorino cheese, divided
2 ½ tsp. freshly ground black pepper
Kosher salt
Directions
Copy Directions
Roll pastry out to an approximately 13-inch square.

Beat egg with 1 tbsp. water and brush onto one side of puff pastry.

Evenly sprinkle ¾ cup of the cheese along with 1 ½ tsp. black pepper onto the pastry and press with your hands to adhere.

Working quickly, fold opposite sides to center like a book. Brush with more egg wash, sprinkle with ¼ cup more cheese and ¼ tsp. black pepper.

Take both folded sides and again fold inward toward the same center line. Brush with more egg wash, sprinkle with ¼ cup cheese and remaining black pepper. Season with a pinch of kosher salt.

Finally, fold one side over the other, maintaining the same center line, like closing a book. Wrap in Saran Wrap and refrigerate for a minimum of 20 minutes.

Preheat oven to 425°F.

Cut into ¼-inch slices and lay on parchment-lined sheet pan 2 inches apart. Brush with egg wash and sprinkle each one with remaining pecorino and bake for 12 minutes, rotating pan halfway through, until deep golden brown.
And Finally…Entertainment!
You don't need to hire the Rockettes for a fun cocktail party for the holidays (though wouldn't that be amazing?!?). I find that simple, interactive experiences that are a bit retro and suitable for short attention spans are best, where entertainment is meant to enhance the party, not be the focus.
Polaroid cameras placed around the room can be fun, but also think about conversation-starter word games like "Never Have I Ever," or "Would You Rather." As a food lover, I often start a conversation with the question "What are your top 3 favorite desserts?" You'd be surprised how readily people jump into a food conversation! For next-level fun, hire a tarot card reader, caricature artist, palm reader or jazz singer. For music, hit up Spotify to find (or create) a playlist that's got the perfect music to set the mood, but not dominate it. Sorry, no thrash metal. In general, for parties any time of year, you can't go wrong with big band or jazz or even cool playlists like Hotel Costes or Ibiza Lounge. But today's about holiday parties, and Spotify has many thousands of playlists to choose from. Just make sure the one you select (or make) has everyone's favorite Mariah Carey song ("All I Want for Christmas Is You," of course!).
Happy holiday season and happy hosting!
---