The International Guide To Day Drinking
Tips, tricks and recipes to up your day drinking routine, from Wondercade's house bartender
March 28, 2023 9:44 pm
Hello again and welcome to the Wondercade watering hole! I'm Jonathan Lind, the house bartender here. Please, pull up a stool and make yourself comfortable.
Today, we are going to take a trip — to Europe, where folks have mastered the art of day drinking. (And crepes, lawn bowling, efficient trains and how to pull off white jeans, but that's a different article.) American drinking culture, as with many American versions of things, is about excess. We want our cars faster, our TVs bigger, our Oreos more stuffed. It has been my professional observation that here in the ol' U.S. of A., day drinking usually turns into evening drunkenness and maybe even night debauchery — and let's be real: a pounding Monday-morning hangover is just about the worst physiological and psychological experience through which one can suffer.
But our friends across the Atlantic have solved for this. They understand that day drinking is a marathon, not a sprint. There, it's leisurely. Social. Relaxing. Their secret? Low-ABV drinks. What's ABV, you ask? It's an acronym for "alcohol by volume." (To illustrate, most beers have an ABV of about 5%. Spirits tend to hover around 40% and wine generally sits in the low teens. That's why a pint of beer might induce just a mild buzz, while a pint of whiskey would make you…unwell.)
So today I'm going to share a few of my favorite low-ABV cocktails that hail from the Continent. And even better, to ensure we're respecting everyone, I'm also going to serve up ideas for non-spirited approximations of each of the cocktails. What's more, my good friend, fellow Wondercade contributor and chef (and husband of this newsletter's Founder and Editor!) David Burtka will offer advice on the perfect snacks to pair with each drink. Because everyone knows that drinking is much better paired with food than a hangover.
Let's get to it!
---
ONLY THE GOOD STUFF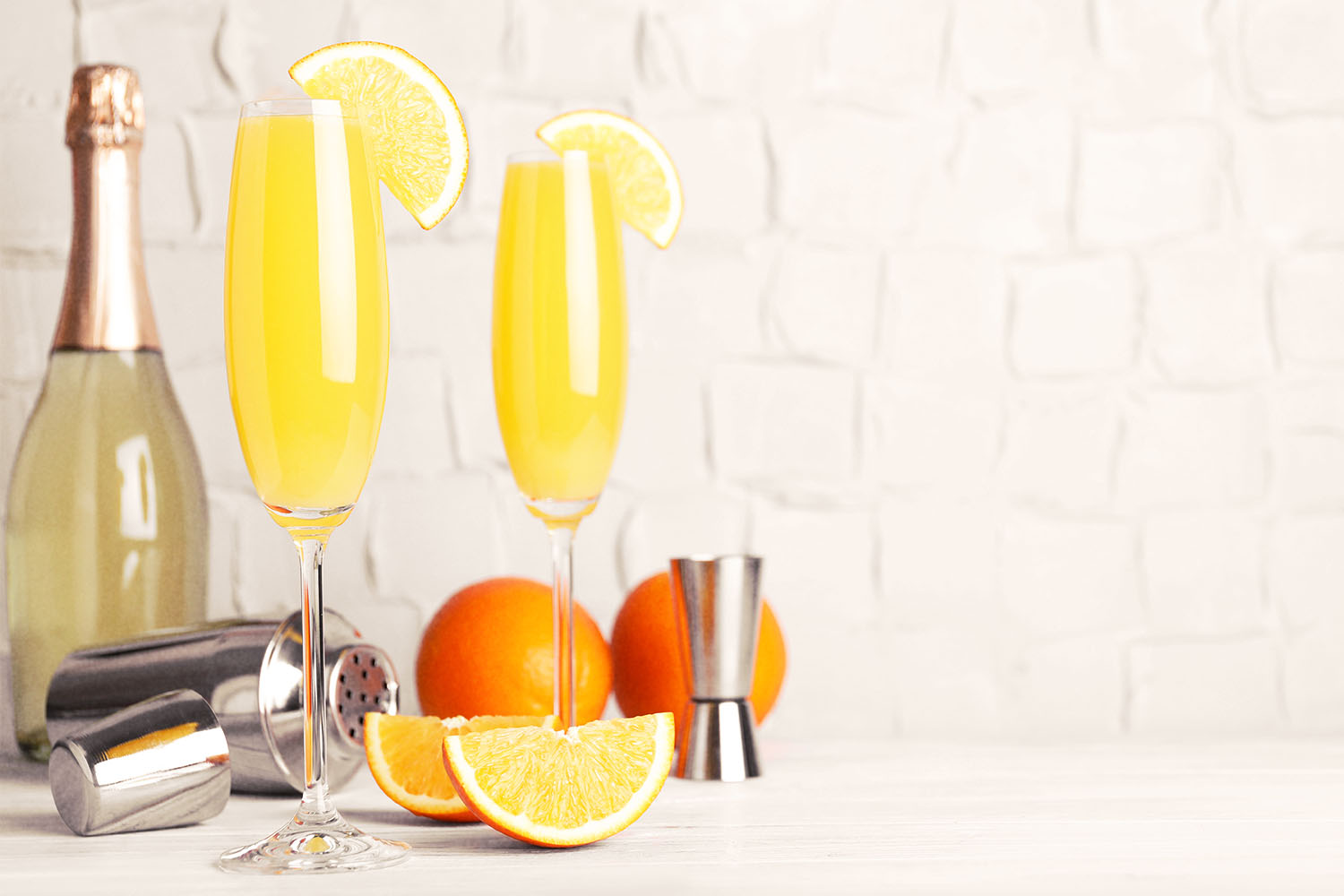 Raise your hand if you've ever had a mimosa. Okay, now please bring your hand back to your phone/computer/tablet so you can keep scrolling and reading. Anyone who drinks alcohol has had — and enjoyed — a mimosa. But here's the thing: the way we drink mimosas now is wildly different from the original drink. Originally poured at the Ritz Hotel in Paris (of course it was), a mimosa used to be a half glass of Champagne topped with an equal portion of freshly squeezed orange juice. What is it now? Often a glass of the cheapest prosecco, cava or American sparkling wine available mixed with a splash of from-concentrate OJ, just enough to change the color of the bubbly to a light orange.
Why the change? Economics. Champagne and freshly squeezed OJ are expensive items, and somewhere along the way, some restaurateur or bean-counting bartender decided to not only embrace the cheaper alternatives, but made the mimosa some kind of "drink 'til you drop" value beverage. A properly made mimosa is something to savor and, coincidentally, has a lower alcoholic content due to the balanced ratio of Champagne to orange juice.
NON-SPIRITED VERSION
A favorite drink around my house is the non-alcoholic mimosa — shall we call it a fauxmosa? — which replaces the Champagne with club soda or something from the S.Pellegrino Essenza line, which has some lovely flavors that'll jazz things up. As with a mimosa, here you'll use a 1:1 ratio of soda to orange juice.
DAVID SAYS, PAIR IT WITH…
Ham-wrapped cheese skewers. Buy a delicious hard, French cheese — like gruyere or comte. Cut the cheese into cubes, and skewer. Wrap the skewer with Jambon de Bayonne (the French version of prosciutto) and enjoy!
---
HAPPY ACCIDENTS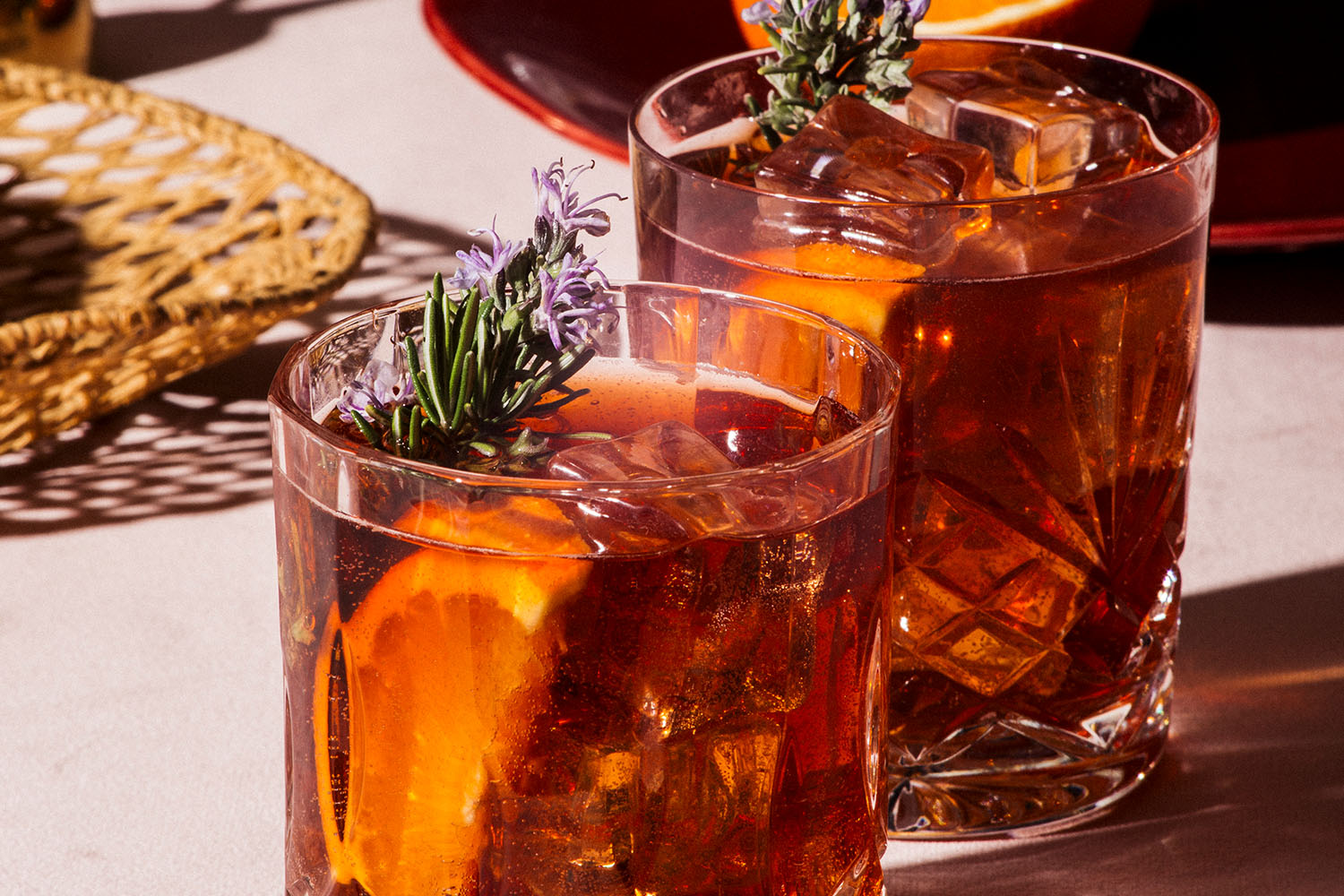 When I think about cultures that know how to make a day out of drinking, it doesn't take long to picture ancient cobblestone streets, a cool breeze off the Mediterranean and spritzes. Viva l'Italia! Maybe it's the climate, maybe it's the indescribable attitude of the people that can only be summarized by miming a chef's kiss, but constant consumption is the Italian way. It's all about enjoying the moment. There is no better example of this than the scarcity of options when it comes to taking your coffee to-go…quite simply, you don't. You sit and drink your espresso. Because, you know, life.
By now we're all familiar with the Aperol spritz and the Bellini. Maybe even the Sbagliato. All 3 are legendary (and problematically delicious) low-ABV cocktails, and all 3 hail from Italy. The Aperol spritz is so ubiquitous these days that a cursory search online will bombard you with recipes, articles and beautiful photos. Hell, Aperol even sells them ready to drink. So you don't need a recipe from me. And the Bellini is, like the mimosa, a 2-ingredient tipple. A splash of peach nectar in a glass of prosecco (1:5 ratio, more or less), and ta-da! So let's dive into the Sbagliato.
Legend has it that this drink was invented by a bartender who, while making a Negroni, accidentally grabbed a bottle of prosecco instead of gin. Adding credence to that tale is the fact that "Sbagliato" is the Italian word for "mistake."
Directions
Copy Directions
Combine your bitter and sweet vermouth in a stir glass.

Fill the stir glass with ice and give it a quick stir. You aren't focusing on dilution so much as making sure the ingredients are cold — the colder it is, the more bubbly it will be.

Once chilled, strain the contents into a rocks glass filled with ice. Top with prosecco, garnish with an orange slice and enjoy!
NON-SPIRITED VERSION
I call this a Sbagli-not-o. While it may look like I'm doing a paid advertisement, I promise I'm not (though I am open to the idea @Lyre!). Theirs just happens to be a company that makes delicious non-alcoholic spirits perfect for this particular flavor profile.
Directions
Copy Directions
Same as above, for the Sbagliato.
DAVID SAYS, PAIR IT WITH…
A gorgeous platter of Italian salumi — mortadella, pancetta, salami, speck, coppa…. The bitterness of the drink opens your palate, and pairs beautifully with the fatty, salty meats. Add a bowl of high-quality Italian potato chips to take it to the next level.
TAKE IT TRANQUILO
Spain's Tinto de Verano, or "Summer Red," is one of those beautifully simple yet endlessly customizable drinks that should be a staple of every summer gathering. It is, at its most basic level, a combination of red wine and soda. Not soda like club soda, but soda like Sprite.
I sense your skepticism, but please, stick with me. To some, this drink will sound like Spain's best known drink, sangria. But where sangria is red wine dialed up to 11, Tinto de Verano is red wine dialed down far enough to host its own smooth jazz late-night AM radio program. It's chill. It's light. It's easy. And it's starting to become so popular beyond Iberia that there are companies working on canned, ready-to-drink versions of this bubbly delight. The recipe is deliriously simple…are you ready?
Copy Ingredients
Ingredients
4 oz. red wine (full-bodied and fruit-forward like a mourvedre, cabernet or grenache)
4 oz. soda (something fresh and citrus-forward like Sprite, Fresca, Squirt, Ting, etc.)
Directions
Copy Directions
Pour the red wine into a glass full of ice.

Stir one or twice. (Remember what we learned above about cold stuff being more bubbly?)

Add soda.

Garnish with an orange or a lemon. Or don't. A Tinto de Verano is unfussy. Enjoy!
NON-SPIRITED VERSION
Allow me to recommend Prickly Red by Studio Null — which can be found at Boisson, an absolute treasure trove of non-alcoholic wines and spirits — to achieve a gorgeous de-alcoholized Tinto de Verano. Use the same 1:1 ratio as in the recipe above.
DAVID SAYS, PAIR IT WITH…
Olives! I like to take everyday Spanish olives, like manzanillas, and marinade them in this slightly spicy, herbal — and simple — recipe.
Take a 1/2 cup of extra virgin olive oil, 2 tablespoons of red wine vinegar, 2 broken bay leaves, 1 smashed garlic clove, a lemon or orange rind, a dash of red chili flakes, and 1 sprig each of fresh thyme and rosemary. Put everything in a saucepan, and slowly bring to a low simmer over low heat. Pour into a bowl and add 2 cups of olives. Let it sit in the marinade for 2 hours, and enjoy!
---
Recommended
Suggested for you