A Spicy and Sassy Margarita Recipe!
This drink will get you hot and bothered — from the spice, of course
July 14, 2023 4:38 pm
The mercury is rising, the wide-brimmed hats are sprouting up and we've replaced our evening tea with a spritz. Which means one thing: it's summertime! What better way to celebrate the season than with a repertoire of refreshing libations? I've got a bunch of perfect recipes to share just for summer. So let's get spritzy and shaken!
Kicking things off is the Spicy Margarita. Whether you add your heat into the tequila, a spicy agave syrup, or deploy a good old-fashioned Tajin salt rim (or a combination of one of the first two, and the third), this cocktail is sure to be a hit at your next party.
In this not-so-humble bartender's humble opinion, it's best to infuse the tequila with a flavor, like jalapeño. (Infusing your alcohol is way easier than you think — check out my tutorial here!) Hot tip: make sure to taste your doctored spirit (just a taste! No sense drinking all the booze during the prep phase) starting at around 20 minutes, and then every 10 minutes thereafter. Peppers infuse spirits quickly, and it doesn't take much for a spicy infusion to go from "pleasant kick" to "needs a chaser of Pepto-Bismol."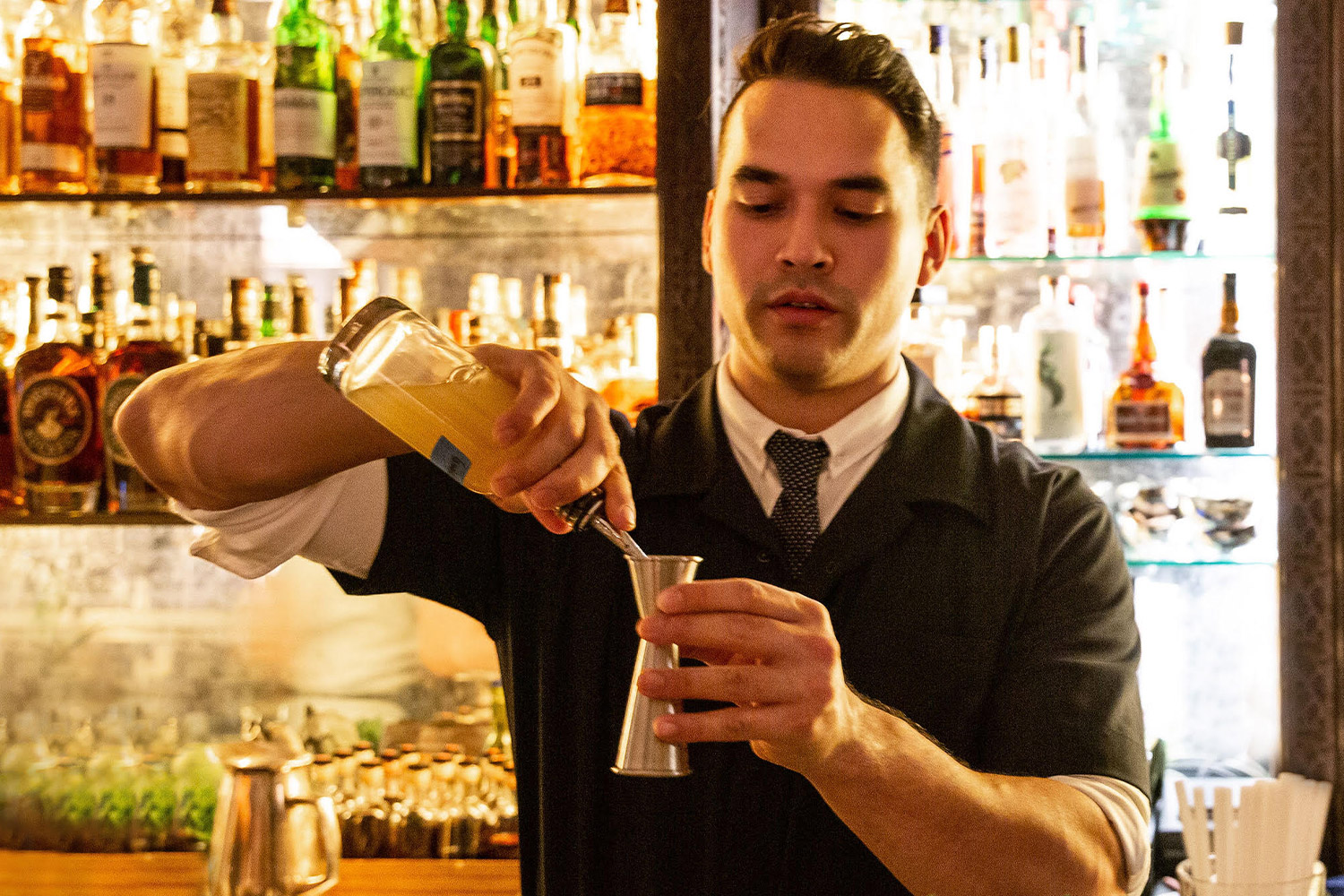 Spicy Margarita
Copy Ingredients
Ingredients
2 oz. jalapeño-infused tequila (recipe below)
¾ oz. triple sec
¾ oz. freshly squeezed lime juice
¼ oz. simple syrup (I include this for texture, if you want to omit it, you are welcome to!)
Jalapeño-Infused Tequila
1 bottle blanco tequila. Use something good. Not expensive, but good. Select a tequila that really showcases the agave! Don Julio or DeLeón are pretty choice options in my house!
1 whole jalapeño (roughly chopped), plus the seeds of two additional jalapeños. (I prefer this ratio as it allows me to create a tequila that is spicy without infusing an overpowering jalapeño flavor.)
Directions
Copy Directions
For the jalapeño-infused tequila: Pour tequila into a glass container (1-liter Mason jars work great for this), and add the jalapeño seeds and whole jalapeño. Set a timer for 20 minutes.

When the timer goes off, taste your tequila and determine if the spice level is where you want it. If it's too mild, continue to infuse in 10-minute increments.

Once your tequila is infused to your liking, strain through a fine mesh strainer (you don't want jalapeño seeds sneaking through!), and pour back into your bottle. (You can use a funnel for this — a funnel is a great thing to have in your bartending kit!)

For the margarita: Combine all ingredients into a shaker full of ice. Shake vigorously, until the shaker tin becomes uncomfortably cold to the touch.

Strain into the glass of your choice, garnish with a lime wedge and a sliver of jalapeño (use the flesh from the peppers you pulled the seeds out of to reduce waste), and enjoy!
Another hot tip: Label your infusions with the contents of the bottle and the date. There's nothing worse than going for a shot of tequila and realizing too late that it's spicy. Including the date is a bartender's best practice — alcohol is a natural preservative and is incredibly shelf stable, but some of the organic compounds introduced during infusion can degrade over time and lose flavor. So if you're picking up a bottle of infused spirit that has a label on it from last year, that might be the reason it doesn't taste quite right.
---
Recommended
Suggested for you