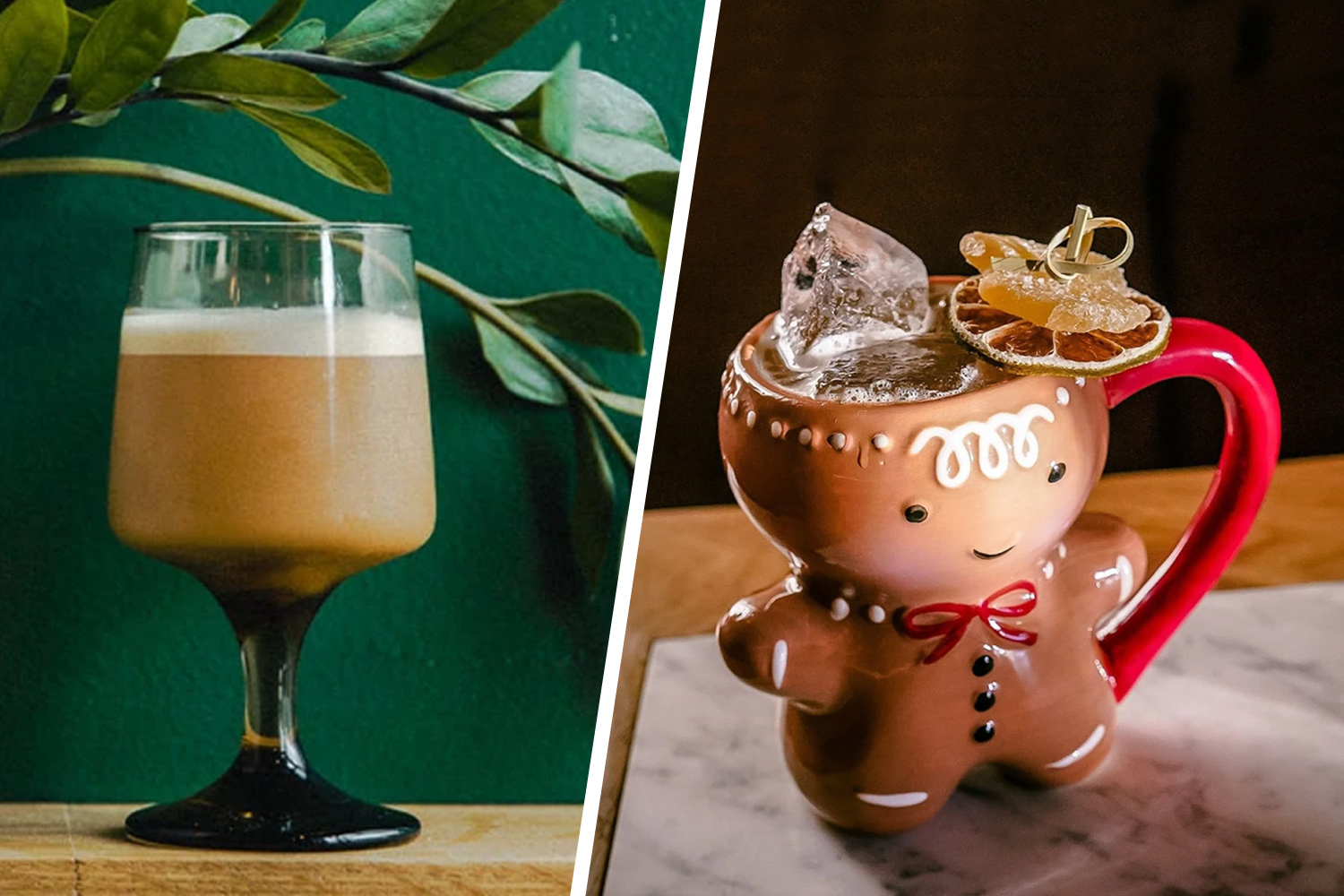 Two Recipes for Hot Chocolate Cocktails
Tarek Deibra, owner of Brooklyn cocktail den Bohemian Bar, gives childhood winter classics an adult makeover
February 12, 2023 9:05 pm
If you're wondering whether you can add a little booze to your hot chocolate, we're here to assure you that A) yes, you can, and B) you should consider mezcal.
"We've tried our hot chocolate with different spirits like rum, brandy, tequila and bourbon, and mezcal came on top every time," says Tarek Debira, owner of Brooklyn cocktail den Bohemian Bar. "Mezcal's smokiness works great with chocolate, and the texture, spices and earthiness complement each other."
The other secret ingredient is Madeira, a fortified wine. "That brings a layer of complexity and flavors, like caramel, hazelnut, orange peel and burnt sugar," Debira says.
If you want a spirit-free version, the base of Bohemian's Dulce Besos drink works equally well on its own, or with N/A Ritual Tequila Alternative subbed in for the hooch. Debira uses a 70% cacao Belgian chocolate that he melts in house, as well as 100% cacao powder to add body. Then he spices it with cinnamon sticks and cayenne pepper.
---
The Dulce Besos
Copy Ingredients
Ingredients
1.5 oz Mezcal
.5 oz Madeira
5 oz Hot Chocolate*
Garnish: Cayenne Powder, Toasted Marshmallow
Directions
Copy Directions
*Hot Chocolate
40g Dark Chocolate
4.3g Cocoa Powder
36g Brown Sugar
290g Milk
97g Heavy Cream
1.5 Cinnamon Sticks
Pinch Cayenne
1.2g Kosher Salt

Melt dark chocolate on the stove at medium heat and mix in remaining ingredients

Remove from heat and build cocktail in a cocoa mug or stemmed glass

Garnish with cayenne powder and a toasted marshmallow
And if you want to take things a step further in the experimental direction, Tim Wiggins of St. Louis's highly acclaimed Lazy Tiger has a flip take on Mexican Hot Chocolate that utilizes the lesser-known agave spirit raicilla.
"I think agave spirits work so well with hot chocolate because of their earthy, 'green' herbaceous quality," he tells us. "The bitter and sweetness of the chocolate pairs beautifully with the floral and citrus tones of agave, especially raicilla."
Interestingly, Wiggins's Whisper Cup cocktail also eliminates the chocolate (and the hot!). "We use vermouth, bitters and protein from a whole egg to mimic chocolate without actually using any chocolate in the cocktail," he says. "It's sort of like making an Espresso Martini without coffee, but it's wild how well it works. The Angostura Vallet provides the bitter sweetness that mimics the chocolate while the vermouth adds the milky softness."
---
The Whisper Cup
Copy Ingredients
Ingredients
.25 oz Tabernas Raicilla
.25 Green Chartreuse
1 oz Cocchi vermouth Blend
.25 oz Amargo-Vallet ango
.25 simple syrup
1 whole egg
Directions
Copy Directions
Hard shake all ingredients with 3 large ice cubs (bars use Kold-Draft; here's a good at-home option)

Strain mixture into a small tin and dry shake for 10 seconds

Pour into small stemmed rocks glass slowly

Garnish with grated nutmeg.
While this drink definitely doesn't work in a spirit-free version, Wiggins has a quick hack to jazz up any mug of cocoa. "Use a whole egg shaken into the hot chocolate — it's a really cool way to add mad texture and depth to a non-alcoholic hot chocolate cocktail."
---