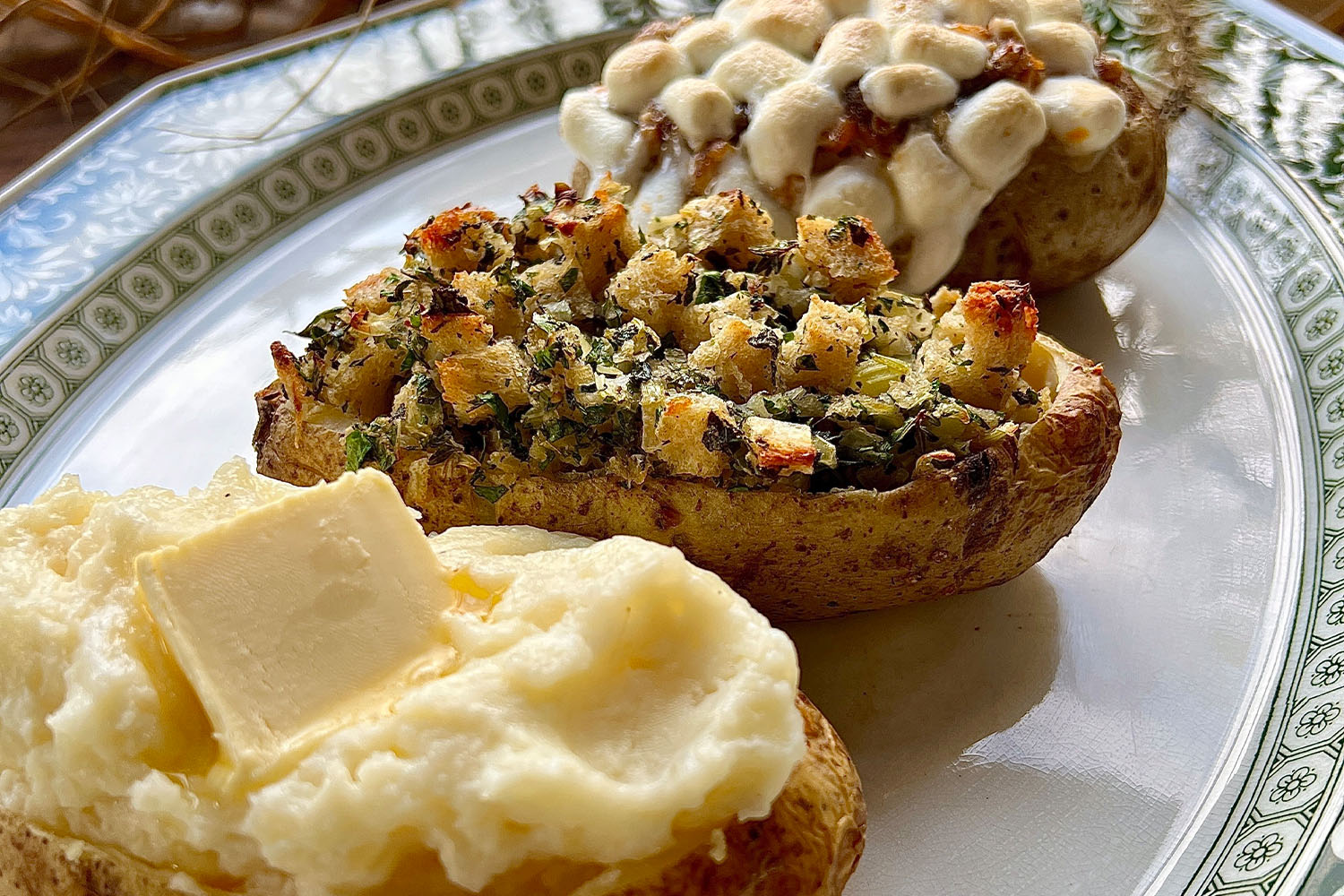 A New Thanksgiving Staple: David's Stuffed Baked Potatoes, Three Ways
It's what's on the side that counts
November 8, 2023 12:34 pm
The holiday season is imminent.
In my household, that means kicking up my feet while outsourcing the heavy lifting to my husband, the wonderfully talented Chef David Burtka. (Kidding! Of course I help. Most of the time. Some of the time. Occasionally.)
To honor my own personal tradition of playing the sous to David's de cuisine, this week I'll be handing over Wondercade hosting duties to my better half for a very special Thanksgiving edition. We've got a brand new Burtka recipe that will liven up your approach to Thanksgiving sides without descending into utter heresy. We will not, however, be loaning out our children to do your dishes. Use your own. -NPH
---
Thanksgiving is about family. Thanksgiving is about gratitude. But most importantly, Thanksgiving is about food. It's about sitting around and stuffing yourself silly with people you love.
When the Wondercade team (read: my husband) asked me if I could come up with some new Thanksgiving dishes to help folks elevate their typical holiday menu, I thought, "Easier said than done!" What could I possibly change up without disappointing someone?
This much is clear: you have to have your staples. Your turkey, your grandma's stuffing, your partner's second cousin twice removed's beloved pumpkin pie. But I think it's okay — advisable, even — to play around with the sides from time to time. So here, exclusively for Wondercade, I've created a trio of stuffed potato recipes to replace — or, if you're a carboholic, complement — your mashed potatoes.
These dishes are not just delicious, but representative of how I cook for our family.
First off, I'm a big proponent of reducing food waste. As a trained chef, I was taught to use as much of an animal as possible, nose to tail, and freeze the ends of celery and carrot tops for later use in stocks. (Shrimp shells, too.) Ideally, nothing goes to waste. Ergo: potato skins, typically a casualty of mashed potatoes.
Second, I believe cooking should always be inclusive. Getting your family in the kitchen not only takes tasks off of your plate, but also makes everyone feel that they're an important part of the day. If someone helps you with the stuffing, you can reference that during the meal: "These may be the best we've ever had, thank you for your help!" Now that person feels like a star. And the more you get kids involved in the kitchen, the deeper their investment in the food becomes. That's why my kids are such great eaters: they eat everything because they help make everything. I could talk about feeding kids for days, but that's another article.
Now then, with your new philosophy and a team of squires in tow, let's proceed to your marching orders.
---
Spuds with three different fillings: Mashed potatoes, savory stuffing and mashed sweet potatoes
Potato Shells
Servings: Enough for recipe
Directions
Copy Directions
To make the shell of the potatoes, preheat the oven to 400 degrees. Pierce the potatoes with a fork and rub with olive oil, salt and pepper. Place in the oven and cook for 1 and 1/2 hours, or until the potato gives a little. Set aside and let cool for 20 minutes.

Once the potatoes are ready to handle, hold horizontally and cut off the top quarter and scoop out the flesh, leaving a small layer of potato inside the remaining skin. Tip: use a paring knife to score the inner flesh before you scoop. Add the flesh to a bowl (this will be the base of your mashed potatoes). Set aside skins on a rimmed baking sheet.
Mashed Potatoes
Directions
Copy Directions
To make the mashed potatoes, combine the butter and cream into a saucepan and heat until the butter is melted and the cream is hot but not boiling. About 3 minutes. While heating the cream and butter, mash the flesh of the potatoes with a hand masher, ricer or food mill.

Add melted butter and cream along with the sour cream to your mash. Gently stir until combined, season with salt and pepper to taste. Transfer to a bowl or fill back into your potato shells.
Savory Stuffing (Instant stuffing works too!)
Copy Ingredients
Ingredients
1 lb of sliced, 1- to 2-day-old sourdough bread cut into 1/4 inch cubes (store-bought is fine) 
2 small onions (small dice)
4 celery stalks (small dice) 
8 tbsp/1 stick of butter
1/2 cup chopped parsley 
1 1/2 tbsp fresh chopped sage
1 tbsp chopped thyme leaves 
2 tsp kosher salt 
1 tsp pepper 
2 cups good quality chicken broth 
2 eggs 
Directions
Copy Directions
Preheat oven to 300 degrees. Add butter to a skillet and melt till brown, then add chopped onion and celery. Cook over medium-high heat while stirring vegetables until they are translucent, about 10-12 minutes. Remove from heat and transfer the vegetables to a bowl with the small bread cubes. Stir in herbs and spices. Toss with 1 cup of broth. Let cool. 

Whisk the eggs and add to the remaining broth. When the vegetable and bread mixture is cool, add the remaining liquid to the bowl and toss gently. Fill each potato shell with the stuffing and cook for about 30 minutes. The top should be golden brown. 
Mashed Sweet Potatoes
Servings: 4 sweet potatoes
Copy Ingredients
Ingredients
4 sweet potatoes 
1/2 cup light brown sugar
4 tbsp unsalted butter
1 tsp of salt 
1 tsp cinnamon
1/2 cup cream
2 egg yolks
Sweet Potato Topping
1/2 cup brown sugar
1/4 cup all purpose flour
3 tbsp melted butter
1/2 cup chopped pecans
2 cups mini marshmallows
Directions
Copy Directions
For the sweet potato

Bake sweet potatoes at 400 degrees until tender, about 1 hour. Set aside until cool enough to touch.

Peel potatoes and put the flesh in a bowl. (These skins can be used too! Repeat same process as above.) Mash with the brown sugar, unsalted butter, salt, cinnamon, milk and egg yolks. When that has come together, fill the potato shells with your mash.

For the sweet potato topping

In a separate bowl, stir in the sugar, flour and pecans, drizzle with butter and combine. Spread over the potatoes and top with marshmallows. 

Bake for 30 minutes or until the marshmallows are golden. Serve right away.
---