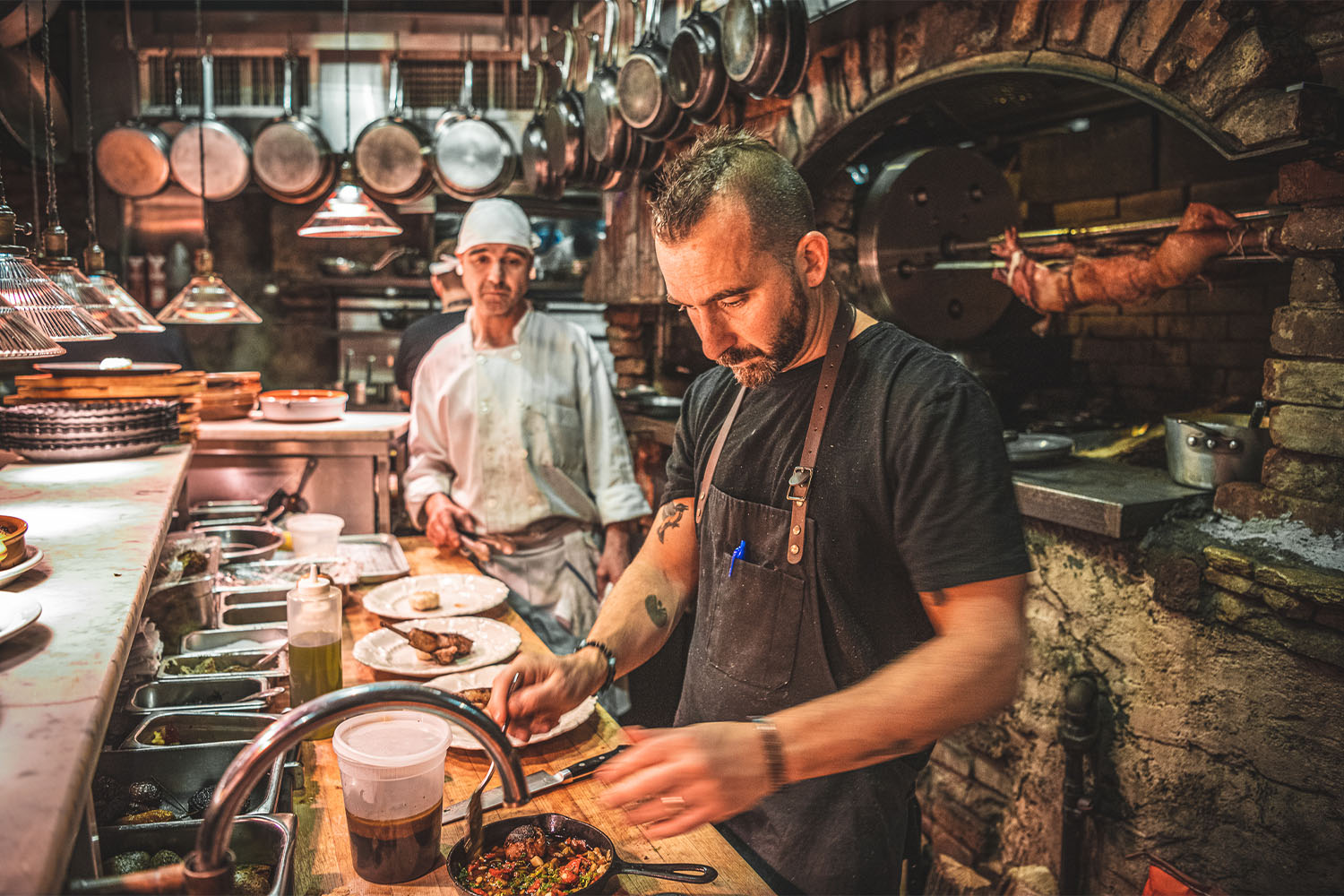 Marc Forgione's Filet Mignon Recipe
How the "Iron Chef America" winner prepares this scrumptious dinner that's fit for a special occasion
September 18, 2023 5:07 pm
Marc Forgione — or "Forge," as the chef/author's friends call him — is a former Food Network Iron Chef and the the recipient of a Michelin star multiple times for his eponymous Tribeca restaurant. He also presides over NYC's beloved rustic Italian restaurant Peasant and — with chef Soulayphet "Phet" Schwader — the celebrated Laotian restaurant Khe-Yo. And today, he's cooking for you — er, well, teaching you to cook. Give a man; teach a man … you know the drill. –NPH
---
As someone who cooks all sorts of quirky and delicious dishes for a living (please stop in any time, we'd love to have you), it bothers me every year to see so many holiday tables featuring the same old traditional fare. Don't get me wrong, I don't have anything against a well-brined and perfectly roasted turkey or a succulent slab of roast beef, but in my humble opinion, any gathering 'round your table — particularly one as special as the holidays — is a great opportunity to mix it up a little bit and send your guests home with both full bellies and some new ideas on what they might cook for their next dinner party.
Below, you'll find my recipe for peppercorn-crusted filet mignon with a peppercorn pan sauce — a delectable, fragrant twist on your typical holiday roast that's a shade more elevated and tasty, and, believe it or not, easier to pull off.
PEPPERCORN-CRUSTED FILET MIGNON WITH PEPPERCORN PAN SAUCE
Copy Ingredients
Ingredients
For the steaks
4 Filet mignons (5 ounces per)
Kosher salt
3 tablespoons Pierre Poivre (or substitute a 3-peppercorn blend, coarsely ground), plus additional to taste
4 garlic cloves (unpeeled)
2 tablespoons unsalted butter
4 thyme sprigs
For the pan sauce
½ cup brandy
1 cup beef or chicken stock
½ cup heavy cream
Kosher salt
Ground black pepper
2 tablespoon chopped parsley
Directions
Copy Directions
Spread the coarsely ground pepper over a plate. Sprinkle the steaks on all sides with salt. Place the steaks on the pepper and press, coating both sides of each steak. You may need to add more pepper.

Heat a large heavy skillet over medium-high heat. Add the oil, then the steaks and cook for 3 to 4 minutes on each side, or until they're deeply browned. During the last 1 to 2 minutes of cooking, add the butter, thyme and garlic to the skillet, and baste the steaks with the foaming butter to help finish cooking them. Transfer to a plate to rest for 3 minutes.

Add the brandy to the skillet over medium-high heat and deglaze the pan, scraping up any brown bits at the bottom (these are called "fond" — chef term, now you know) with a wooden spatula or spoon. Add the stock and reduce by half. Add the heavy cream and stir. Let simmer for 1 to 2 minutes until thickened slightly. Add salt and more pepper to taste if needed. Finish with chopped parsley.
---