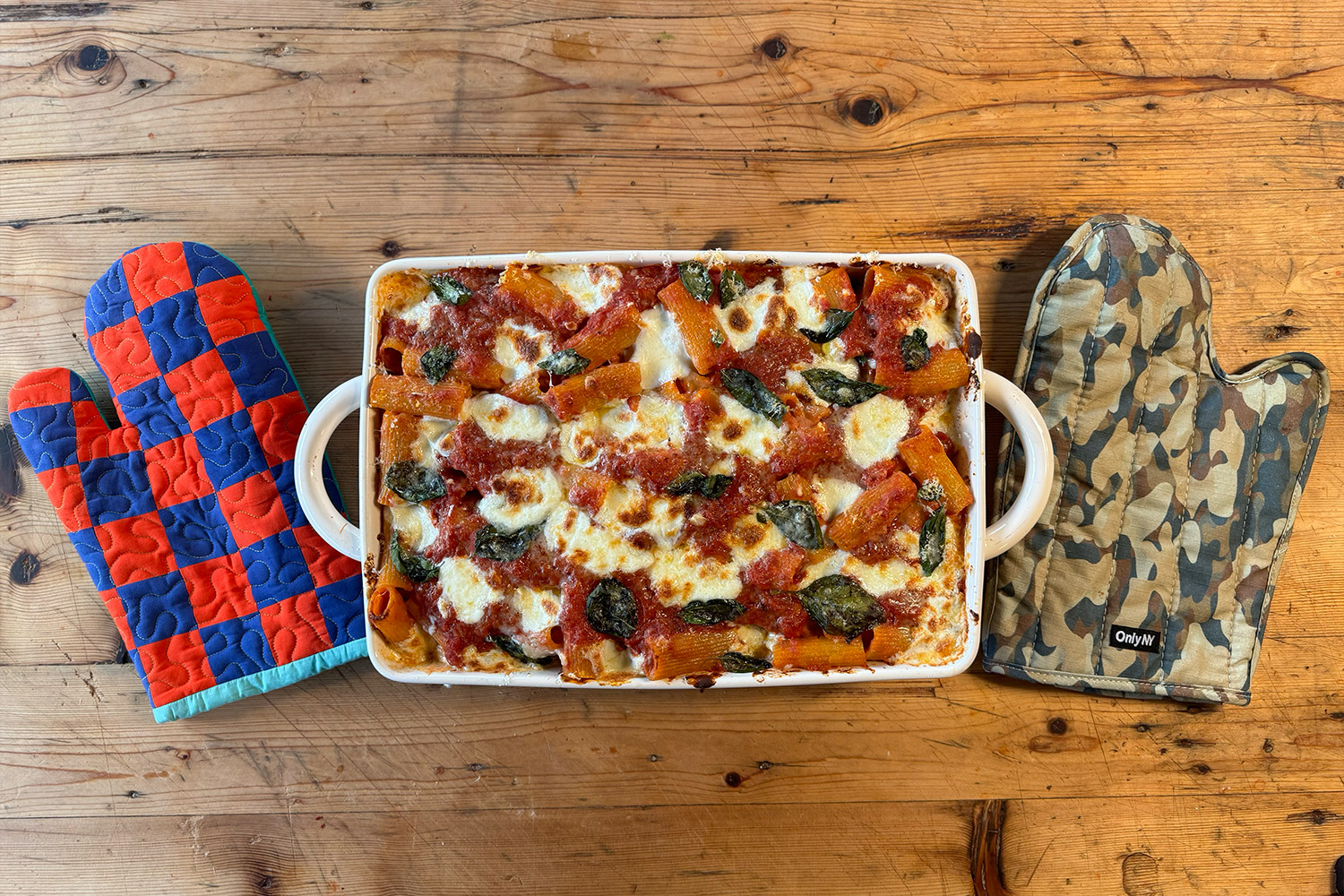 Want Pasta for Thanksgiving Dinner? Make This Recipe from Christian Petroni
Feast on a baked ziti with a homemade marinara sauce!
November 8, 2023 2:20 pm
Wondercade has a storied tradition of publishing Thanksgiving recipes. Does only two times over the two previous Thanksgivings we've been in existence count as "storied"? Well, I'm a storied-teller, so I say yes! Christian Petroni is sharing one of his favorite childhood Thanksgiving dishes, a Thanksgiving baked ziti. It's delicious, and it'll pair well with his other Thanksgiving recipe for his mom's sweet potatoes. When it comes to Thanksgiving, we're all about carbs. We're not sorry about it. -NPH
---
Thanksgiving was always an exciting time in my first-generation Italian-American household. We grew up eating my mom's very traditional, five o'clock cooking, but it was also an opportunity for us to have what we thought was "American" food. We might start off with a very Italian antipasto, or my mom might make tortellini in brodo — but then there might be butternut squash bisque, which is very much in the American repertoire.
Baked ziti is very Thanksgiving to me. My mom didn't make it other times of the year, and it was always our pasta course for Thanksgiving. It's what we call "merigan": that's what Italians call anything that's Italian-American or American. For me, it's a good thing, and we were excited to have some of this "merigan" food on Thanksgiving. That's what was so fun about it: our Thanksgiving was a combo of the food my mom knew how to cook from when she grew up on the island of Ponza, and food that was "merigan"!
Thanksgiving Baked Ziti
Copy Ingredients
Ingredients
1 lb. ziti pasta
15 oz. ricotta cheese
1 cup grated Parmesan cheese
1 bunch of basil, roughly sliced
1 egg
1 tsp. dried Sicilian oregano
24 oz. marinara sauce (recipe below)
Salt and pepper to taste
2 cups shredded mozzarella cheese
2 tbsp. fresh parsley
Directions
Copy Directions
Preheat your oven to 375°F.

Cook the ziti according to the package instructions until it's al dente. Drain the pasta and set aside.

In a medium bowl, combine the ricotta cheese, half of the Parmesan cheese, the egg, basil, oregano, salt and pepper. Mix until well combined. Set aside.

In a large mixing bowl, combine the cooked ziti and marinara sauce. Stir until the pasta is well coated. Add in the ricotta cheese mixture and gently fold until everything is well combined.

Then in a 9×13-inch baking dish, spoon in and spread out half of the ziti mixture. Sprinkle half of the mozzarella cheese over it. Then spread out the remaining ziti mixture and top with the remaining mozzarella and Parmesan cheese.

Place uncovered in the oven and bake for about 20-25 minutes, or until the cheese is melted and bubbly.

Remove from the oven and let cool for a few minutes before garnishing with chopped fresh parsley.
Marinara 101 Sauce
Servings: #10 cans (3 quartz)
Copy Ingredients
Ingredients
2 cups olive oil
2 onions
1 large carrot
12 garlic cloves, finely chopped
1 #10 can of peeled tomatoes
1 tbsp. chili flakes
1/2 tube tomato paste
1 tsp. sugar
Salt and pepper to taste
Directions
Copy Directions
In a heavy bottomed pot begin to heat your olive oil on medium.

Grate your onion and carrot using the largest hole size on your grater. Then roughly hand chop your shredded carrots. Add the onions, carrots and finely chopped garlic to the pot.

Immediately turn down your heat and cook on low for 4 hours. The result should be a mixture with a paste-like consistency.

Run the whole can of tomatoes through a food mill or potato ricer, directly into the pot. If you don't have either piece of equipment, just empty the can into a large mixing bowl and break up and smash all the tomatoes with your hand before adding to the pot.

Add the chili flakes and tomato paste. Mix to combine.

Season with salt, pepper and sugar to taste. Adjusting based on the sweetness of your tomatoes.

Continue cooking on low, stirring every 5-10 minutes for 4 more hours.
---