Christina Tosi's Sugar Cookie Recipe
The Milk Bar founder shares a sweet recipe, exclusive for Wondercade
March 13, 2023 8:46 pm
Hi! I'm Christina Tosi, and I run Milk Bar: You may know us from our cookies in the grocery store, or our bakeries that can be found in cities across the country. Today, I'm sharing an original recipe made just for you, the Wondercade reader, inspired by one of Neil, David and the kids' favorite flavors: sugar cookies! 
We're always all looking for a fresh, new, killer recipe that welcomes anyone into the kitchen to help…and one that's easy to bake, and wows on every level. Cookies are meant to be stacked up, gifted, shared. Sugar cookies like these are a home run for any and every baker.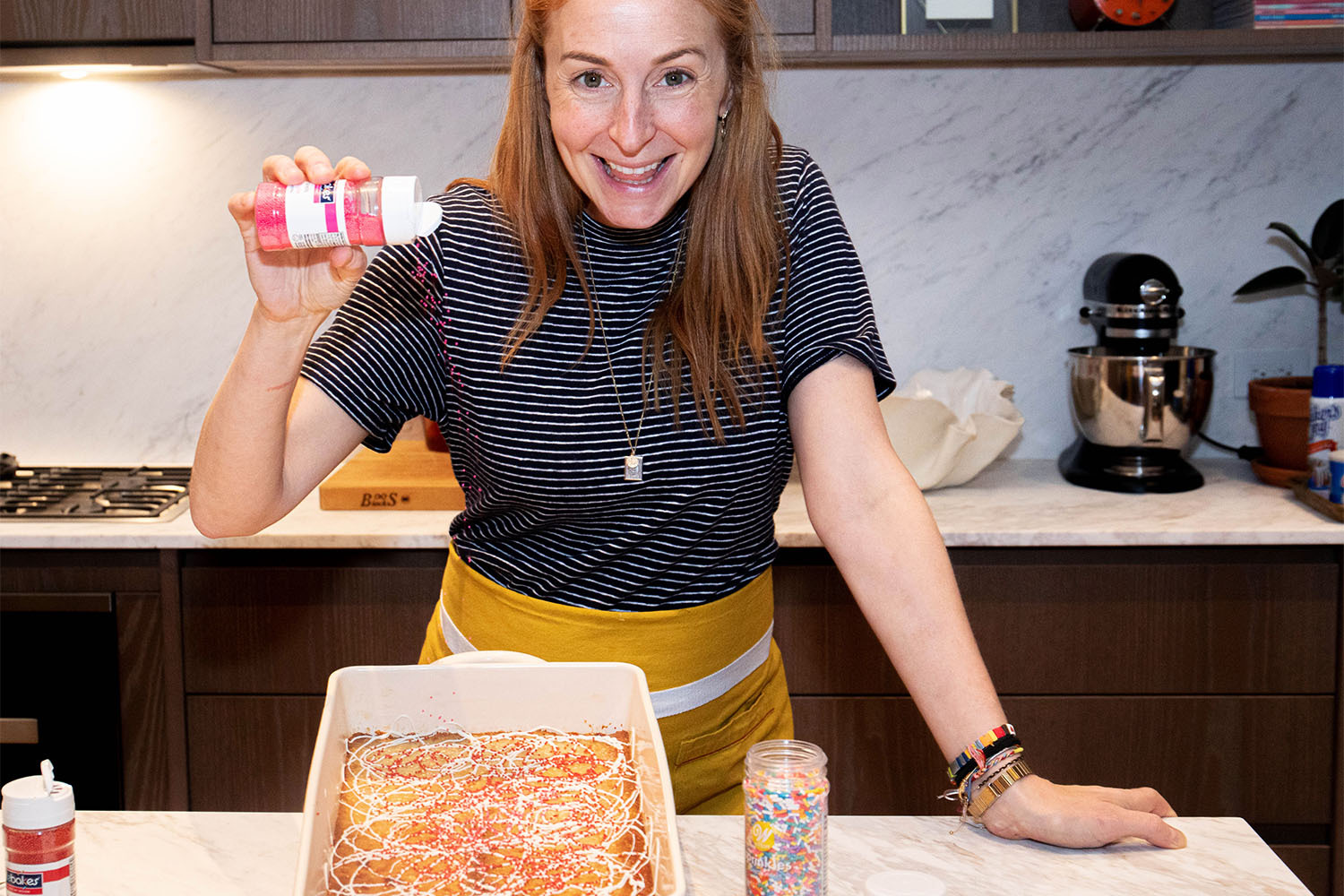 ---
Frosted Sugar Cookie Crackle
Copy Ingredients
Ingredients
12 Tbsp. (1 ½ sticks) butter
2 full sleeves of graham crackers, 2 sets of 8 pieces (though 2 full sleeves of salty crackers, like saltines or Ritz, will do)
½ cup sugar
1 Tbsp. vanilla extract
1 tsp. salt
1 can (14-oz.) sweetened condensed milk
White chocolate chips, melted for decoration
Colored sugar sprinkles or nonpareils for decoration
Directions
Copy Directions
Heat the oven to 350°F. Pan-spray a 9-by-13 baking dish.

Line the baking dish twice (double-stacked) with crackers, breaking crackers as necessary to fill the entire dish.

In a medium saucepan over medium heat, combine the butter, sugar, vanilla, salt and sweetened condensed milk. Bring to a boil then simmer on low heat for 3 minutes.

Pour the warm, vanilla mixture evenly over the cracker layer and bake at 350°F for 15 to 20 minutes, where it will bubble, caramelize and infiltrate the cracker layer with sugar cookie magic.

Cool completely, decorate with melted white chocolate swirls and colorful sprinkles, then break into 24-ish pieces.
---
Recommended
Suggested for you