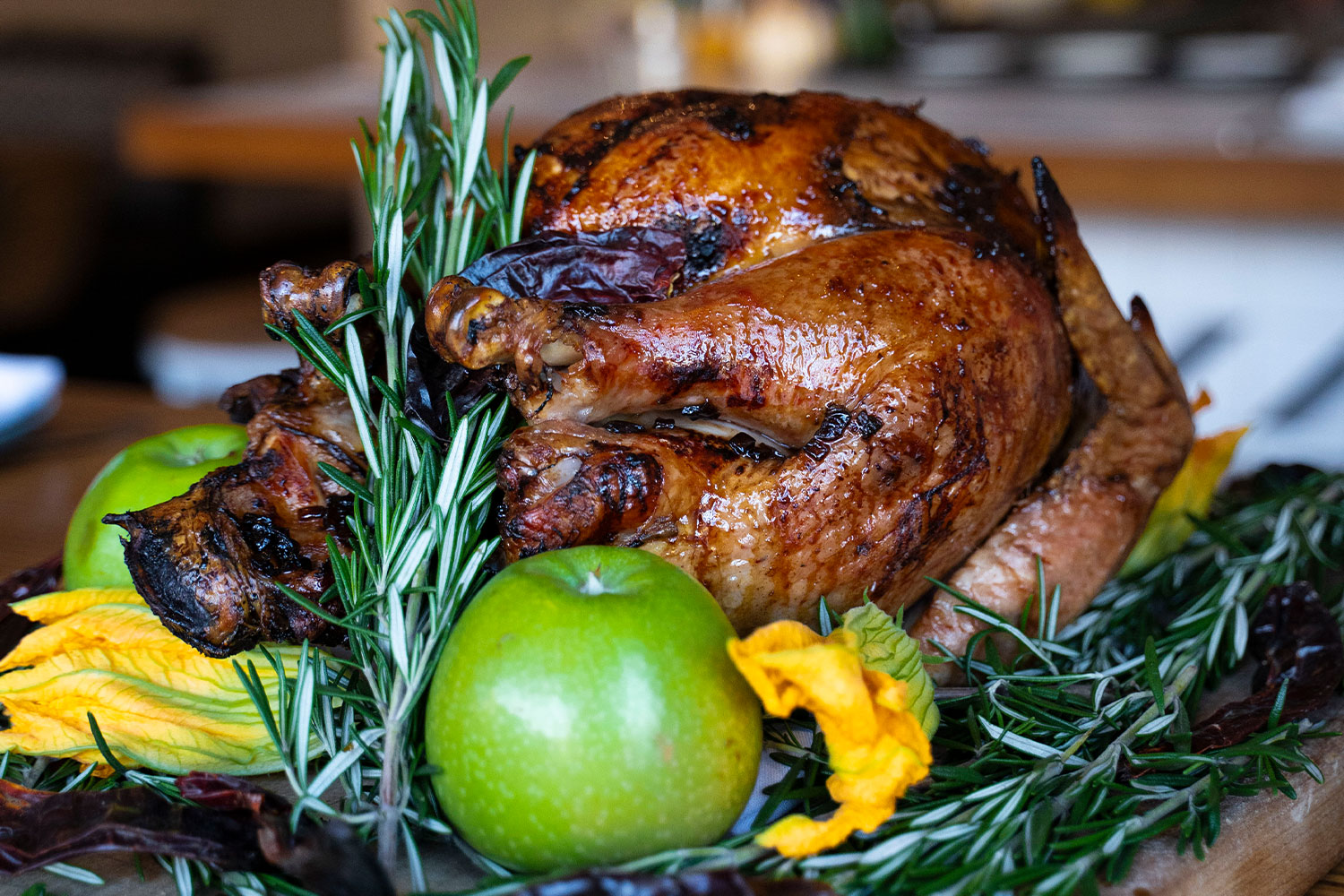 Turn it up for This Mexican Coke-Glazed Turkey!
This recipe is the (tur)key to everyone's hearts on Thanksgiving
November 8, 2023 1:39 pm
Chef Akhtar Nawab runs Alta Calidad, a delightful Mexican restaurant in Brooklyn. He's here to share his take on the showstopper that earns center stage every Thanksgiving: the turkey. But this one has a twist of Mexican flavors, as well as a familiar fizzy friend that comes in a glass bottle. Sign. Me. Up. And if you're in New York, you can order this turkey for takeout for your very own Thanksgiving table. The special Coke BBQ sauce leans into Nawab's holiday cooking style, highlighting winter herbs and sweet spices like cilantro, cinnamon and paprika. This recipe is also popular at home. Nawab says, "My daughter is a big fan; she enjoys any highly seasoned poultry skin crisped up." Same. -NPH
Mexican Coke-Glazed Turkey
Copy Ingredients
Ingredients
12 lb. turkey breast, with skin, on the bone
2 yellow large onions, halved and peeled
3 tomatillos, husks removed
1 small serrano chile
Coke BBQ sauce (recipe below)
Coke BBQ Sauce:
3 bottles of Mexican Coke or regular Coke
1 qt. water
5 sprigs fresh cilantro
4 garlic cloves, peeled
1 bay leaf
1 cinnamon stick
1 tbsp. paprika
1 chipotle in adobo
1 star anise
4 tbsp. cornstarch
Directions
Copy Directions
Place the onions, tomatillos, garlic and serrano on a sheet pan, and broil until deeply charred on all sides.

In a large pot over high heat, add the charred vegetables and all the remaining ingredients except the cornstarch, and bring to a boil, and simmer until the sauce is three-quarters reduced and thickened.

Using an immersion blender, or in a regular blender in batches with the lid open and covered with a towel to let the steam escape, blend until smooth. (Don't overfill the blender as the steam pressure will build.)

In a small bowl mix the cornstarch with one tablespoon of cold water and add to the sauce. Stir until thickened. Taste for salt, and add as needed.

Place the trussed turkey breast on a rack over a foil-lined baking ban, and roast at 400°F for 2 hours. Then lower the oven to 350°F and baste the turkey with the sauce every 15 minutes, until the turkey reaches 165°F, about an additional 50-65 minutes. 

Immediately remove from the oven and leave to rest for 20 minutes before slicing and serving.
---