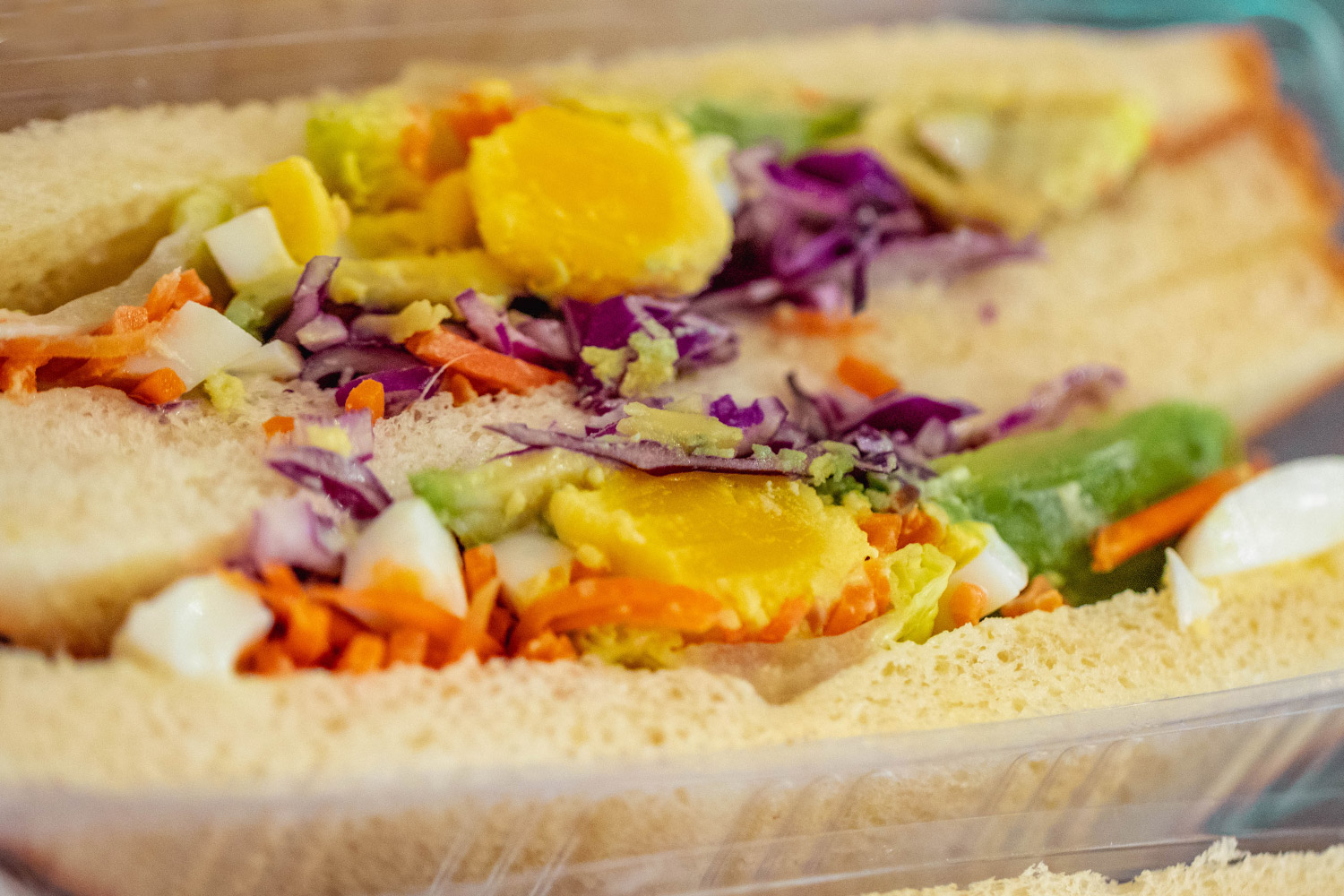 How to Make a Delicious Japanese Wanpaku Sandwich
It's a tasty specialty that's packed to the brim
July 7, 2023 11:31 am
s there any dish more synonymous with a picnic than a sandwich? (The answer, if you were wondering, is, "No." Though I'd have accepted flourishes on the negative sentiment such as "Nope" or "Fuggedaboutit" (I love you, Brooklyn!) and "Are you kidding, Neil?!")
So…sandwiches! Chef Elena Yamamoto is here to share her recipe for a wanpaku sando. Japanese cuisine is her specialty — she is the executive chef of Bessou in Manhattan, and you may recognize her from her many appearances on Munchies. Also, I want this sandwich ASAP. -NPH
"Wanpaku" is a Japanese word used to endearingly describe a cheeky or mischievous kid — and it's also the popular way to describe this packed-to-the-brim sandwich. It is colorful, has endless varieties and does not have any particular rules besides being quite literally packed with veggies. In my mind, this falls into the salad category instead of sandwich — the bread just feels like the wrapping to make this salad extra portable and perfect for a picnic!
My version is filled with shredded red cabbage, a shredded carrot namul-type salad, with sesame seeds, lettuce, sliced avocados, colorful microgreens and sliced hard-boiled eggs. Feel free to play with the veggies you have on hand, but keep in mind, shredded is key for the right texture and the perfect bite! The sandwich I made has been topped with a miso ginger "dressing" for a punch of flavor, but really any dressing you have on hand will do.
Elena Yamamoto's Wanpaku Sandwich
Copy Ingredients
Ingredients
8 slices of your favorite bread, white and fluffy recommended
1 cup shredded red cabbage
½ cup carrot salad (recipe follows)
1 cup shredded iceberg lettuce
2 avocados, sliced
1 cup sprouts/microgreens
4 hard-boiled eggs, sliced
Carrot Salad
2 cups shredded carrots
½ tbsp. sesame oil
½ tbsp. sesame seeds
½ tsp. soy sauce
¼ cup miso ginger dressing (recipe follows)
Miso Ginger Dressing
3 tbsp. white miso
2 tbsp. ginger juice
1 tbsp. white vinegar
1 tbsp. spicy mustard
1 tbsp. honey
¼ cup blended oil
Directions
Copy Directions
Make the carrot salad: Whisk sesame oil, soy sauce and sesame seeds together and add shredded carrots. Mix well and set aside.

Make the miso ginger dressing: Whisk miso, mustard, ginger juice, white vinegar and honey together in a small bowl. While whisking, gradually add oil in a steady stream until emulsified. Set aside.

Assemble the sandwich: layer the ingredients on your bread, putting the thicker-cut ingredients for the center: i.e., bread, dressing, cabbage, lettuce, avocado, sliced hard-boiled egg, carrot salad, microgreens, dressing, bread.

Wrap tightly in parchment paper and slice in half. This is a packed sandwich so slicing through the wrapping will hold it together better. Enjoy!
---