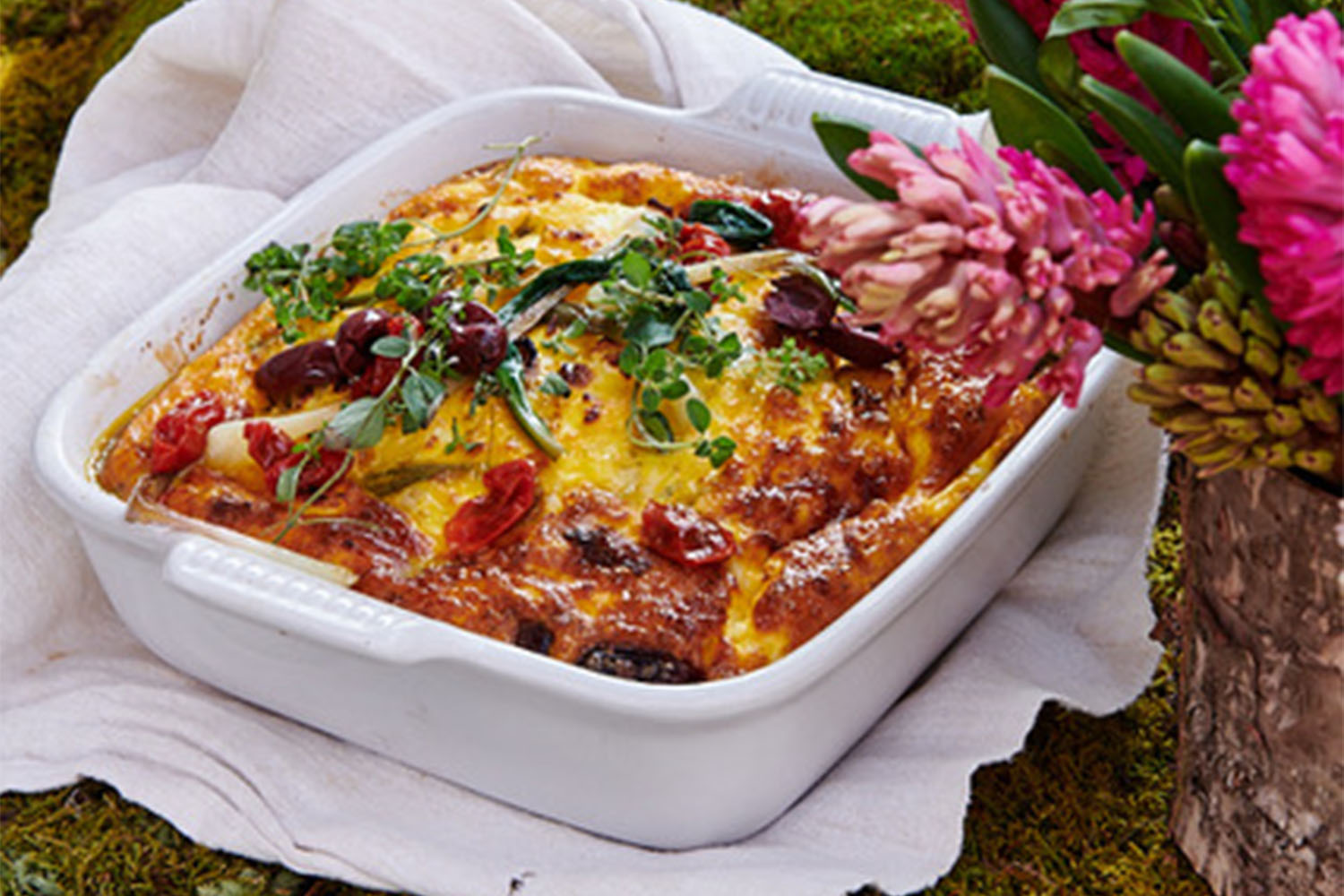 David's Greek Frittata
It would be egg-cellent if you tried this frittata recipe
May 15, 2023 5:48 pm
When you're eating healthy, you need to put an extra focus on taste. You need lots of bold flavors, so it doesn't seem like you're dieting. The more flavor you can pack into your recipes, the more you're going to feel full and satiated.
My Greek frittata gets big flavor from the olives, sun-dried tomatoes and herbs, but the true star is the ramps, which are just now coming into their short season. They're a cross between garlic and a spring onion — they're super flavorful and totally delicious. And the frittata is absolutely packed with protein: chickpeas, eggs and feta cheese, which is less fatty and more flavorful than maybe any other cheese.
Serve this frittata for brunch, lunch or dinner. Eat it at room temperature, eat it cold, eat it hot. Put the leftovers in the fridge and eat it days later; it'll hold for a long time. It's beautiful, versatile, super healthy, protein-packed and full of bold flavors. Enjoy!
DAVID BURTKA'S GREEK FRITTATA
Copy Ingredients
Ingredients
1 large bunch ramps (about 4 ounces), cleaned, bulbs and greens separated
3 tablespoons olive oil, divided
Kosher salt and freshly ground black pepper
4 cups (5 ounces) baby spinach, packed
1 15.5-ounce can chickpeas, drained and rinsed
1/4 cup pitted Kalamata olives (about 12 olives) 
1/2 cup oil-packed sun-dried tomatoes (about 10), with a hefty splash of the oil
1/2 teaspoon dried oregano
12 large eggs
6 ounces Greek feta cheese in brine, drained and crumbled into large pieces
Directions
Copy Directions
DIRECTIONS

Preheat the oven to 350°F. Toss the ramp bulbs with 1 tablespoon olive oil and a pinch of salt and pepper in an 8-inch square baking dish and bake, stirring midway through, until tender and lightly browned, 20 minutes. Once the bulbs are slightly cooled, transfer to a cutting board and roughly chop. Leave the remaining oil in the baking dish.


Meanwhile, slice the ramp greens into 1-inch pieces. Heat the remaining olive oil in a large skillet over medium heat and add the greens to the pan along with the spinach and a pinch of salt and pepper (you may need to cook the greens in batches). Cook until they are just wilted, stirring occasionally, about 5 minutes, then transfer to a bowl.

Add the chickpeas to the baking dish and toss them around to coat them with the oil left over from baking the ramp bulbs. Top evenly with the wilted greens, chopped ramp bulbs, olives, sun-dried tomatoes and oregano. 

Whisk the eggs with a large pinch of salt and pepper until well combined. Evenly pour over the ramps in the baking dish and then sprinkle with the feta cheese.

Bake until the top is lightly browned in spots and the frittata is mostly set but still jiggles a bit in the center when you lightly shake the baking dish, about 50 minutes, rotating the baking dish halfway through cooking. Set aside to cool for at least 20 minutes (it continues to cook while it cools).

Cut the frittata into 8 large or 12 smaller-sized pieces and serve warm or at room temperature.