David Rose's Smoked Chicken Chili Recipe
Next Food Network Star competitor and Executive Chef for Omaha Steaks shares a spicy dish
February 28, 2023 5:51 pm
When it's cold outside or you just want to eat something that warms your heart, stomach and soul, you can't beat a piping-hot bowl of chili. A great chili is a comforting, loving embrace that grabs your appetite, sings it a lullaby and has you unbuckling your belt to make room.
Growing up in New Jersey, I'm no stranger to snowy, cold winter nights. As the youngest child of eight, and having mostly brothers, we all had bottomless stomachs and insatiable appetites. Mom whipped up many awesome chilis on frigid nights, and they would never, ever, EVER disappoint!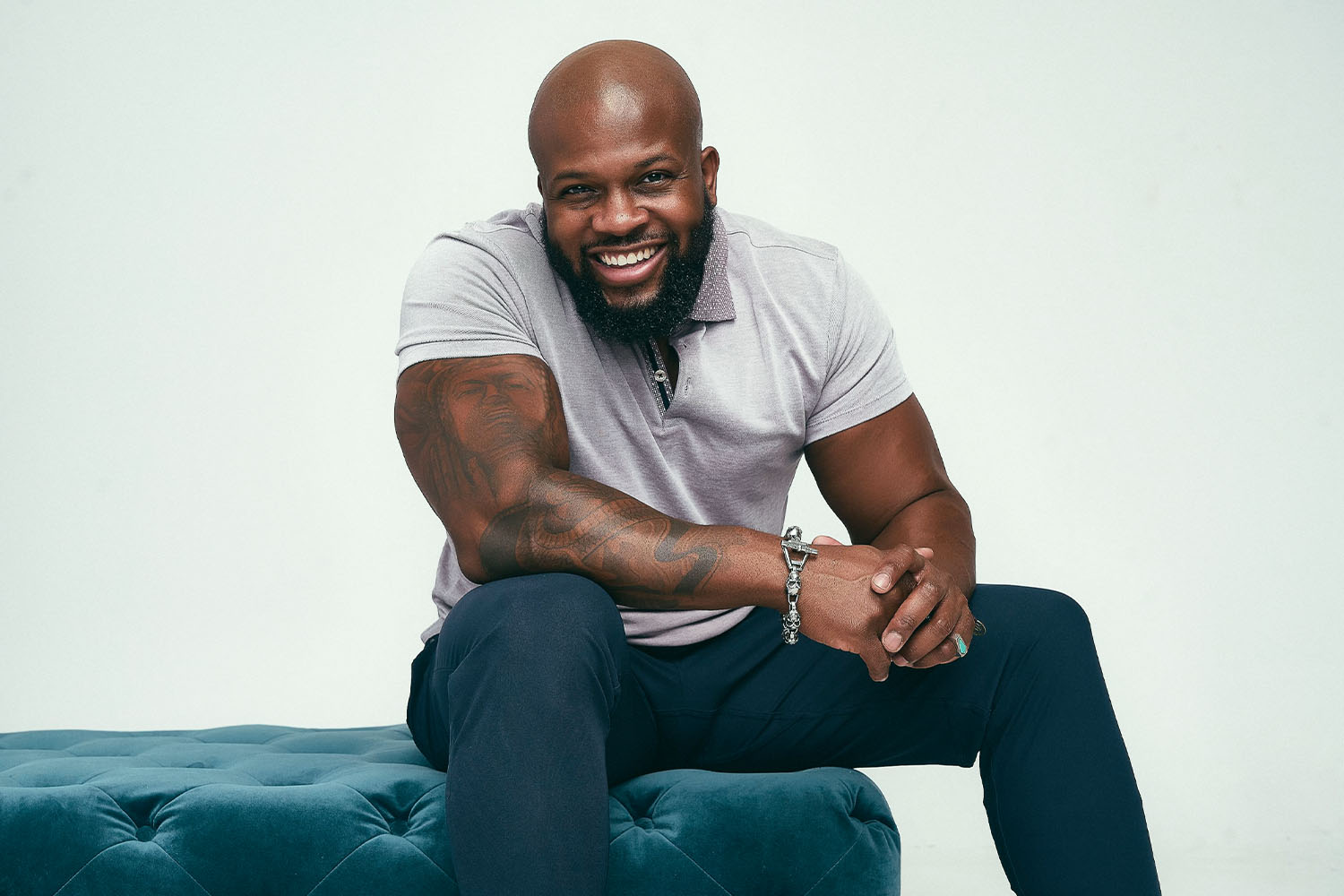 This recipe can be executed on your kitchen stovetop, but utilizing a grill will definitely take it to the next level. What makes this particular chili really pop is the smoked chicken and blistered peppers. They add depth and range of flavor that just can't be replicated inside of the house. Same goes for the smoked chicken thighs. But indoor cooks, don't worry: the Mexican chili powder and poblano give it a nice smoky and satisfying flavor, and the sweet corn gives it a surprisingly sweet pop and crunch that really sets it off, and is very welcome at this chili party.
From EGGin': David Rose Cooks on the Big Green Egg
---
Smoked Chicken Chili
Copy Ingredients
Ingredients
Grill Prep
1 cup apple wood chips, soaked for 1 hour in 2 cups water
Chicken and Brine
3 pounds skinless chicken thighs
4 cups water
1⁄4 cup salt
1⁄2 cup granulated sugar
Chili
3 tablespoons olive oil
1 large yellow onion, small diced
2 green onions, green and white parts minced
3 cloves garlic, minced
1 medium red bell pepper, seeded and small diced
2 ears sweet yellow corn, shucked, kernels cut
1 poblano pepper, charred and peeled, small diced
1 teaspoon kosher salt
1 teaspoon black pepper
2 teaspoons ground cumin
2 tablespoons Mexican chili powder
1 teaspoon smoked paprika
1 teaspoon granulated garlic
1 teaspoon granulated onion
3 tablespoons tomato paste
1 (12-ounce) can IPA beer
40 ounces chicken broth
2 tablespoons Worcestershire sauce 
2 (15.5-ounce) cans cannellini beans
Toppings
1⁄2 cup minced white onion
1⁄2 cup minced green onions, only green parts 1 cup shredded cheddar cheese
10 ounces sour cream
Directions
Copy Directions
Rinse and pat dry the chicken thighs, then place them in a large resealable plastic bag or plastic container.

To make the brine, place all of the ingredients in a large pan on the stovetop and whisk well until incorporated.

Bring to a boil over high heat, then remove from the heat and cool to room temperature.

Pour the cooled brine over the thighs and seal the bag or container tightly, removing any air. Brine overnight in the fridge, or for at least 4 hours.

Prepare your grill (I love the EGG, of course) to cook indirectly at 375°F. Drain the wood chips and place them over your hot coals. 

Remove the chicken thighs from the brine, rinse and pat dry.

Grill the chicken thighs for about 15 minutes per side, or until cooked through and golden brown. Remove them from the grill.

Once they're cool enough to handle, thinly slice or shred the chicken and set aside. For indoor cooking, utilize an indoor griddle or cast iron grill. 

To make the chili, place a large cast iron Dutch oven on the grill or stovetop (a ceramic or cast aluminum Dutch oven will also work inside the house) and add the olive oil.

Once the oil is hot, sauté the yellow and green onions along with the garlic and pepper for 1 to 2 minutes, until fragrant.

Then add the corn kernels and poblano pepper and sauté for an additional 3 minutes. 

Add all of the dry seasonings and sauté for 2 minutes, until fragrant.

Add the tomato paste and continue sautéing for an additional 2 minutes. 

Add the beer and cook until reduced by half in volume, 4 to 5 minutes.

Stir in the chicken broth and bring to a boil. Add the chicken, Worcestershire sauce, and a pinch of salt and pepper. 

Cover the dutch oven with lid, and continue to cook for 10 minutes; if on a stovetop lower from high heat to a simmer.

Add the beans and continue to cook for another 20 minutes. Season to taste with salt and pepper.

Top each serving as desired with the white onion, green onions, cheese, and sour cream.  
---
Recommended
Suggested for you