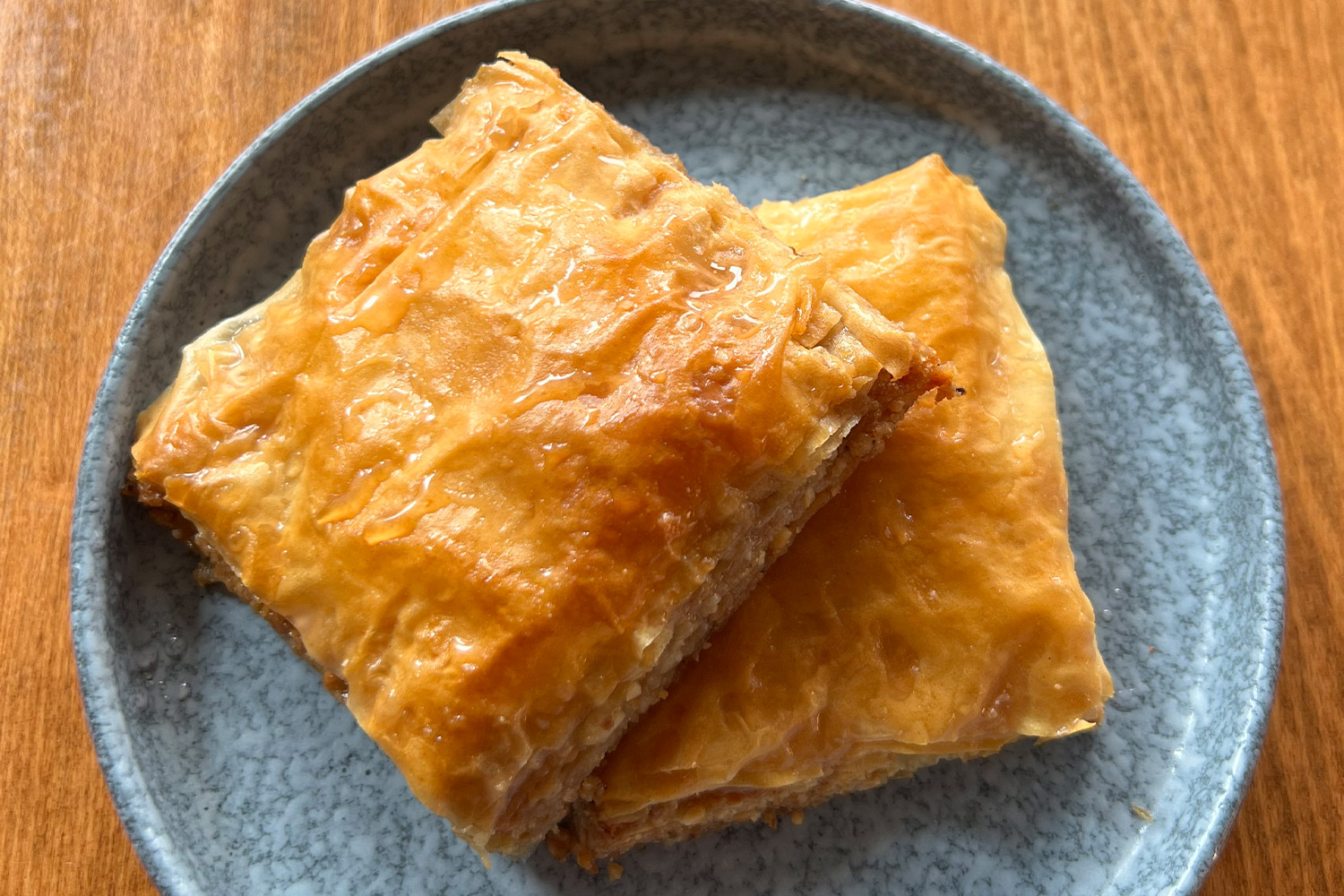 Chef Jay Kumar's Cashew Baklava Recipe
Honey and clove and cardamom, oh my!
July 7, 2023 11:37 am
Wrap up a picnic meal a sweet denouement: a killer cashew baklava, straight from Chef Jay Kumar. Best known for his namesake restaurant, Jay's, in Basel, Switzerland, which was open for over 20 years (that's like a century in restaurant years!), he recently opened Lore in Brooklyn. And he's also the executive delicious-pastry-maker of this week's newsletter. Sweet! -NPH
This cashew baklava — with honey, clove, cardamom and, of course, cashews — is layered between buttery sheets of phyllo and is perfect for a picnic. When I was traveling in Turkey, the sweets I fell in love with were the baklava. They had so many different varieties: pistachio, walnut…but no cashew. I wanted to create a baklava that connected me to India, so I used cashews to create a decidedly Desi version of the Middle Eastern dessert. (India is one of the world's biggest producers of cashew nuts.)
This dish is a great way to add an Indian accent to your picnic. Decadent enough for dessert, but still light enough for summer.
Jay Kumar's Cashew Baklava
Copy Ingredients
Ingredients
Syrup
3 ⅓ cups water
3 ⅓ cups sugar
5 cloves
1 cinnamon stick
1 piece mace
3 green cardamom pods
¾ tsp. cardamom powder
zest of one lime
3 tsp. rose water
Cashew Mix
3 ½ cups whole shelled cashews
1 ¼ cups sugar
1 ⅓ tsp. ground clove
1 ⅓ tsp. ground cardamom
1 ⅓ tsp. ground cinnamon
juice of one lime
Baklava Dough
12 sheets of phyllo dough (store-bought is fine)
1 pound unsalted butter (4 sticks)
Directions
Copy Directions
Make the baklava: Preheat the oven to 350°F.

Melt butter in a saucepan over medium heat.

Lay a sheet of phyllo dough on a half sheet pan and brush it with butter. Add four more sheets, buttering each as you layer.

Spread the cashew mix evenly across phyllo.

Add three more buttered sheets of phyllo, buttering each as you layer, and add another layer of cashew mix.

Add four more buttered sheets of phyllo.

Cut the assembled baklava into 12 pieces.

Bake for 20 minutes until golden brown.

Remove and pour one cup of syrup on top after removing from the oven. Let cool, and enjoy!
---