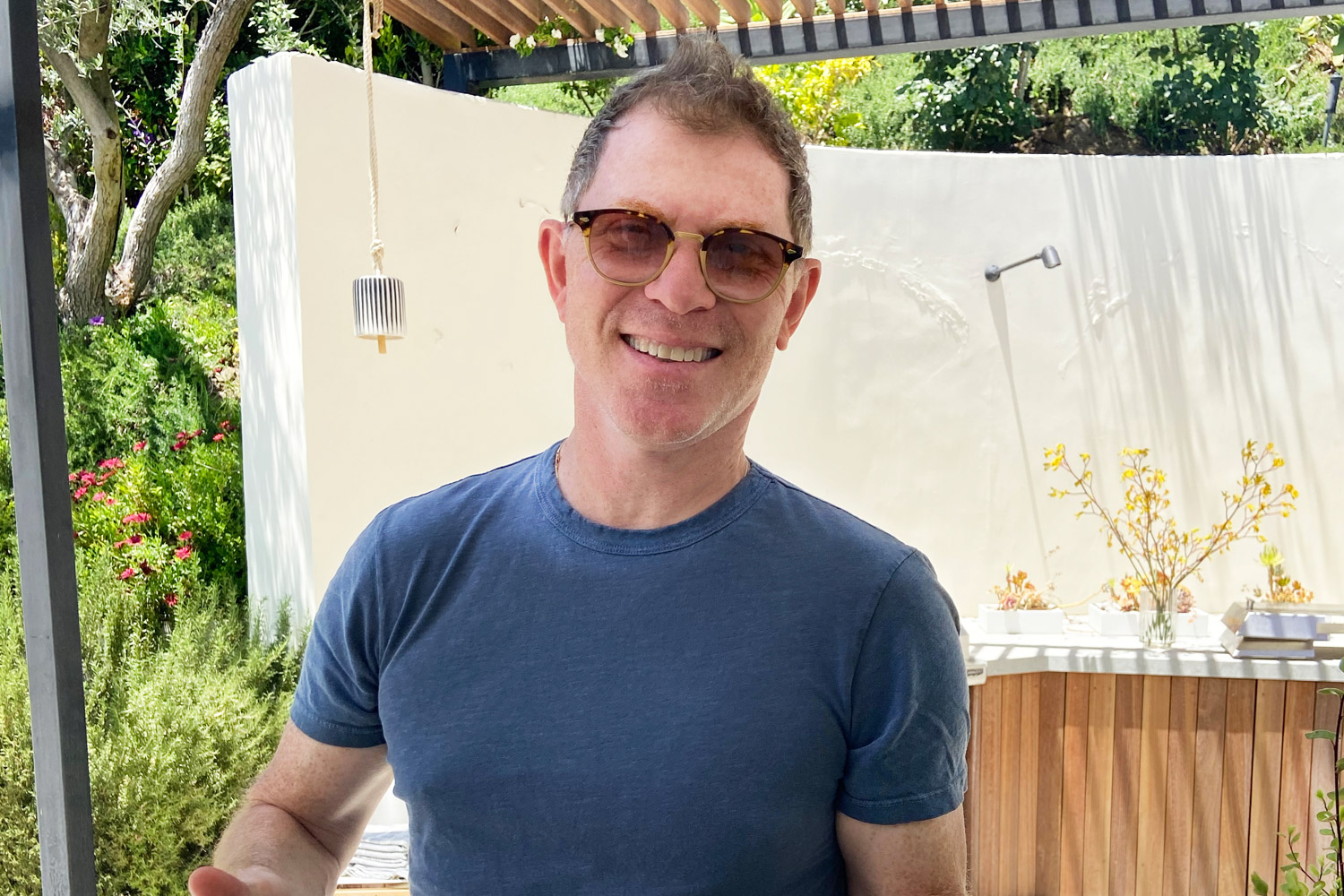 Celebrate Independence Day with Bobby Flay
Grilling for a nation's birthday with a national treasure
June 26, 2023 10:08 am
Do you like food? Have a TV? If you answered yes to these questions, chances are you know my pal Bobby Flay. Already a master on the New York culinary scene by the mid-'90s (I can still taste those sardines at Bolo), Bobby really hit the gastronomic stratosphere when he started appearing on the Food Network in, well, just about every show they aired. Personally I'm partial to Throwdown! With Bobby Flay where the maestro showed off his talents against would-be challengers. But where Bobby is really untouchable is anywhere near a grill. And as the author of the classic cookbook Boy Meets Grill (in addition to 16 other books, with number 17, Sundays with Sophie, coming this October) you know he and I have at least one thing in common…puns. Now let me stop dishing and serve it up to Bobby so he can get this issue cooking. -NPH
I love making these pork chops all summer long, and always include an iteration of them in my 4th of July spread each year. Pork loin has very little fat which means two things: 1) It will cook quicker than you think and 2) it can take on big flavors from the grill and your pantry. In this case, I'm leaning on my influence from Italy by concentrating everyday balsamic vinegar into a sweet and savory glaze, and pairing it with fruity cherry tomatoes and some summer herbs. The key here is to get a significant, crusty char on the chops before you glaze them. Pour yourself a glass of a delicious Italian rosé and let the afternoon crawl into twilight.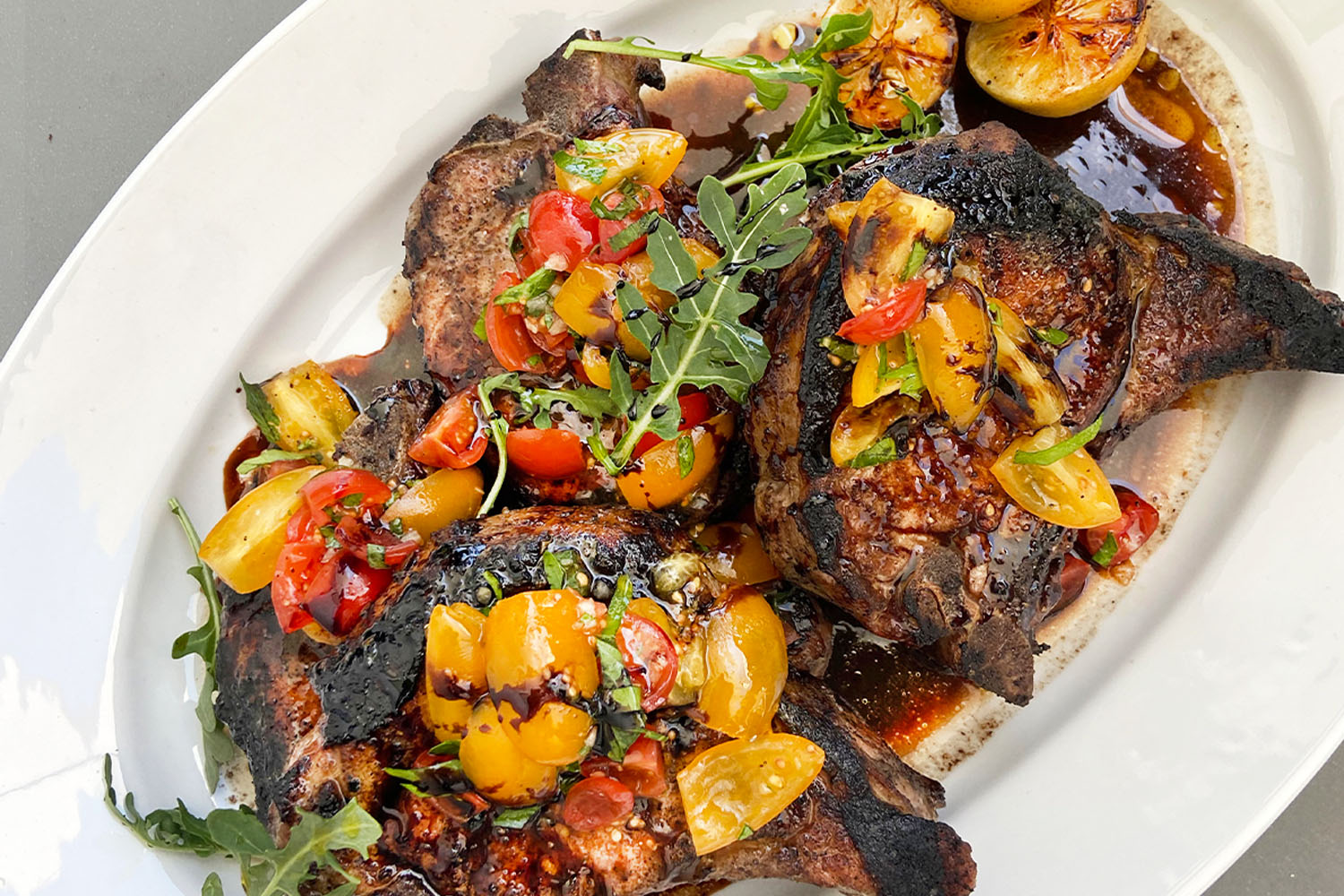 Bobby Flay's Grilled Pork Chops, Cherry Tomato Relish and Balsamico
Copy Ingredients
Ingredients
2 cups balsamic vinegar (not expensive, just good quality)
1 ½ tablespoons honey, divided
Kosher salt and freshly ground black pepper
2 tablespoons extra virgin olive oil, plus more for serving
3 garlic cloves, mashed into a paste with the side of a chef's knife and ¼ teaspoon kosher salt
½ teaspoon Calabrian chile flakes
1 cup red cherry tomatoes, cut in quarters
1 cup golden cherry tomatoes, cut in quarters
Juice of 1 lemon, plus 1 lemon cut up for serving
2 tablespoons chopped fresh flat-leaf parsley leaves, plus more whole leaves for serving
2 tablespoons chopped fresh basil leaves, plus more whole leaves for serving
4 pork chops, center cut, bone-in, about 12 ounces each and 1 ½ inches thick
3 tablespoons neutral oil, such as avocado oil
1 cup baby arugula
Directions
Copy Directions
Make the balsamico reduction: Put the vinegar in a large non-reactive saucepan. Bring to a boil over high heat and cook until reduced to ½ cup, about 15-20 minutes. Stir in 2 teaspoons of honey, season with salt and pepper, transfer to a small bowl and set aside. It will thicken as it cools. This can be done up to a day in advance.

Make the tomato relish: In a medium bowl, whisk together the olive oil and 1 tablespoon of honey, the garlic paste and chile flakes until combined. Add the red and golden tomatoes, season with salt and pepper, and stir to combine. Add the lemon juice, parsley and basil, and toss to coat. Set aside to allow flavors to meld. This can be made up to 3 hours in advance and is best stored covered at room temperature.

For the pork, remove it from the refrigerator 30 minutes before grilling to ensure even cooking.

Heat a grill to high and allow to preheat.

Brush the pork chops on both sides with the avocado oil and season with salt and pepper. Grill pork on one side until golden brown, about 4 minutes. Using tongs, flip the pork chops and grill on the second side until golden brown, about 4 minutes longer. Flip again and cook another minute or two then flip one more time. Once a crust forms on the pork chops and the meat is cooked through and registers 145 degrees on an instant-read thermometer, about 12 minutes in total, transfer the pork chops to a platter and allow meat to rest.

To serve, drizzle the balsamico reduction on the platter of pork, spoon some tomato relish over top and scatter arugula leaves around. Garnish with additional parsley and basil leaves, lemon and a healthy drizzle of extra virgin olive oil.
---