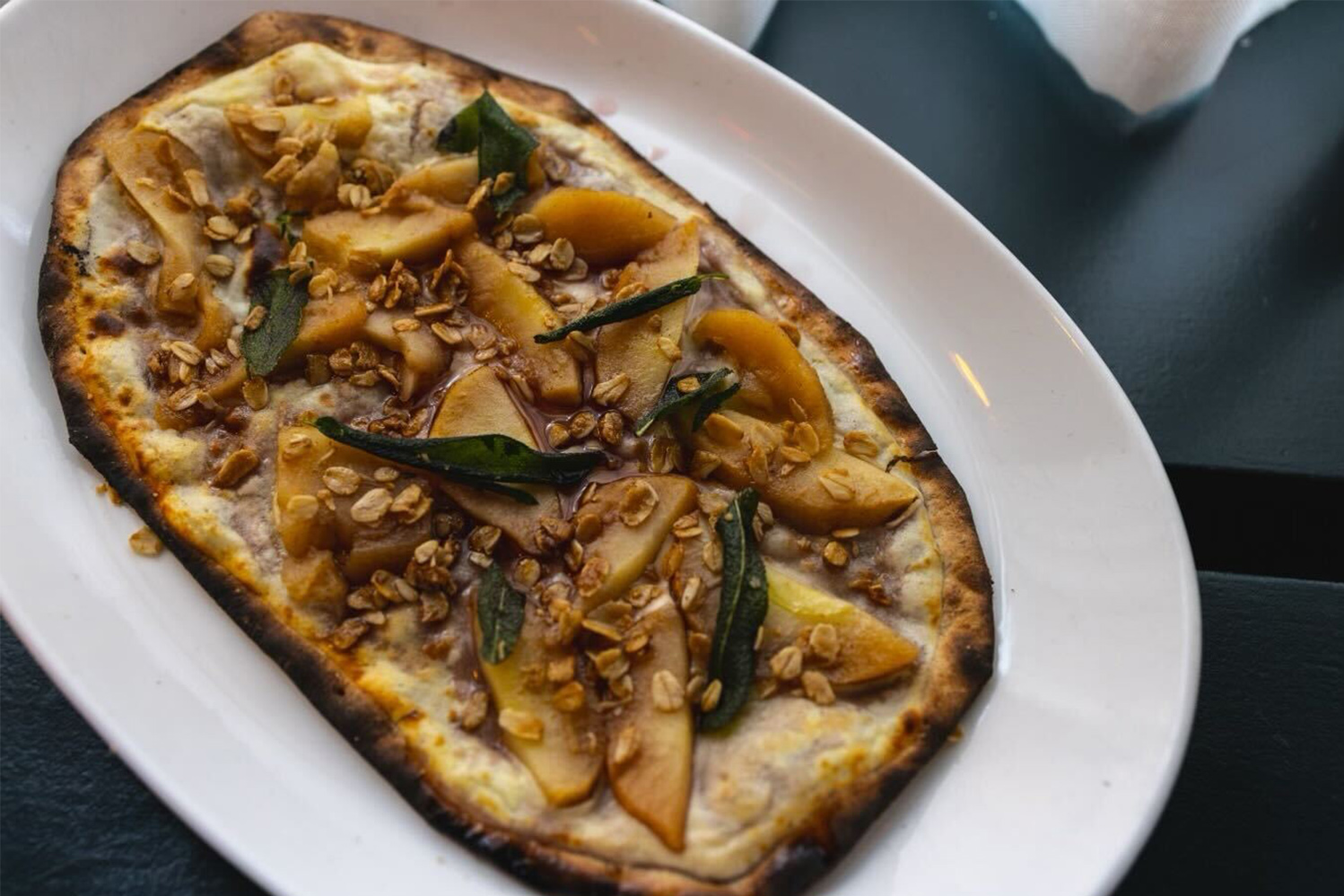 An Awesomely Augmented Apple Pie!
This dessert is the apple (pie) of my eye
September 22, 2023 10:23 am
Who doesn't love apple pie? No, like. Seriously. Who? Today I've got a recipe that'll convert even the most apple pie-averse individuals (if they even exist?). This dessert from Ed Cotton, executive chef at Jack & Charlie's No. 118 here in NYC, elevates the humble pie to outrageous levels. Enjoy. -NPH
---
I love this dish because it's a recipe I adapted from a chef in Alsace, France; it's just like eating warm apple pie, but with the flair of flambé. It's the ultimate dinner party dish when you dim the lights and pour the flaming applejack brandy over all of the buttery apples and fried sage.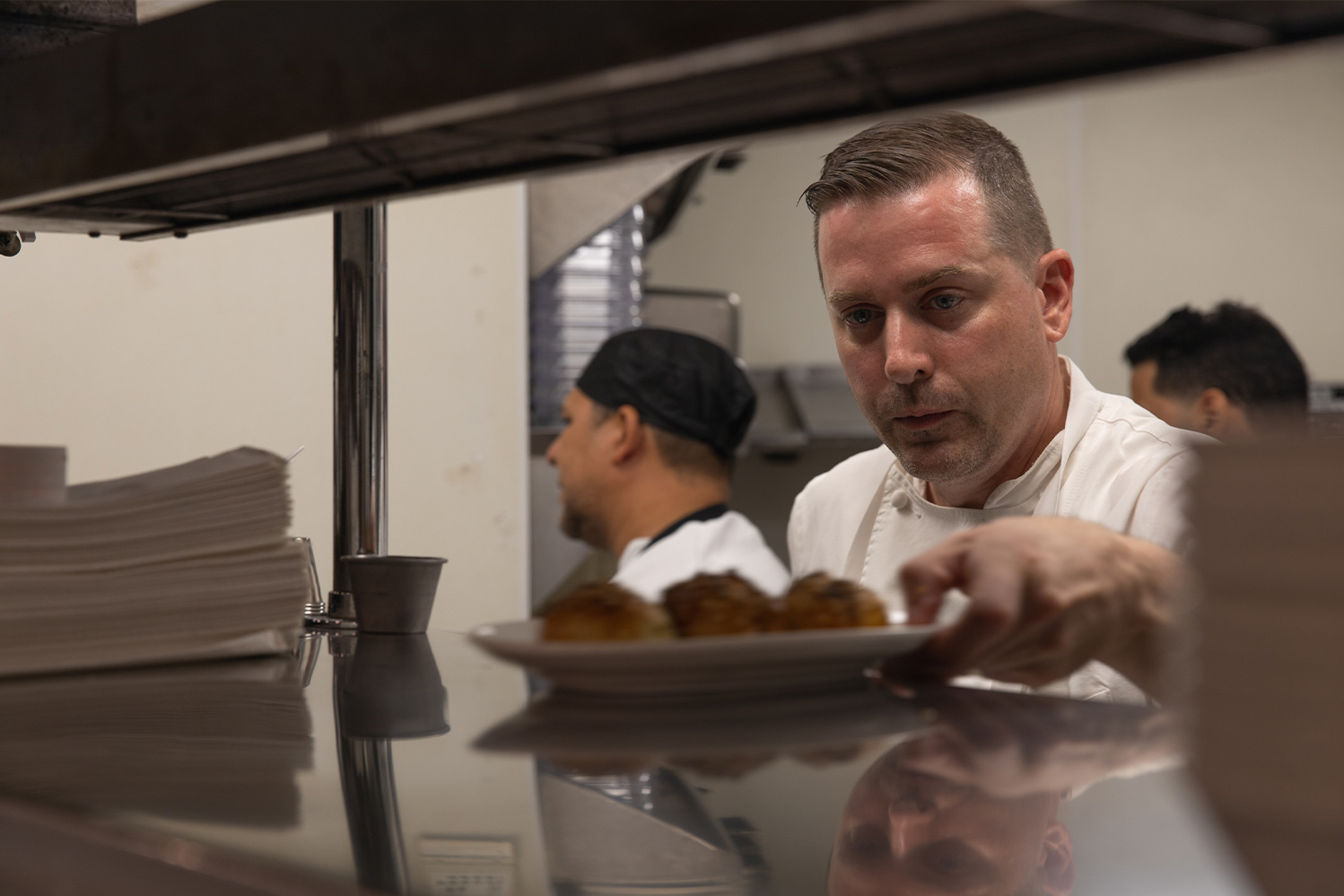 Ed Cotton's Roasted Apple Tart Flambé
Servings: 3 10-by-8-inch tarts
Copy Ingredients
Ingredients
Ingredients: (recipes for each follow)
Graham cracker dough
Yogurt spread
Oatmeal crumble
Butter-braised apples
Fried sage leaves, for garnish
Directions
Copy Directions
Preheat the oven to 450°F.

Remove the rolled-out dough from the refrigerator. Using a small, offset spatula, spread some of the whipped yogurt mixture over the top, leaving a space around the edge without any topping. You want the spread to be about ¼ inch thick.

Spread some of the cooked apples over the top, placing them as evenly as you can. Use your discretion as to how much apple you want on your flambé.

Bake the flambé for around 10 minutes, or until the edges are lightly brown and crisp, and the top of the flambé is just starting to color.

Remove from the oven, sprinkle 1 Tbsp. of oat crumble and garnish with fried sage leaves. Cut into desired portions and serve immediately.
Chef's Rockstar Tip: For an extra added touch, dim the lights in your dining room right before serving it. Using a heatproof, flameproof vessel, add 1 oz. of applejack brandy to the container and torch it using a long match or handheld blow torch and light it on fire in front of your guests. Carefully pour the flaming contents over the entire top of the tart flambé in front of everyone. They'll be impressed!
Graham Cracker Dough
Copy Ingredients
Ingredients
¼ tsp. allspice
1 Tbsp. ground cinnamon
1 tsp. ground ginger powder
1 tsp. kosher salt
1 Tbsp. olive oil
1 cup whole wheat flour
3 cups all-purpose flour
2 Tbsp. brown sugar
2 Tbsp. honey
1 tsp. vanilla extract
1 cup milk
Extra flour for dusting
Directions
Copy Directions
In the bowl of a mixer fit with the dough hook attachment, combine all ingredients, except the milk.

Turn the mixer on and slowly add the milk. Mix on low speed until the dough comes together in a ball and the dough pulls away from the bowl cleanly. Mix for 3 minutes.

Remove and wrap the dough in plastic wrap and let the dough rest on the table for 20 minutes.

Divide the dough into 2 equal pieces. Working on a lightly floured tabletop, roll the dough out into a circle or oval, as thin as you can. (You can also use a pasta roller to get the dough super thin and more cracker-like.) Transfer the rolled-out dough to an aluminum foil-lined baking sheet that's been lightly floured, and reserve to the side until assembly. (Extra dough can be rolled out into a shell and frozen for next time.)
Yogurt Spread
Copy Ingredients
Ingredients
¼ cup plain Greek yogurt
2 oz. cream cheese, room temperature
2 Tbsp. crème fraiche or sour cream
1 Tbsp. all-purpose flour
2 Tbsp. white granulated sugar
1 tsp. cornstarch
1 whole egg
Directions
Copy Directions
Combine all ingredients in a bowl. Whisk together until smooth and homogenous. Transfer the yogurt mix to an airtight container and refrigerate until needed.
Oatmeal Crumble
Copy Ingredients
Ingredients
½​ cup​​ butter
1 cup​​ light brown sugar
3 ​cups ​​rolled oats
Directions
Copy Directions
Bring the butter and brown sugar to a boil in a medium saucepan.

Add the oats to the butter and sugar mixture and reduce the heat to low. Cook while stirring frequently with a rubber spatula, until the mix is dry and lightly toasted.

When the mixture is ready, spread out evenly on a cookie tray. Allow to fully cool. Then, transfer to an airtight container and store in a cool, dry area until needed.
Butter-Braised Apples
Copy Ingredients
Ingredients
4 Gala apples, peeled
½ cup light brown sugar
3 oz. unsalted butter
2 cinnamon sticks
2 pods of star anise
2 vanilla bean pods
½ cup dark rum, Meyers rum preferred
Directions
Copy Directions
Place the peeled apples in a bakeable dish. In a small bowl, whisk together the rum and brown sugar. Whisk until the brown sugar has fully dissolved.

Pour the sugar and rum mixture over the peeled apples. Add the vanilla beans, star anise, cinnamon sticks and whole butter to the pan. Cover with parchment paper, then aluminum foil.

Bake the apples for 35-40 minutes at 350°F, or until the apple is just soft.

Remove apples from the oven and let them cool to room temperature. When cool, cut the apple around the core of the apple, creating 4 pieces. Cut each quarter of the cooked apple into thin slices. Place in the pan with the braising liquid.

Once everything is cut, gently toss to coat in the braising liquid.
---