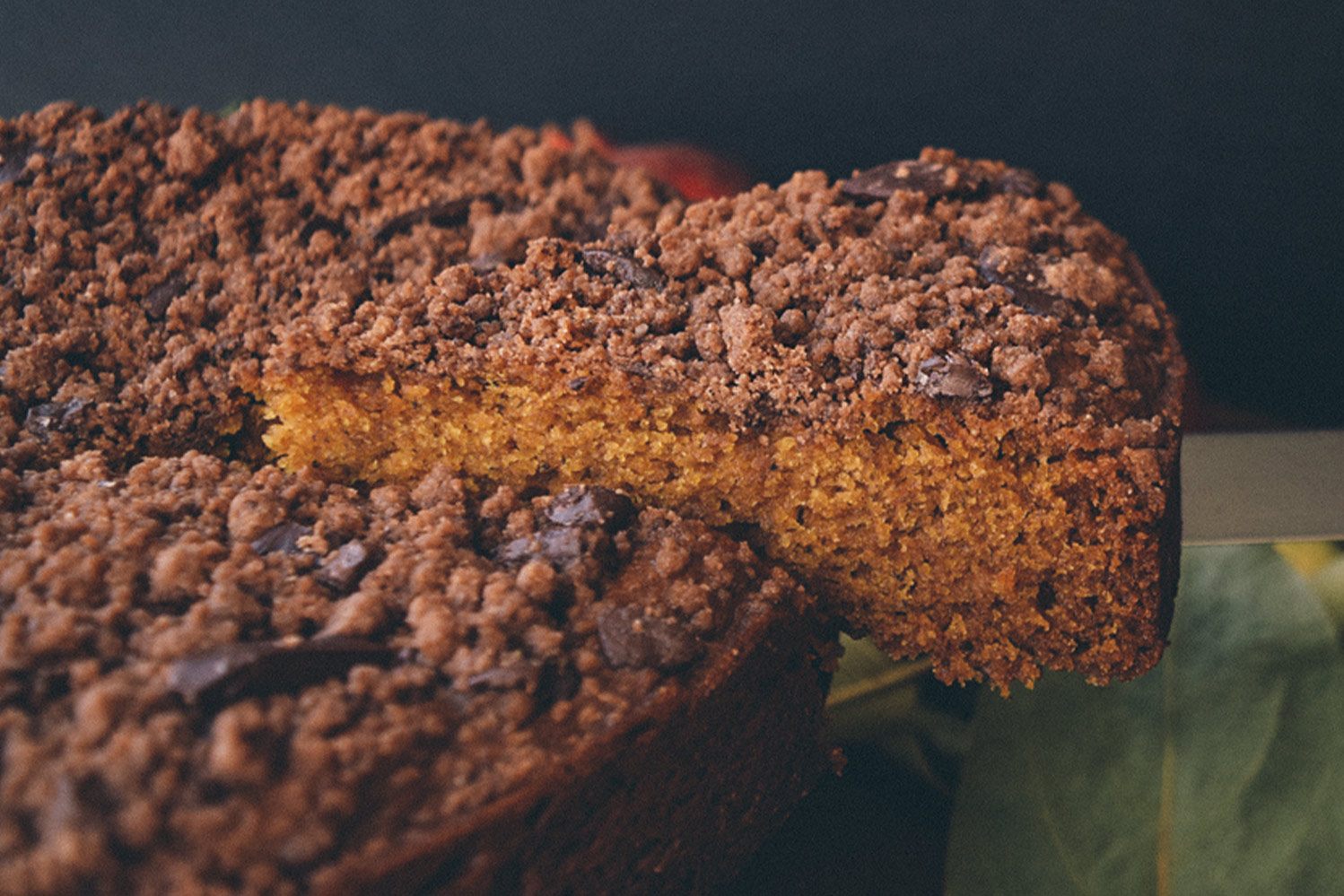 Autumn Deliciousness Alert! A Pumpkiny, Chocolatey Cake
Introducing The Sideshow: super special content that's exclusive to Wondercade.com
October 25, 2023 2:14 pm
Prime pumpkin season: It is here. Also here? This recipe for a delicious dessert that'll pair perfectly with any feast for fall (and beyond). Valerie Gordon, a Los Angeles-based chocolatier and chef, and James Beard Award nominee, is on Wondercade.com to conjure up a cake that celebrates the flavors of the season. -NPH
---
The pumpkin cake with chocolate crumble is one of my fall favorites because of its versatility. Perfect as a breakfast pastry, afternoon cake break or a casually elegant dessert, this lightly spiced and intensely moist cake speaks to the season for all ages.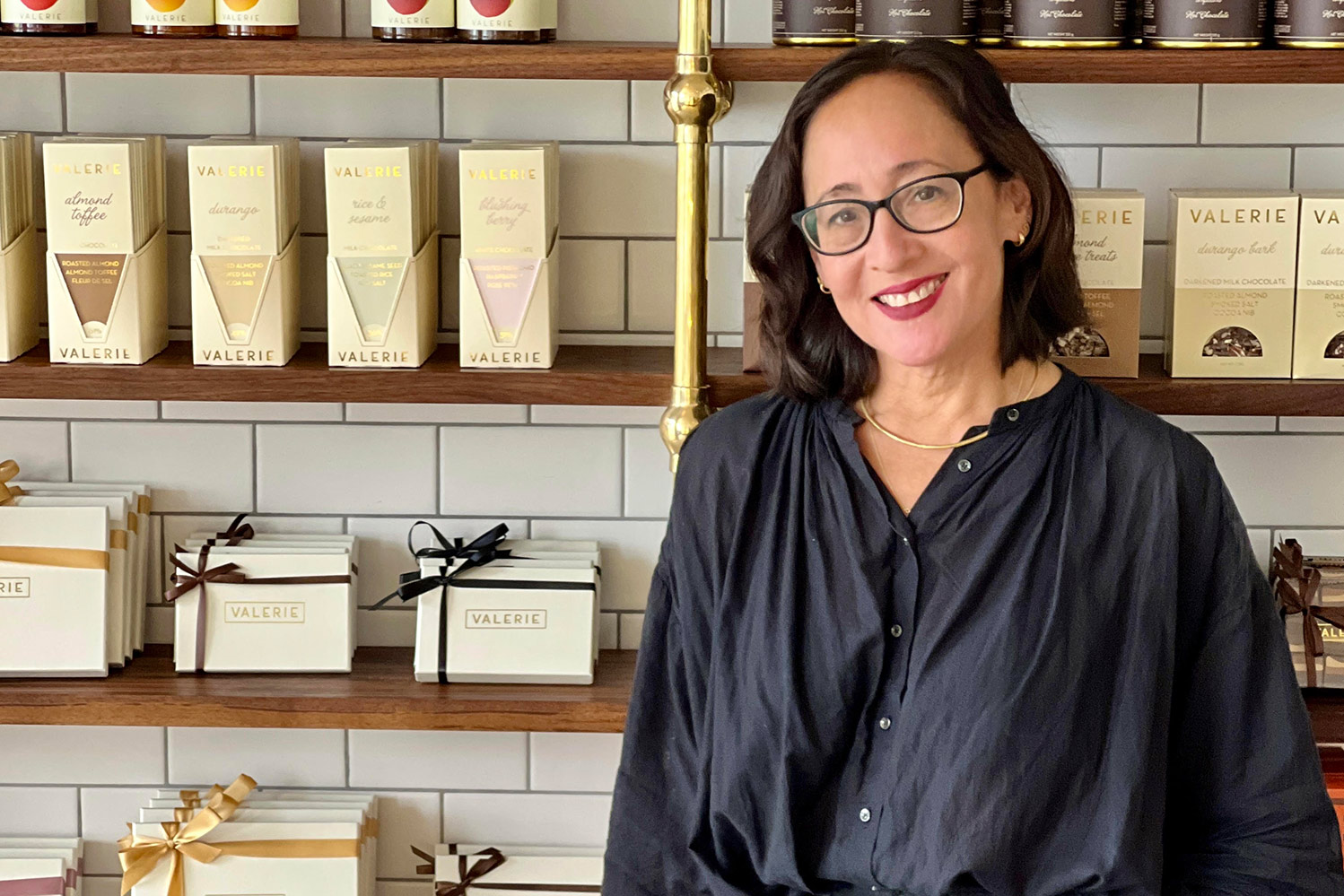 Valerie Gordon's Pumpkin Cake With Chocolate Crumble
Copy Ingredients
Ingredients
For the cake:
1 ½ cups AP flour
½ tsp. baking powder
½ tsp. baking soda
½ tsp. kosher salt
2 tsp. cinnamon
5 oz. salted butter
½ cup granulated sugar
⅔ cup light brown sugar
2 large eggs
1 tsp. vanilla paste (note: vanilla extract can be substituted, but paste has a more intense flavor)
1 ¼ cups pumpkin puree
For the crumble:
½ cup golden brown sugar
¼ cup granulated sugar
1 tbsp. cocoa powder
1 tsp. fleur de sel
1 ¼ cup AP flour
½ cup 61% bittersweet chocolate, chopped 
½ cup melted butter
Directions
Copy Directions
For the crumble:

In a medium-sized bowl, whisk together the dry ingredients. Stream in the melted butter and mix until combined. Cover and chill for up to one week.

For the cake:

Heat the oven to 350°F 

Whisk together the flour, baking powder, baking soda, salt and cinnamon in a medium bowl.

In the bowl of a stand mixer fitted with the paddle attachment, cream the butter and both sugars on medium speed until light and fluffy, about 3 minutes.

Mix the eggs and vanilla paste together in a small bowl. With the mixer on medium speed, alternately add the dry and wet ingredients to the creamed butter in batches, beating until the batter is smooth. Then fold in the pumpkin puree.

Pour the batter into a buttered 9-inch cake or pie pan and smooth the top with an offset spatula. Press chunks of the crumble into the batter and sprinkle over the top, ensuring some patches of batter are left bare. You might have a little extra crumble depending on your tastes.

Bake for 60-65 minutes or until the crumble is crackly and a wooden skewer inserted in the center comes out almost clean. Cool the cake completely on a cooling rack before serving.
---