Alex Guarnaschelli's Favorite Salmon Recipe
The Food Network star shares a fresh, healthy fish dish
UpdatedApril 13, 2023 9:49 am
You. Are. In. For. A. Treat. Today — like, right now (or more precisely, 155 words from the coming dash) — you're getting a recipe for an absolutely delicious, healthy dish from one of the most brilliant minds in the biz: Alex Guarnaschelli, executive chef and partner at Butter in New York City, as well as a Food Network megastar. In fact, Alex has a new show, Ciao House, debuting on the Food Network on Sunday, April 16th. In it, Guarnaschelli and her co-host Gabriele Bertaccini welcome 10 chefs to a sumptuous Tuscan villa and crown a top chef. (Note the lowercases; Ciao House is not to be confused with the Tom Colicchio show.)
But back to Alex's salmon…make it for yourself, your family, your friends, random strangers. No matter who you make it for…they're gonna love it. For more recipes like this one, pick up her cookbook, The Home Cook: Recipes to Know by Heart. -NPH
---
Thanks for the kind intro, Neil. And to you, the reader, it's lovely to be here, in your inbox. When Neil and David asked me to share a recipe for Wondercade, I turned to one that spotlights what's arguably my favorite fish of all time — salmon — and one that uses essential autumn flavors — apple and celery root — for the perfect accompanying slaw. I hope you enjoy the dish as much as I do.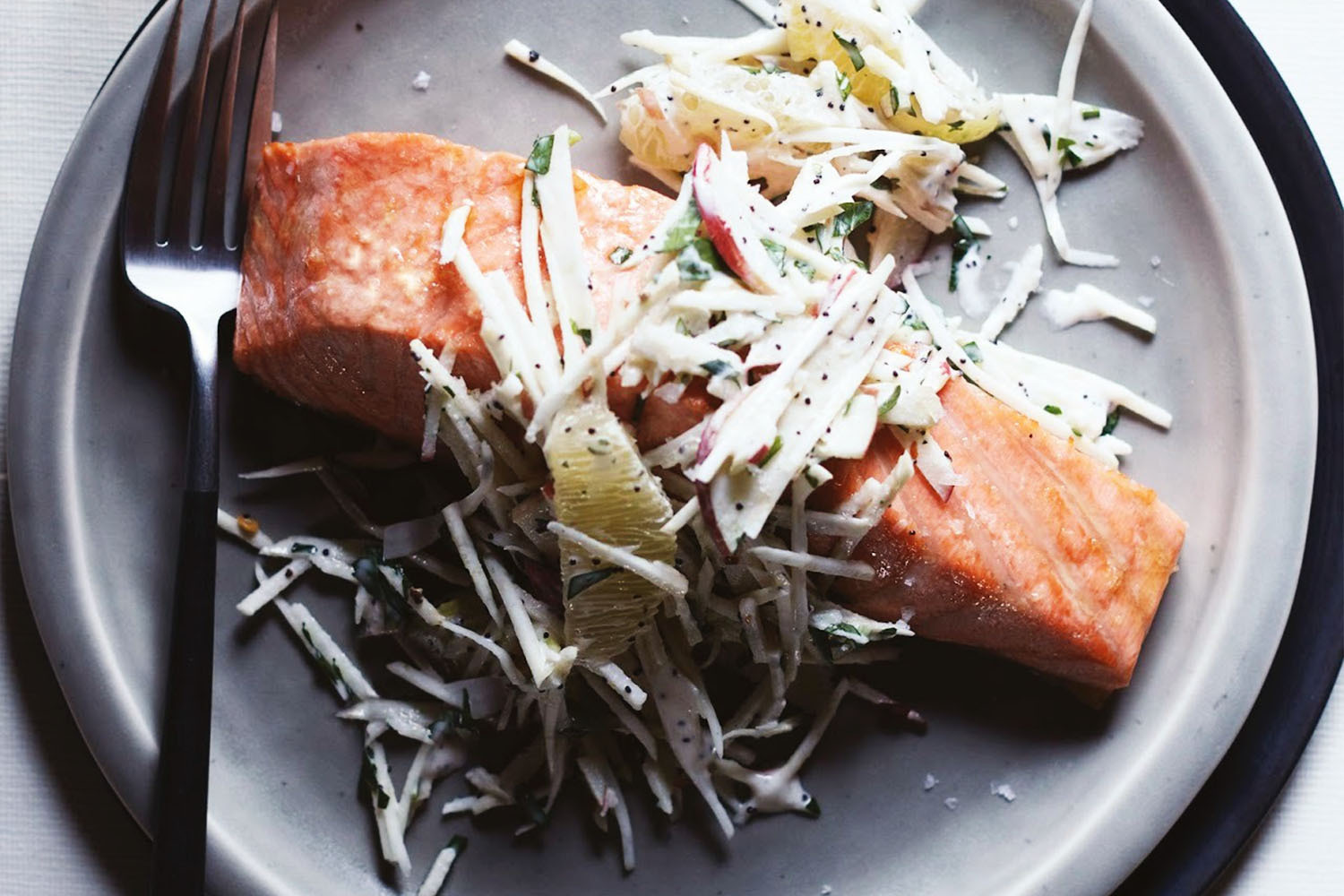 ---
Roasted Salmon with Apple and Celery Root Slaw
Copy Ingredients
Ingredients
2 lemons
½ cup mayonnaise, preferably Hellmann's or Best Foods
¼ cup skim milk
1 Tbsp. poppy seeds
1 tsp. crushed red pepper flakes
1 medium celery root, peeled and julienned
2 small Empire apples, cored and thinly sliced
½ cup chopped fresh flat-leaf parsley leaves
Kosher salt
2 Tbsp. extra virgin olive oil
6 (8-oz.) portions skin-on salmon fillet, pin bones removed
1 Tbsp. unsalted butter
Freshly ground white pepper
Directions
Copy Directions
Preheat the oven to 500°F.

Section the lemons: Use a sharp paring knife to slice off the top and bottom of each lemon and then set them upright on the cutting board. Cut down the length of each lemon all around, in essence peeling it, removing both the layer of skin and the white pith underneath. Cut the lemon flesh into sections, slicing between the membranes to remove the wedges of lemon, leaving any fibrous pieces and pits behind. Squeeze any juice from the empty membranes into a bowl with the sections and discard the membranes.

Make the slaw: In a large bowl, whisk together the mayonnaise, skim milk, poppy seeds and red pepper flakes. Stir in the celery root, apples, lemon sections and parsley. Season with salt. Cover with plastic wrap and refrigerate.

Prepare the salmon: Use half of the olive oil to grease the bottom of a roasting pan. Arrange the salmon fillets, skin side down, in the pan. Dot them with the butter and drizzle with the rest of the oil. Season with salt and white pepper.

Cook the salmon: Roast the salmon in the center of the oven, undisturbed, until medium-rare, 8 minutes. (For well-done fish, leave it in the oven for an additional 5 minutes.) Remove the pan from the oven and transfer the salmon to a serving platter. Set the salmon aside to rest for 5 to 10 minutes. When ready to serve, arrange the slaw on top of the salmon. Serve immediately.
---
Recommended
Suggested for you